Oct. 4 Brad Ausmus workout day interview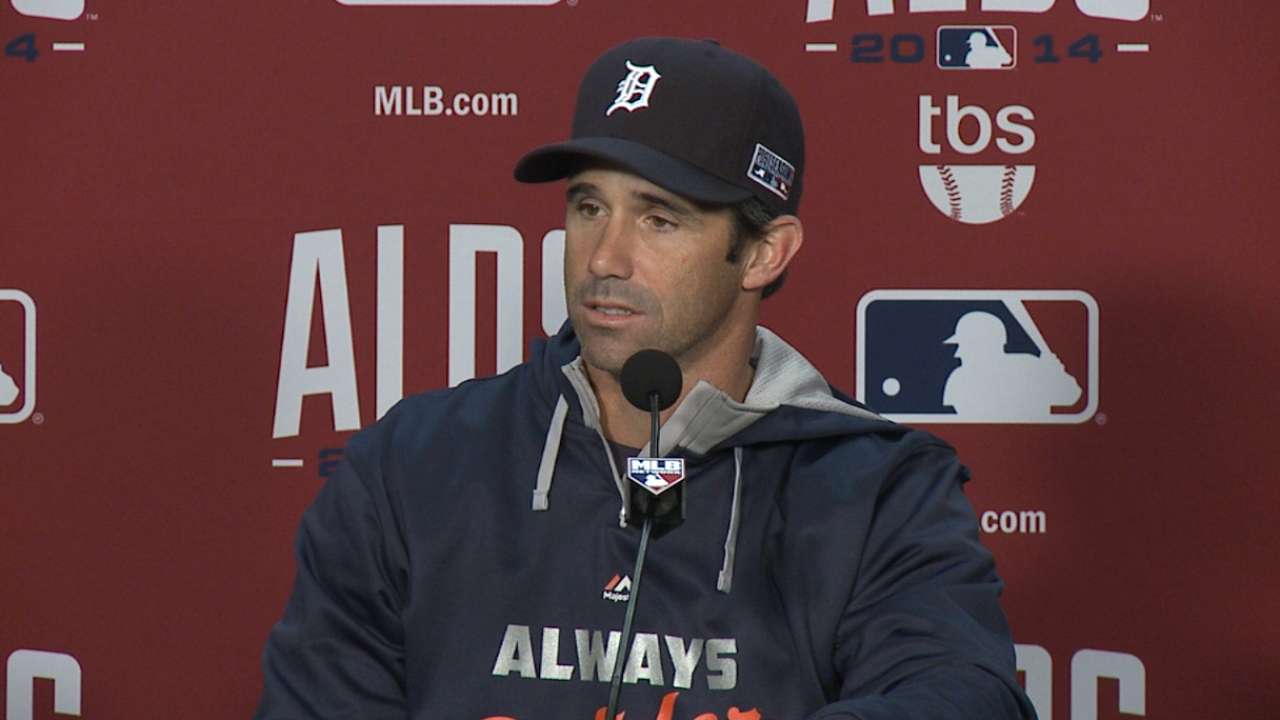 THE MODERATOR: Okay. We'll take a first question for Brad and try to keep it moving today.
Q. (No microphone.)
BRAD AUSMUS: I mean, I think that's the backbone of our team has been your starting pitching, so we feel like there is some depth there. Certainly coming out of Baltimore, you don't want to be down 0 2, you don't want to be down 0 2 going into any series. And we have David tomorrow and Rick on Monday if we have Monday. If we have a Game 5, we have a couple good pitchers to select from, so we have felt good about the starting pitching all along.
Q. Brad, they're a team that doesn't walk a whole lot. They're an aggressive, hacking kind of team. What have you seen in their approach offensively that has allowed them to be successful against Justin Verlander and Scherzer, as well as your bullpen?
BRAD AUSMUS: They are a successful team and they are successful when they make contact. If balls are in the zone that they can get the barrels to, then they hit them hard. They did that yesterday in the eighth inning and they did in the first game. They're a power latent team when they make contact.
Q. Would Anibal Sanchez be available if you needed him tomorrow?
BRAD AUSMUS: Yeah.
Q. And you said yesterday him throwing 30 pitches was kind of pushing it and you could maybe only get him up to 35. When did you know that and where does that number come from?
BRAD AUSMUS: I think probably about ten days ago you asked me how Sanchez was going to be used and I told you I wouldn't be afraid to use him in a tight game and he certainly could pitch one inning and probably two. So I've said it for a week and a half.
Q. With Games 1 and 2 going the way they did, did your mindset change in your bullpen? Do you have the same confidence in the same guys, the same spots?
BRAD AUSMUS: We will have to wait and see what happens in the game tomorrow. I invite you to come down and watch it.
Q. Brad, anything new on Rajai at this point? How much does the forecast for tomorrow with the cooler weather concern you with him and the fact that even in better conditions in the first couple games. Certainly Game 2 he was only able to go a few innings.
BRAD AUSMUS: Today he came in, he was sore, he didn't do anything, didn't take part in any of the workouts, he was just getting treatment. We will reevaluate tomorrow before the game.
But the weather is certainly a concern because in Game 1 as it got cooler he said it tightened up so that's definitely a concern.
Q. What have you learned from your first two postseason games? Obviously it's different from the regular season. Anything you're taking out of it going into Game 3?
BRAD AUSMUS: I don't know if there is a specific thing, but right now we have our backs against the wall, so there is no holes barred.
Q. Brad, when David Price took the mound last week, obviously there was a lot on the line, you guys were going for the Division Championship. What did you learn from him in that start and his bulldog mentality that's going to help him tomorrow in what is the win or go home game?
BRAD AUSMUS: His last two starts were outstanding. In the last homestand and certainly the last one of the season he is what we thought we would get when we acquired him.
The one thing that stands out about David is his focus on every pitch is unmatched. I don't know that I've seen a pitcher have so much focus on every single pitch. So you know it would not be a lack of concentration when he takes the mound.
Q. Regarding Rajai, if you're kind of uncertain, would Don Kelly be in the mix or do you like Ezequiel?
BRAD AUSMUS: Yeah, Don Kelly would be in the mix.
Q. Brad, in both AL series, the bullpens have come up big one way or the other. With the quality of the starting pitching, of the four teams in this, are you surprised that the bullpens have been so decisive?
BRAD AUSMUS: Doesn't surprise me, especially in the postseason setting that the bullpens become important. Usually the games are relatively low scoring or relatively close. So when you have low scoring games, you get late in the game and that's where it's decided, often, and that's what happened to us yesterday.
THE MODERATOR: Thank you very much.