Lineups breakdown: Giants-Nats, NLDS Game 2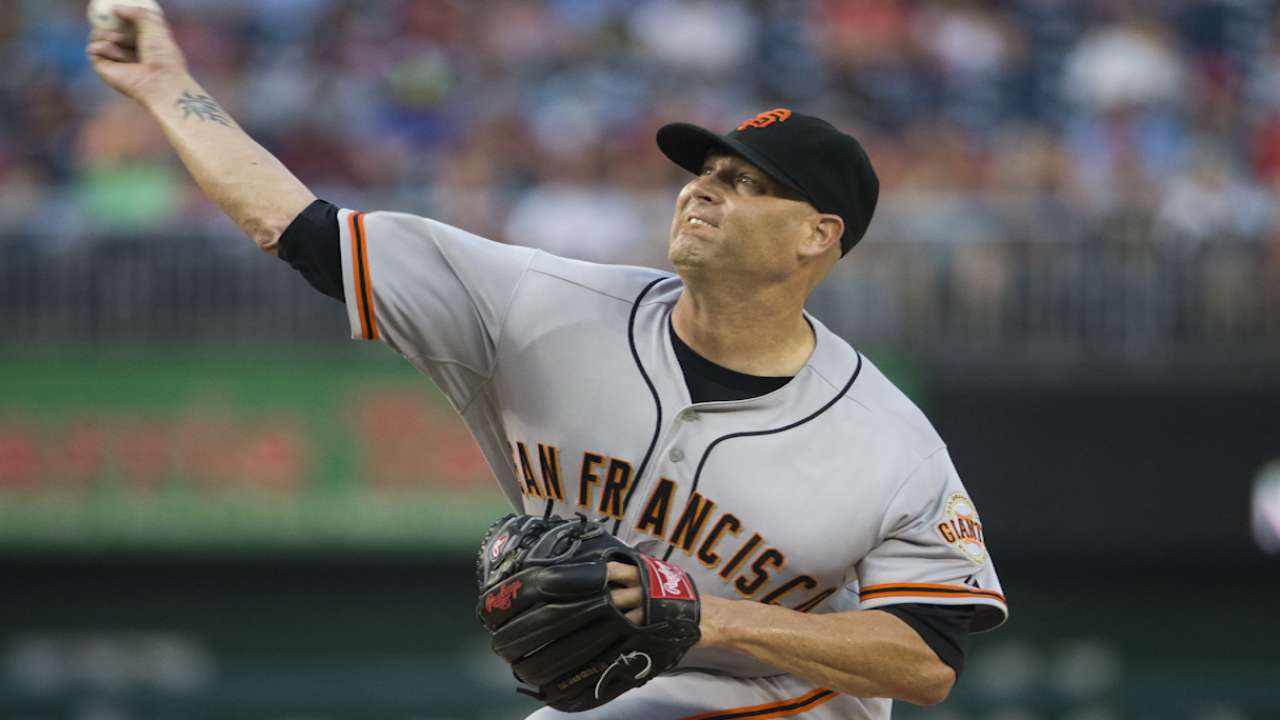 Here are the starting lineups for today's National League Division Series Game 2 between the Giants and Nationals at Nationals Park.
GIANTS
The Giants are unbeaten in two games this October and manager Bruce Bochy is going with his winning lineup against Nationals right-hander Jordan Zimmermann. San Francisco has won nine consecutive playoff games, an all-time record for a NL club, so it's no surprise Bochy is not changing the lineup at this point.
The Giants got to flamethrower Stephen Strasburg for two runs (one earned) on eight hits over five-plus innings in a Game 1 victory, but today's matchup won't be a cakewalk. Zimmermann tossed a no-hitter against the Marlins on the final day of the regular season. In his only outing against San Francisco this year, Zimmermann fired eight innings of two-run ball and earned the win at Nationals Park on Aug. 23.
Hunter Pence has faced Zimmermann more than any other Giants hitter, going 8-for-20 (.400) with two home runs and four RBIs against him. Pablo Sandoval has also enjoyed some success vs. Zimmermann, with six hits in 13 at-bats (.462).
1. Gregor Blanco, CF
2. Joe Panik, 2B
3. Buster Posey, C
4. Pablo Sandoval, 3B
5. Hunter Pence, RF
6. Brandon Belt, 1B
7. Brandon Crawford, SS
8. Travis Ishikawa, LF
9. Tim Hudson, P
NATIONALS
Washington scored just two runs on six hits in a Game 1 loss on Friday, but Nationals manager Matt Williams did not hit the panic button and went with his regular lineup in Game 2 against Giants starter Hudson.
The Nationals have seen a lot of Hudson over the years, as the right-hander spent nine seasons with the Braves from 2005-13. The veteran had some success against the Nats in two starts this year, though, winning both outings and allowing three runs (one earned) over 12 1/3 innings.
Jayson Werth is the starter with the best career numbers against Hudson, going 17-for-44 (.386) with four doubles, four home runs and 12 RBIs. Anthony Rendon and Asdrubal Cabrera are the only starters without a hit off Hudson, both going 0-for-5 lifetime.
1. Denard Span, CF
2. Anthony Rendon, 3B
3. Jayson Werth, RF
4. Adam LaRoche, 1B
5. Ian Desmond, SS
6. Bryce Harper, LF
7. Wilson Ramos, C
8. Asdrubal Cabrera, 2B
9. Jordan Zimmermann, P
Austin Laymance is a reporter for MLB.com. Follow him on Twitter at @jalaymance. This story was not subject to the approval of Major League Baseball or its clubs.