Orioles give Norris surprise nod for Game 3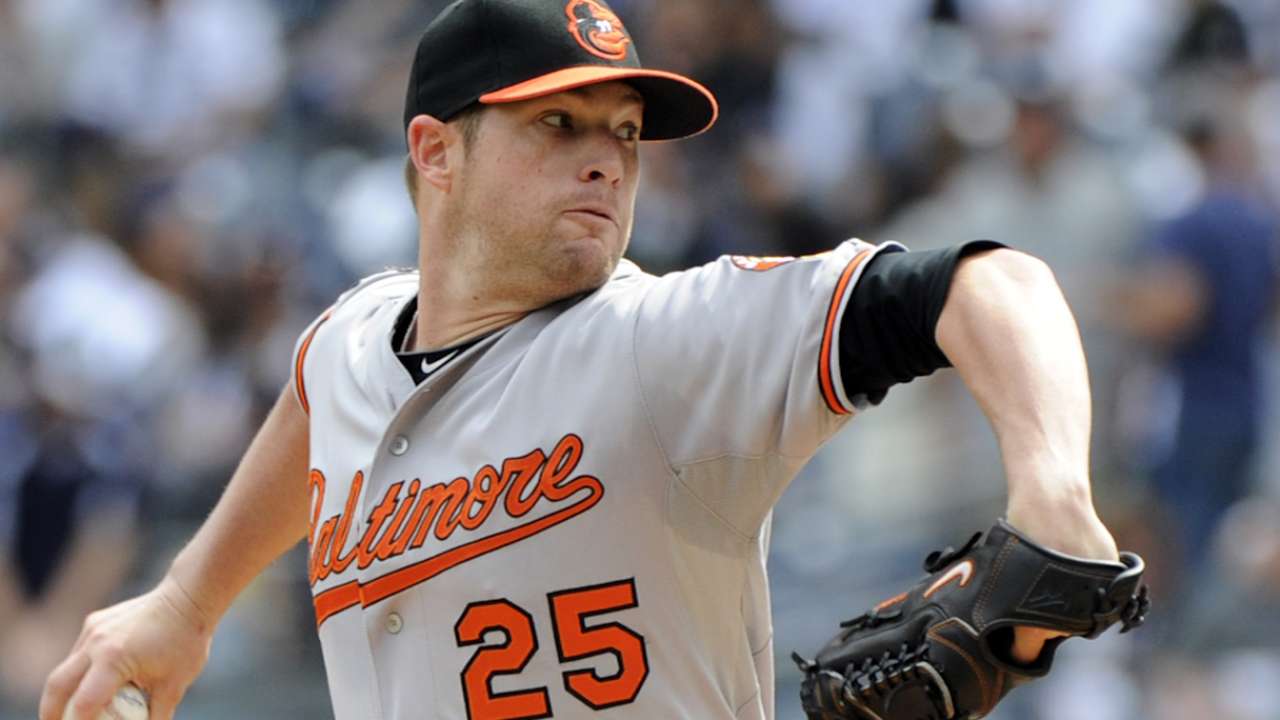 BALTIMORE -- Bud Norris will start Sunday's Game 3 of the American League Division Series against the Tigers, a decision that manager Buck Showalter said was made after Friday's win, and one that left reporters scratching their heads.
Miguel Gonzalez had been reported as the starter on Thursday. "It would be fairly safe, if you were a prognosticator," Showalter said when asked if Gonzalez would go in Game 3. And Showalter hadn't done anything since to alter that line of thinking. What happened?
"It wasn't really a change," Showalter said of slotting Norris in for Game 3 and Gonzalez, if needed, after that. "We gave [the media] the options we had. … [We took a] wait-and-see [approach on] how the first two games went, and that gives us an opportunity to bring Bud back [in relief] in Game 5. Once we found out the starting times [for Games 4 and 5] -- we didn't know that until after the game yesterday, we still don't know completely, but we know [Game 4] won't be after 1:37 [p.m. ET]."
The Orioles feel Gonzalez is the least suited of their starters to be used as a bullpen guy, and the move puts Norris on the mound for a later start time in Game 3 than he would have been for Game 4.
Norris was 3-4 with a 5.57 ERA in eight day starts compared to a 12-4 record with a 2.99 ERA at night during the regular season. He will be making his postseason debut on Sunday, while Gonzalez pitched for Baltimore in the 2012 AL Division Series, getting a no-decision despite seven innings of one-run ball with five hits, no walks and eight strikeouts.
While Showalter, who met with pitching coach Dave Wallace after the Orioles' 7-6 win Friday, cited a multitude of factors for the decision, he said looking ahead to the AL Championship Series was not one of them. The O's, up 2-0 in the best-of-five set, remain focused on taking care of the Tigers before trying to set a rotation for the next round.
Still, given that Norris doesn't have postseason experience and Gonzalez does, would the Orioles prefer Gonzalez in a potentially more pressure-filled Game 4?
"There are a lot of factors that we considered, and you guys are sharp enough to think along with us, but I'm not going to lend any credence to that," Showalter said. "We try to take in all the factors and look at background and track record."
Brittany Ghiroli is a reporter for MLB.com. Read her blog, Britt's Bird Watch, and follow her on Facebook and This story was not subject to the approval of Major League Baseball or its clubs.