MLB.com Columnist
Tracy Ringolsby
Carpenter epitomizes Cards' winning culture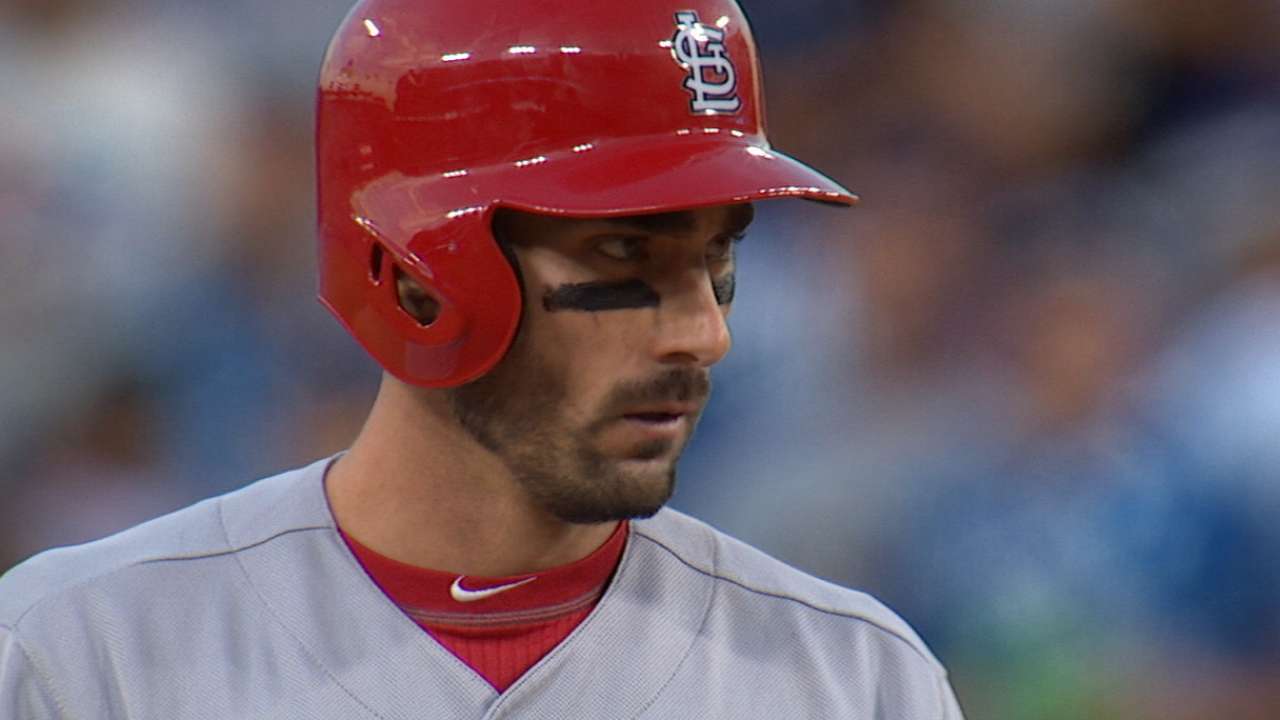 LOS ANGELES -- Matt Carpenter embodies what the St. Louis Cardinals are all about.
He's an old-school ballplayer. He's not one of those guys that catches your attention when he walks in the room. By the time he leaves, however, he's made his presence felt.
And does he ever make his presence felt.
Nobody knows that better than Dodgers left-hander Clayton Kershaw. If there was any doubt, Carpenter provided Kershaw a refresher course Friday night.
The left-handed-hitting Cardinals infielder was the guy whose one-out double off Kershaw after an 11-pitch at-bat in Game 6 of the 2013 National League Championship Series sparked a four-run third inning en route to a 9-0 Cardinals victory in the clinching game at Busch Stadium.
Carpenter made an even bigger impact in Game 1 of the NL Division Series against the Dodgers and Kershaw in the Cardinals' 10-9 victory on Friday night at Dodger Stadium.
Carpenter's two-out solo home run in the sixth gave the Cardinals hope. His two-out, bases-clearing double knocked out Kershaw and gave the Cards a 7-6 lead, setting up a three-run home run from Matt Holliday in an eight-run inning.
Off Kershaw. A left-handed hitter against a left-handed pitcher who is arguably the best in the game. A leadoff hitter. Go figure. Since the start of the postseason a year ago, Carpenter is 7-for-16 against Kershaw. He's hit .292 against him during the regular season.
That's why Dodgers manager Don Mattingly made a trip to the mound when Carpenter was coming up to hit only to check to make sure Kershaw felt OK. There wasn't any inclination to make a pitching change, which is how the rest of the Dodgers wanted it.
"He's our guy," said catcher A.J. Ellis. "He's our horse. A left-handed hitter's coming up. You just have to give Matt Carpenter a ton of credit there."
Give Carpenter credit for simply being in the big leagues, much less being so significant in the Cardinals' plans that they signed him to a six-year, $52 million deal during the offseason that takes him through his first two arbitration-eligible seasons.
He is the son of a coach, and played for his dad, Rick, at Elkins High School in Missouri City, Texas. He was a 13th-round Draft choice of the Cardinals in 2009 as a fifth-year college senior at TCU. He wasn't considered a legit prospect.
Now look at him. At the end of Carpenter's second full season in the Minor Leagues he was called up, and he hasn't gone back. He's earned back-to-back All-Star selections, as a second baseman a year ago and as a third baseman this season. He finished fourth in the NL MVP Award voting a year ago.
And he has had great success against the left-handed Kershaw, even though he is a left-handed hitter.
"I want to do well in every at-bat," said Carpenter. "You don't want to be 0-2 in the count against a guy like that. I just wanted to be aggressive."
He fouled off three fastballs. He took two sliders to make the count even. He fouled off a fastball and then a slider, and then yanked a fastball into right field for a bases-clearing double that gave the Cardinals the lead for good.
And that inning was built around the first four batters -- Holliday, Jhonny Peralta, Yadier Molina and Matt Adams -- singling to center, and with one out, left-handed-hitting Jon Jay flipping an opposite-field, run-scoring single.
All of that came after the two-out home run from Carpenter in the sixth, snapping Kershaw's streak of 16 consecutive batters retired following Randal Grichuk's first-inning home run and giving the Cardinals hope that a comeback might actually be possible.
"When he hit that home run, the way Kershaw was pitching, I felt that there was more to come," said Adam Wainwright. "He's such a professional hitter. He does a great job of putting together good at-bats. He has that ability to slow the game down and lets the pitcher make the mistake."
Déjà vu.
"There was a moment during that at-bat where I was feeling kind of the same emotions I was having last year," said Carpenter. "Very similar at-bat. I was trying to just lock in on what I was trying to accomplish and being competitive. I wanted to have that tough at-bat and be part of that inning where we had a lot of action. I wanted to keep the line moving."
His double chased Kershaw, who was charged with eight runs, the most he has ever allowed in a start at Dodger Stadium and one shy of his personal career worst, which came at Coors Field five years ago.
Carpenter gave the Cardinals life.
But then again, he was the perfect guy to do that, the obscure player who has made folks pay enough attention that he's been an All-Star the last two years in his second and third full seasons in the big leagues.
Sort of like the Cardinals, a team that doesn't have a lot of glitz, but does enjoy success.
Tracy Ringolsby is a columnist for MLB.com. Read his blog, Write 'em Cowboy. This story was not subject to the approval of Major League Baseball or its clubs.