Hosmer breathes 'sigh of relief' after big hit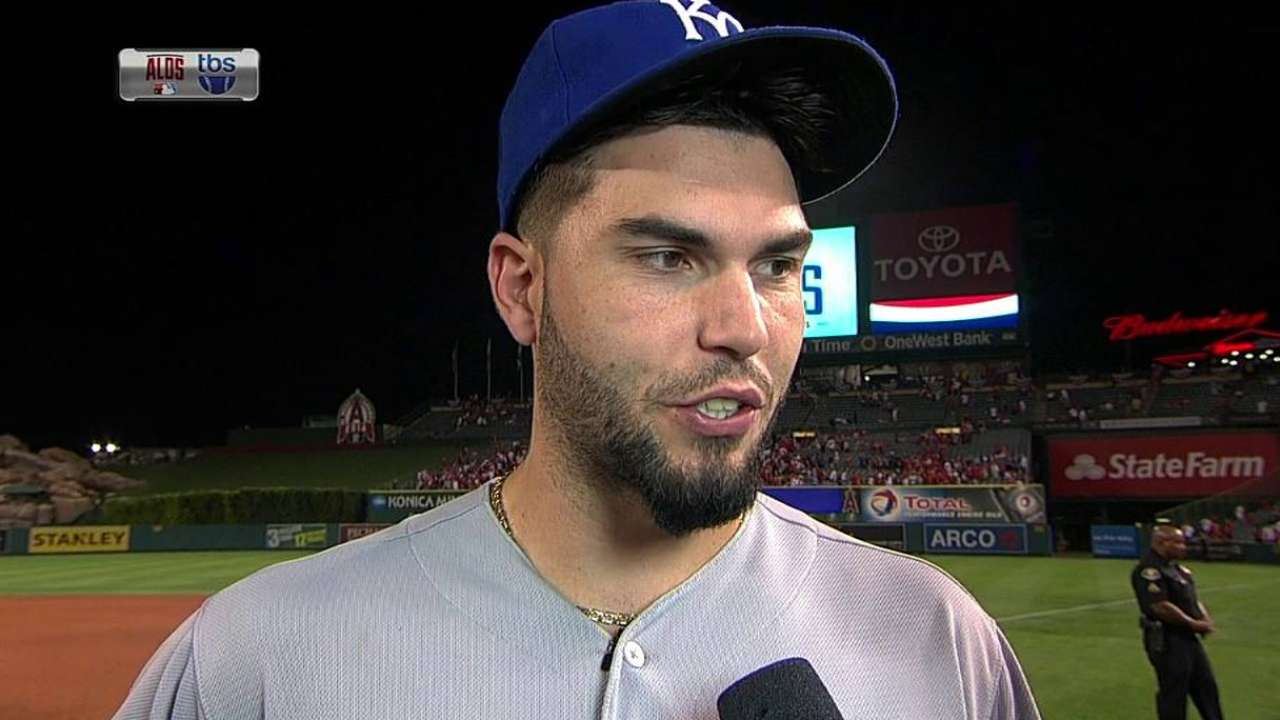 ANAHEIM -- On Thursday night it was Mike Moustakas, and on Friday it was Eric Hosmer. They are two former No. 1 Draft picks who, along with Billy Butler, were the symbols of the Royals' massive building program over the past five to 10 years.
Now it is all paying off. Hosmer had his big moment with a two-run homer in the 11th inning that helped lift the Royals to a 4-1 victory over the Angels in Game 2 of the American League Division Series.
"I think that's what the cool part of this run has been," Hosmer said. "Everyone's had their time, they've had their moment when they've made a big play or stepped up and did something big. A lot of the times, it was with our back against the wall. Most of the time, it was with our season on the line."
Hosmer came through after Lorenzo Cain reached on a one-out infield single. Facing reliever Kevin Jepsen, Hosmer sent a first-pitch fastball over the right-field wall.
"Not much of a sequence, first pitch," Jepsen said. "I was just trying to make a good pitch, fastball down and away. I left it [in the] middle, and he jumped on it. It's one of those things. I missed, he didn't. Two-run homer, and that was it. Hosmer, he has every capability of hitting the ball out of the park. It just comes down to making your pitches. It's the playoffs, everything is magnified. You don't make your pitch, you get beat."
"Just knew I got a good swing on it, and it felt good," Hosmer said. "It's a sigh of relief. Those games have been back and forth the whole playoffs for us. So it's a huge sigh of relief, and it's a big swing for the guys, and it was a big win tonight."
Hosmer did not have his best season in 2014. Missing almost all of August with a stress fracture in his right hand didn't help, but he had a strong September, hitting .290 with three home runs, 12 RBIs and a .495 slugging percentage. He has carried that success into the playoffs.
In three postseason games, Hosmer is 6-for-11 with three walks. He was on base five times in the Wild Card Game and went 3-for-4 with a walk on Friday night. He joins Hall of Famer George Brett as the only two Royals to have multiple playoff games in which they reached base four-plus times.
"From that point on, when I got put on the DL, it was basically, you take the positives from it," Hosmer said. "That's getting to the field every day, working hard, making sure your body is in shape, because 162 games is a long, grueling season. A lot of guys have been playing every day.
"I just took the positives of it and just realized I can get myself stronger, get myself in good shape for this run. If anything, it's kind of a little jump-start to ... be on the DL -- get your body in shape, rehab the hand and get the timing back. As far as my body and all that, everything's feeling great."
T.R. Sullivan is a reporter for MLB.com. Read his blog, Postcards from Elysian Fields, and follow him on Twitter @Sullivan_Ranger This story was not subject to the approval of Major League Baseball or its clubs.