Lagging offense puts bullpen in tough spot
For second straight game, relievers give up winning run in extras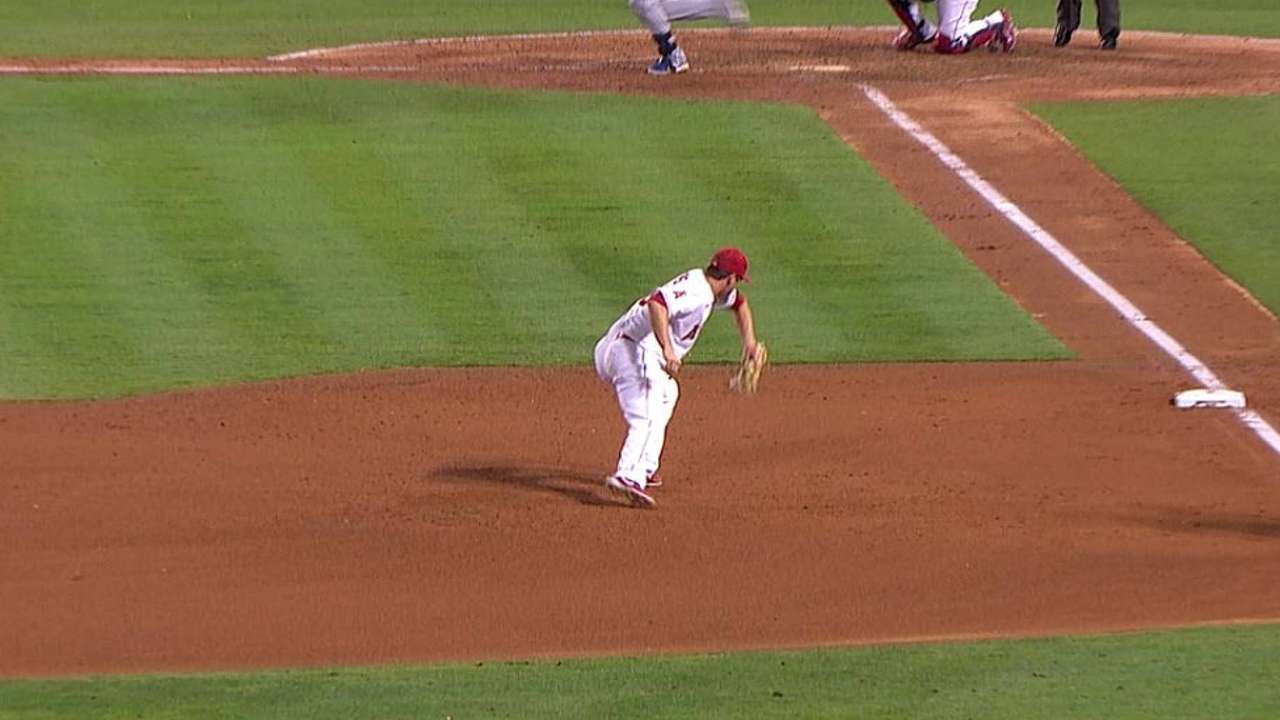 ANAHEIM -- The Angels' bullpen has been good this series -- just not good enough.
For the second consecutive night, the reliable relief corps gave up an 11th-inning home run, this one a two-run shot by Eric Hosmer off Kevin Jepsen, as the Royals won, 4-1, Friday to take a 2-0 lead in the American League Division Series. On Thursday, Mike Moustakas smashed a solo homer off Fernando Salas to lift Kansas City to a Game 1 victory.
The Angels bullpen has given up just three earned runs in nine innings across the first two games of the ALDS -- they just happened to be the game-deciding runs. Before Hosmer's home run, the Kansas City offense had scratched out just one hit in the previous 4 1/3 innings against Angels relievers.
"Our pitching staff has been incredible," Angels manager Mike Scioscia said. "You lose a couple games late, and everyone's going to point to what happened in the 11th inning. These guys have been pitching their butts off and doing a great job, and we just haven't been able to get what we need done on the offensive side."
Jepsen was one of the Angels' best relievers in the regular season, settling into the seventh-inning role as he posted 65 scoreless appearances and a 2.63 ERA. He had only given up four home runs in the regular season and just one since the All-Star break.
"It's one of those ones you want back," Jepsen said. "As soon as you let it go, it's almost like slow motion. You see it going right where you don't want it. Like I said, sometimes they pop up, sometimes they roll over, but in games like this, good hitters like him, he didn't miss."
The Royals were last in the Majors with 95 home runs but have outshined the Angels' high-powered attack that led the Majors in runs scored. The Angels' offense has scored just three runs in 22 innings, and hasn't handed a lead to one of the AL's best bullpens.
In the second half of the regular season -- after the Angels had acquired Jason Grilli and Huston Street to fix their bullpen issues -- the 'pen led the AL in innings, FIP and WAR. They posted an ERA of 3.12.
But they'll head to Kansas City with an 0-2 record and two losses in the battle of the bullpens in this series.
"The bullpen, we think when we come in, we're going to leave the game right where we left it," Jepsen said. "It doesn't always happen that way but our mentality is that where we come into the game is where we should leave it going out."
Through 10 innings, that was how the bullpen left it. Four times Angels relievers started an inning and four times they put up a zero.
That included Street, who pitched two innings Friday, his longest outing since April 8, 2011, when he was a member of the Rockies. He hadn't pitched more than an inning in a postseason game since 2006, with Oakland.
"They asked me if I could go back out and I said 'Absolutely,'" Street said. "Are you kidding me? We have an off-day tomorrow. Everyone just wants to go out there and compete, every single person. When you've got a chance, this is what you play for.
"If they'd have let me go back out there for a third, I'd have gone back out. You're going to keep going out there and battling."
Matthew DeFranks is an associate reporter for MLB.com. Follow him on Twitter @MDeFranks. This story was not subject to the approval of Major League Baseball or its clubs.