Code blue: Angels on edge after KC strikes again
Halos face 2-0 ALDS deficit thanks to another 11th-inning homer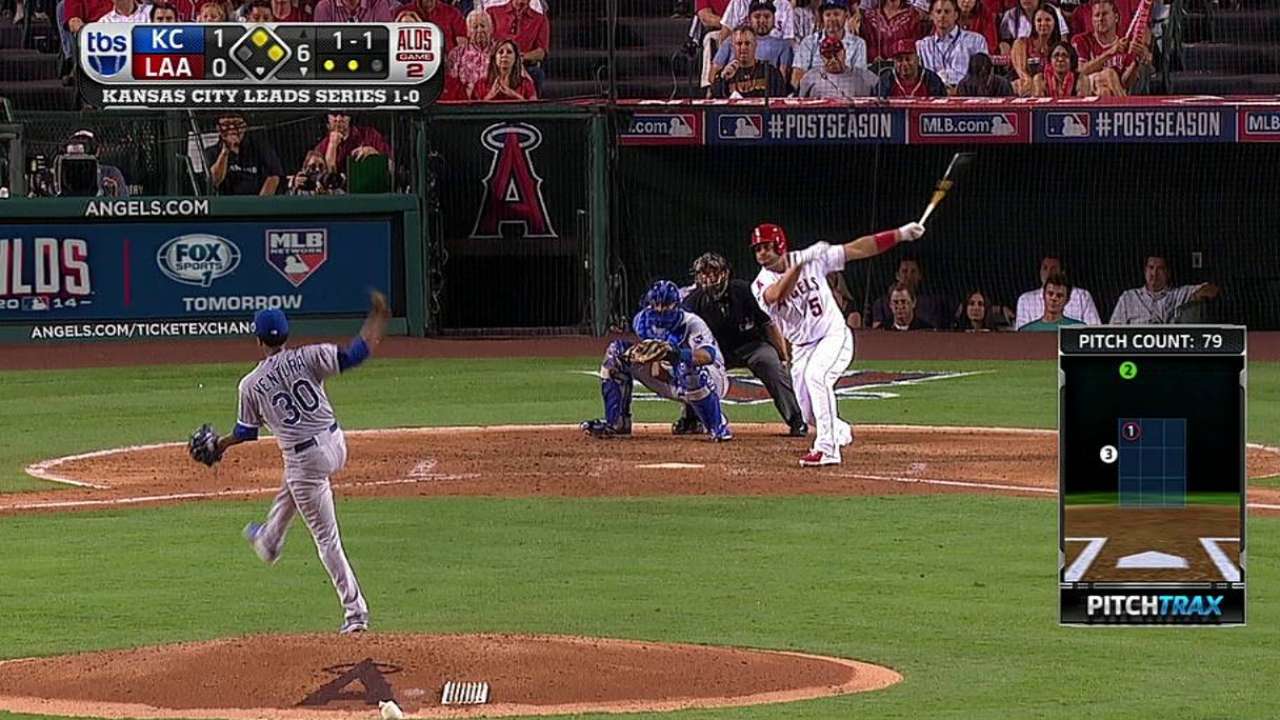 ANAHEIM -- Kevin Jepsen let the fastball go, watched it groove right into Eric Hosmer's swing path, heard the crack of the bat, turned his head and, for a very brief moment, held out faint hope that it wasn't the drive that would put his Angels on the brink of elimination in the American League Division Series.
"You're sitting there hoping it doesn't go out, but you really know it's going to happen," Jepsen said in a somber home clubhouse after the Angels' 4-1 loss to the Royals late Friday night. "Your stomach falls."
Hosmer's two-run shot was the dagger in another tight, low-scoring, extra-inning game that the Angels lost on an 11th-inning home run by the upstart Royals. Hosmer did to Jepsen what Mike Moustakas did to Fernando Salas the night before, putting the Angels in a 2-0 ALDS hole on a night when their high-powered offense -- not to mention an anxious, sold-out crowd -- was once again silenced.
Since the Wild Card first came into play in 1995, 17 teams lost the first two games of a Division Series at home. Only two of them -- the 2012 Giants and the 2001 Yankees -- came back to win that series. The Angels must win out, with the next two games coming at Kauffman Stadium in Kansas City and Sunday's Game 3 being pitched by C.J. Wilson, coming off his worst season as a starting pitcher and matching up against the Royals' ace, a man they call "Big Game" James Shields.
Angels manager Mike Scioscia met with his team after the game, to reinforce what they already knew.
"Nobody has their head buried in the sand," he said. "We need a three-game winning streak. That's really what we need to do. But our guys are determined."
The Angels' biggest concern going into the postseason was their starting rotation, and perhaps that's what makes these two losses so disheartening. They didn't just come at Angel Stadium, where the Angels established themselves as the best home team in baseball -- they came despite very good starts by their two best starting pitchers.
One night after Jered Weaver battled with Jason Vargas with seven innings of two-run ball, Matt Shoemaker dueled with electric rookie Yordano Ventura, giving up only one unearned run in six innings despite spending the better part of the last three weeks rehabbing from an oblique strain.
None of it mattered.
"K.C. is on fire," Angels third baseman David Freese said of a team that's in the postseason for the first time in 29 years. "They're making the plays, getting timely hits, and doing what they need to do to take two games. They've beaten a tough team twice, in their own park. They deserve it."
Twenty-two innings have been played in the first two games of this ALDS, only a combined 22 hits have been recorded, and only one of those has come from the vaunted trio of Mike Trout, Albert Pujols and Josh Hamilton.
Pujols got the Angels on the board with a two-out RBI single in the sixth, but that was the only offensive highlight. Hamilton, who played in only one of the Angels' last 23 regular-season games due to ailments in his right shoulder and right side, is 0-for-9 in this series and heard boos throughout the night, especially when he grounded into a 3-6-3 double play to end the 10th. Trout struck out to end the game, making him 0-for-8.
"It's tough," Trout said. "Just didn't get that big hit tonight, and they did. Take it one game at a time and play Sunday. If you lose, you go home."
Thursday's loss was greatly impacted by a miracle catch from Nori Aoki, who leaped under Lorenzo Cain in right-center field to rob Howie Kendrick of what could've been a two-run triple in the sixth inning. Friday's big play came in the eighth inning, when pinch-runner Collin Cowgill was thrown out by center fielder Jarrod Dyson trying to tag up to third base.
Scioscia called it "a great play," and said he hopes Cowgill goes again the next time he's presented with the situation. It was a tied game with one out, but the top of the order was due up next, and Dyson was already charging in on Chris Iannetta's liner.
"He made a good play, man," Cowgill said. "Chalk it up to that."
Jepsen, who followed Huston Street's first two-inning outing in three years, came in for the top of the 11th of a 1-1 game and gave up a one-out infield single to Cain. Jepsen's next pitch, a 95-mph fastball, sailed right down the middle, and Hosmer ambushed it.
"I just knew I got a good swing on it, and it felt good," said Hosmer, whose homer made the Royals the first team to win three consecutive extra-inning games in the postseason, counting their AL Wild Card win over the A's.
The Royals scored another run on Salvador Perez's RBI single off Vinnie Pestano, but the Angels were out of it with one Jepsen fastball.
"I was just trying to make a good pitch, fastball down and away," Jepsen said. "I left it middle and he jumped on it. It's one of those things. I missed, he didn't."
And now, if the Angels want to advance, they can't miss.
Their season -- one that saw them reach the postseason for the first time in four years, and finish with baseball's best record -- will end with their next loss. They'll take it one game at a time, as they always say, and they'll think back to how they've persevered before, most notably when Garrett Richards went down on Aug. 20.
"There's nobody in this clubhouse with their head down," Pujols said. "We know what we can do, and we did it this year. We just need to get that little break here and there to get us going."
Alden Gonzalez is a reporter for MLB.com. Read his blog, Gonzo and "The Show", and follow him on Twitter @Alden_Gonzalez. This story was not subject to the approval of Major League Baseball or its clubs.