Cardinals-Dodgers NLDS Game 1: Did you know?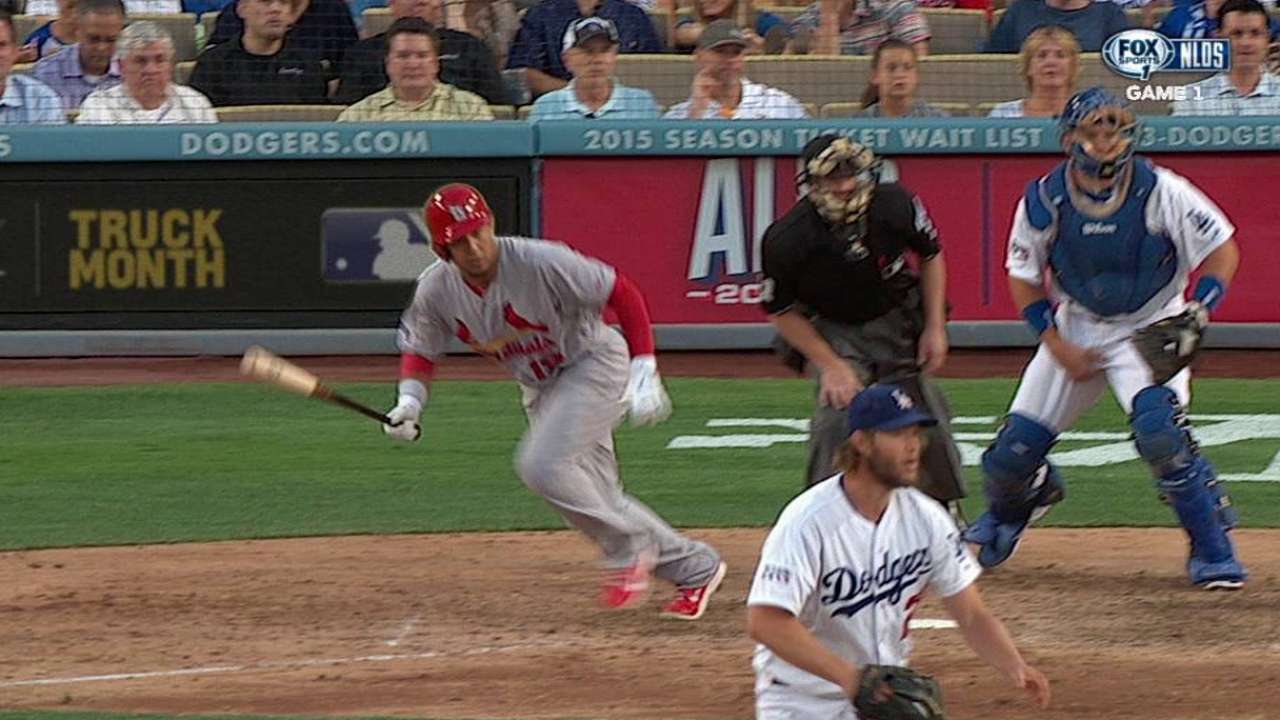 LOS ANGELES -- In what was billed as a pitching duel between National League Cy Young Award candidates Clayton Kershaw and Adam Wainwright, the Dodgers and Cardinals lit up the scoreboard Friday night, scoring 19 total runs as St. Louis won, 10-9, in Game 1 of the NL Division Series.
Here's what you should know:
• The 10 runs scored by the Cardinals were their most since Aug. 30, a 13-2 win against the Cubs. They hit double digits just three times during the regular season.
• Before Friday's loss, the Dodgers had won nine of their last 10 Division Series games since 2008. Their lone loss came against the Braves in 2013.
• Kershaw has now allowed 15 earned runs on 18 hits over his last two postseason starts against the Cardinals (10 2/3 innings).
• Kershaw retired 16 straight after surrendering a first-inning solo homer to Randal Grichuk. He then retired just three of his last 10 batters.
• Trevor Rosenthal allowed one run in the ninth inning Friday. It was the first run he allowed in 18 career postseason appearances (21 1/3 innings).
• With his eighth-inning home run, Matt Holliday tied Alex Rodriguez and Miguel Cabrera for the seventh-most postseason homers among active players with 13.
• Carl Crawford was 6-for-17 with three homers in the NLDS last year. He picked up right where he left off, going 2-for-4 with a double, an RBI and a run scored on Friday.
• With his third-inning double, Crawford extended his postseason hitting streak to 11 games, a Dodgers franchise record.
• Matt Carpenter had four RBIs, matching his total from the entire 2013 postseason.
• Wainwright lasted just 4 1/3 innings. He pitched fewer than six innings just four times in the regular season, completing at least seven frames in 24 of his 32 starts.
• The 11 hits given up by Wainwright are the most he's allowed in a playoff game. The six earned runs he surrendered also tied his career high, set in Game 5 of the 2012 NLDS vs. Washington.
• A.J. Ellis went 3-for-3 with two singles and a two-run homer against Wainwright. He entered the game just 1-for-8 in his career vs. the Cardinals' ace.
• Friday marked just the second time since June 2 that the Dodgers have lost a game Kershaw started. The other was a 3-2 loss to the Brewers on Aug. 16 in which Kershaw pitched a complete nine innings.
• The Dodgers and Cardinals have played 14 games since the beginning of the 2013 NLCS. There have been nine batters hit by a pitch in that span.
• The Dodgers' nine runs were their most ever in a postseason loss. Their 16 hits also tied for the most in an October defeat.
• This was the first time the Cardinals scored double-digit runs in the playoffs since Game 2 of the 2012 NLDS against the Nationals.
• Kershaw allowed no more than eight total earned runs in each calendar month but May this year. He hit that mark in 6 2/3 innings Friday. Those eight runs are tied for the most ever allowed by a Dodgers pitcher in a postseason game.
• The matchup between Wainwright and Kershaw marked just the fifth time since 1920 that two 20-game winners with sub-2.40 ERAs have faced each other in the postseason.
• Entering Friday, Kershaw was 67-0 for his career when receiving four or more runs of support while he's the pitcher of record.
• Kershaw is the first pitcher in MLB history to allow seven-plus earned runs in consecutive playoff starts. He's also the first to allow seven or more to the same team multiple times in a postseason career.
• Left-handed batters combined to hit 6-for-14 (.429) with two home runs, eight RBIs and two walks against lefty pitchers Friday. The league average in that scenario was .240 this season.
Chad Thornburg is a reporter for MLB.com. Michael Lananna is an associate reporter for MLB.com. This story was not subject to the approval of Major League Baseball or its clubs.