Cards flush out LA's ace with eight-run burst
Carpenter rattles Kershaw, Holliday's homer caps savage seventh inning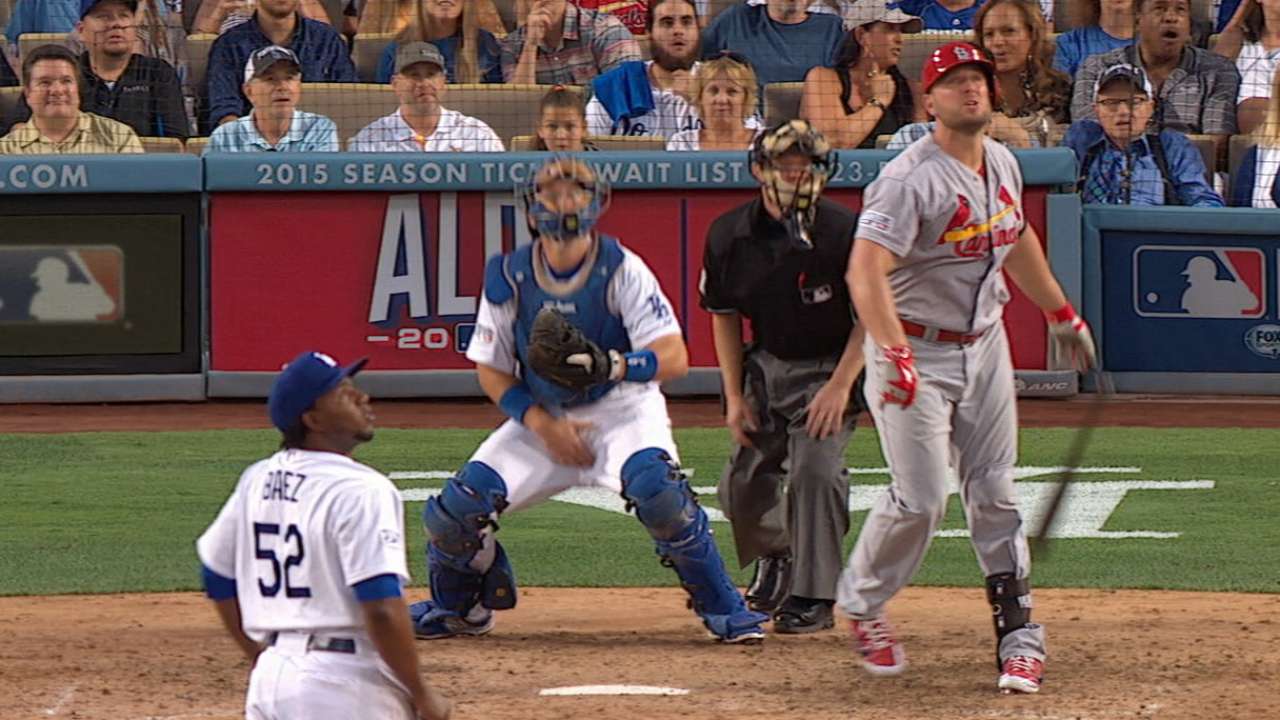 LOS ANGELES -- It brought back memories of the absurd late rally that won Game 5 of the 2012 National League Division Series.
It reinforced the shared belief of the St. Louis Cardinals -- and probably the Los Angeles Dodgers and every other Major League team -- that anything can happen in a baseball game, especially an October baseball game.
But when it was over and the fans had cleared out of Dodger Stadium on Friday night after witnessing the Cardinals' stunning eight-run seven inning that took down Cy Young Award shoo-in and NL MVP favorite Clayton Kershaw in a game that ended with a 10-9 score, it really meant only one concrete thing: the Cardinals lead this NLDS, 1-0, and the Dodgers' ace is out of commission until a possible Game 4 at the earliest.
In other words, you can't make any assumptions about what will happen, even when Kershaw is pitching, when the Cardinals are the ones with the bats in their hands.
"Guys never stopped plugging," said Adam Wainwright, the starter the Cardinals bailed out with their historic seventh. "We stayed positive, kept trying to get ducks on the pond, and you just never know in playoff baseball. You get a few runners on, and one swing here, one swing there can swing the game. They just stayed positive the whole time."
It began innocently enough. Kershaw had a 6-2 lead, allowing only two solo home runs (Randal Grichuk in the first inning, Matt Carpenter in the sixth) and no other hits while striking out eight. Matt Holliday slapped a single to center field.
Then Jhonny Peralta did the same. Then Yadier Molina did the same. Then Matt Adams did the same.
Now it was 6-3, and Kershaw was nearing the 100-pitch mark when he struck out Pete Kozma for the first out. That gave the Cardinals a moment to breathe, but the tension increased when Jon Jay slapped another RBI base hit to left field to make it 6-4, and the sellout crowd of 54,265 fell silent.
Again, there was brief reprieve when Kershaw put away pinch-hitter Oscar Taveras on three pitches, but then Carpenter stepped to the plate with the bases loaded and two out.
There wasn't much time to flash back to last year, when Carpenter got the rally started in the pivotal third inning of Game 6 of the NL Championship Series against Los Angeles by working an 11-pitch at-bat against Kershaw and doubling. That game ended, 9-0, and ended the Dodgers' season.
On Friday, Carpenter struck again, following his homer in the previous inning with a bases-clearing double after an eight-pitch at-bat. That gave the Cardinals a 7-6 lead and finally chased Kershaw. Reliever Pedro Baez walked Grichuk, gave up a three-run dinger to Holliday, and the Cardinals had all the runs they'd need.
"You know, there was a moment during that at-bat where I kind of was feeling the … same emotions I was having last year," Carpenter said. "It was a very similar thing. Very similar at-bat. Honestly, in that moment I was trying to really just lock in on what I was trying to accomplish, and that was just being competitive and really having a tough AB and an inning where we had a lot of action. I was just trying to keep the line moving."
Oddly enough, it was Holliday's blast that ended up being the game winner, because the Dodgers scored twice in the eighth inning and once more in the ninth.
"Everybody just kept saying, 'Let's see what happens,'" Holliday said. "What other choice do we have? Just keep battling and we strung some hits together, and next thing you know, Carp has the big double and we got a lead. So baseball's a crazy game and we were able to come back. It was quite a task."
Doing it mostly against Kershaw was probably the biggest part of the task, and that's where some history came in.
The Dodgers' eight runs allowed in that seventh inning were the most they've allowed a postseason inning since giving up nine to the Cardinals in the second inning of Game 4 of the 1985 NLCS in St. Louis. Kershaw's eight runs allowed tied for the most ever allowed by a Dodger in a postseason game (Chad Billingsley in Game 2 of the 2008 NLCS). Kershaw also became the only pitcher in postseason history to allow seven or more earned runs in two consecutive games.
The Cardinals like where they stand for the remainder of the series after such a rare and inspiring rally. The Dodgers? They'll have to try to answer back in Game 2.
"It's a battle, man," Dodgers outfielder Matt Kemp said. "That's a good team over there, man. They have some professionals that have been in this situation before. They got some big hits when they needed them. We got some big hits. They scored more runs than us today. We came up short."
Doug Miller is a reporter for MLB.com. Follow him on Twitter @DougMillerMLB. This story was not subject to the approval of Major League Baseball or its clubs.