MLB.com Columnist
Barry M. Bloom
Even in a jam, Kershaw gives Mattingly no fear
Manager has no regrets after asking ace to work out of costly jam in Game 1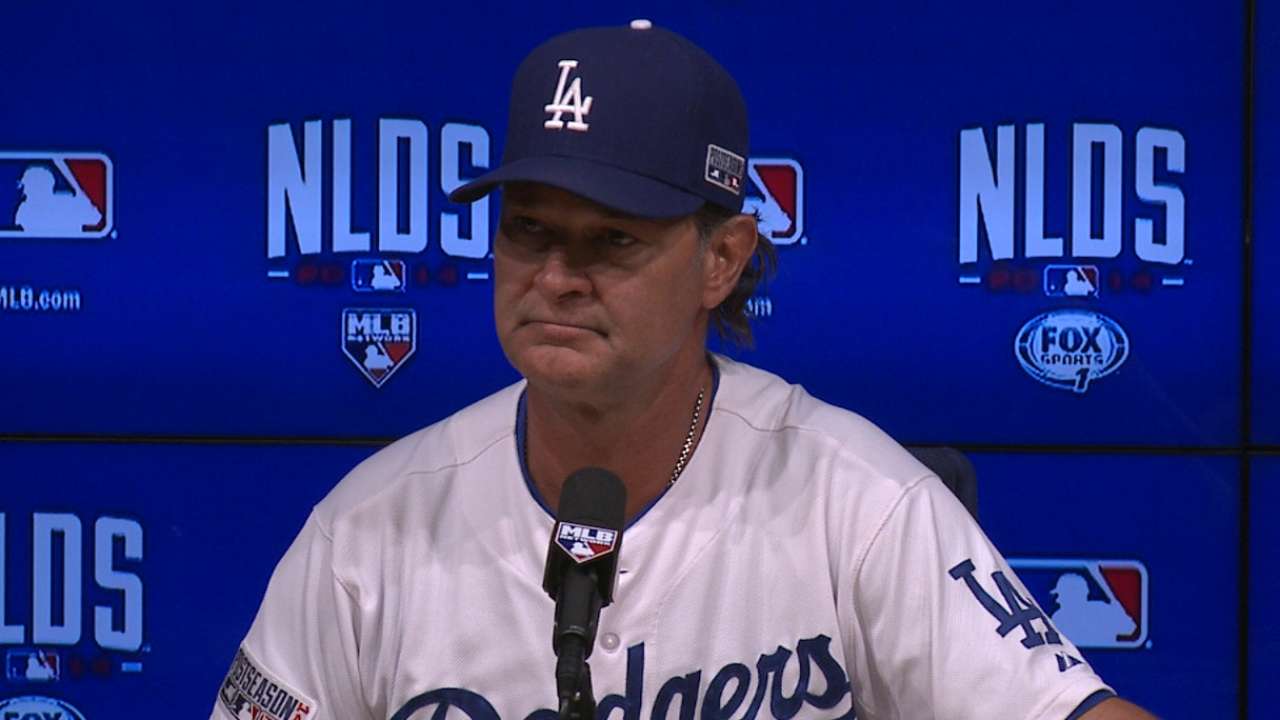 LOS ANGELES -- For those wondering why Dodgers left-hander Clayton Kershaw was left in to allow eight earned runs, six of them in the climactic seventh inning on Friday night at Dodger Stadium, Los Angeles manager Don Mattingly provided the answer.
"It was a pretty easy decision, actually," Mattingly said after the Dodgers blew a five-run lead to the Cardinals and lost Game 1 of their National League Division Series, 10-9. "It's really hard to take Clayton out."
Kershaw sailed through the first six innings, having allowed only two hits, a first-inning homer by rookie Randal Grichuk and a sixth-inning solo shot by Matt Carpenter, who would provide the bases-clearing double that chased Kershaw an inning later.
Then the proverbial roof caved in. To lead off the seventh, the Cardinals collected four successive singles by Matt Holliday, Jhonny Peralta, Yadier Molina and Matt Adams before Mattingly had any relievers stirring. Kershaw struck out Pete Kozma with the bases loaded and one run already in for the first out. Jon Jay then connected with another RBI single, and Oscar Taveras stepped to the plate as a pinch-hitter. That's when Mattingly finally deliberately strode out to the mound.
"Once he gets Kozma, and Taveras comes up, that's when I go out and check on him," Mattingly said. "Once he gets Taveras, I'm going to give him Carpenter."
Taveras whiffed for Kershaw's 10th and final strikeout of the game.
"He asked me if I could get the guy, and I thought I could get him," Kershaw explained. "I mean, l feel terrible. It's an awful feeling to let your teammates down. They were playing great and got a bunch of runs for me and I couldn't hold it. So, it's a terrible feeling."
"Obviously, they got some hits and he's still throwing strikes, still going after guys," Mattingly said. "But I think with Clayton, you always look at when he gives up a hit or two, you always feel like he's going to get out of it, he's always going to rebound. In a sense, he does -- he gets Kozma and he gets Taveras, and he's got Carpenter 0-2. You feel like he's going to get him, and obviously Matt did a nice job fighting him off and finally got to him."
In defense of Kershaw and Mattingly, the left-hander hadn't been blasted for seven runs in a single outing since the D-backs scored that many runs against him in 1 2/3 innings at Arizona on May 17. And evidently, the Cardinals have his number. Kershaw allowed seven earned runs to St. Louis in a 9-0, Game 6 loss that ended the NL Championship Series last Oct. 18 in St. Louis. Not only has no Major League pitcher allowed 15 earned runs to the same team in back-to-back postseason starts, no pitcher has allowed that many earned runs to the same team in the history of postseason play.
"In that inning, I left some fastballs up and over the middle of the plate, and they got good hits," Kershaw said. "It's what they do; they ride on momentum. They got a lot of guys on base. As a starting pitcher, it's kind of your game to lose. I did that, so it's not a good feeling."
Save for the Arizona game, Kershaw had a regular season for the ages. He led the Major Leagues with a 21-3 record, an .875 winning percentage, a 1.77 ERA and a 0.86 WHIP, and he was second in the NL with 239 strikeouts, three behind Johnny Cueto of the Reds and Stephen Strasburg of the Nationals, in 27 starts. Because of all that, Kershaw has been widely touted as a candidate to become only the seventh pitcher in history to win a league MVP Award and Cy Young Award in the same season.
Friday's outing was such an anomaly that even some of Kershaw's teammates began speculating that the lefty might have been tipping his pitches. Kershaw went into the game 67-0 when he had a lead of four runs or more and he was the pitcher of record. He's now 67-1.
"They seemed to put together hit after hit after hit, so I don't know if he was tipping his pitches or what, but they seemed to have his number that inning," Dodgers left fielder Carl Crawford said.
"It's funny you'd mention that," added Kershaw's catcher, A.J. Ellis. "I saw some people talking about that after the game, just checking my phone and stuff. That's the first I've heard of it. It would be a really well-kept secret if only one club had it out there. But if that's the case, we'll take a look at it. I think for the most part, they found some holes. We couldn't get anything hit at anybody."
For his part, Kershaw didn't want to hear about it. No excuses, he said.
"That's discrediting their team when you start thinking about that; that doesn't accomplish anything," Kershaw said.
Asked if he planned to at least look into it, Kershaw concluded: "No, I don't think so."
Barry M. Bloom is a national reporter for MLB.com and writes an MLBlog, Boomskie on Baseball. Follow @boomskie on Twitter. This story was not subject to the approval of Major League Baseball or its clubs.