RBI man Desmond has atypical game in the clutch
Shortstop strikes out with bases loaded in sixth, whiffs again with two on in eighth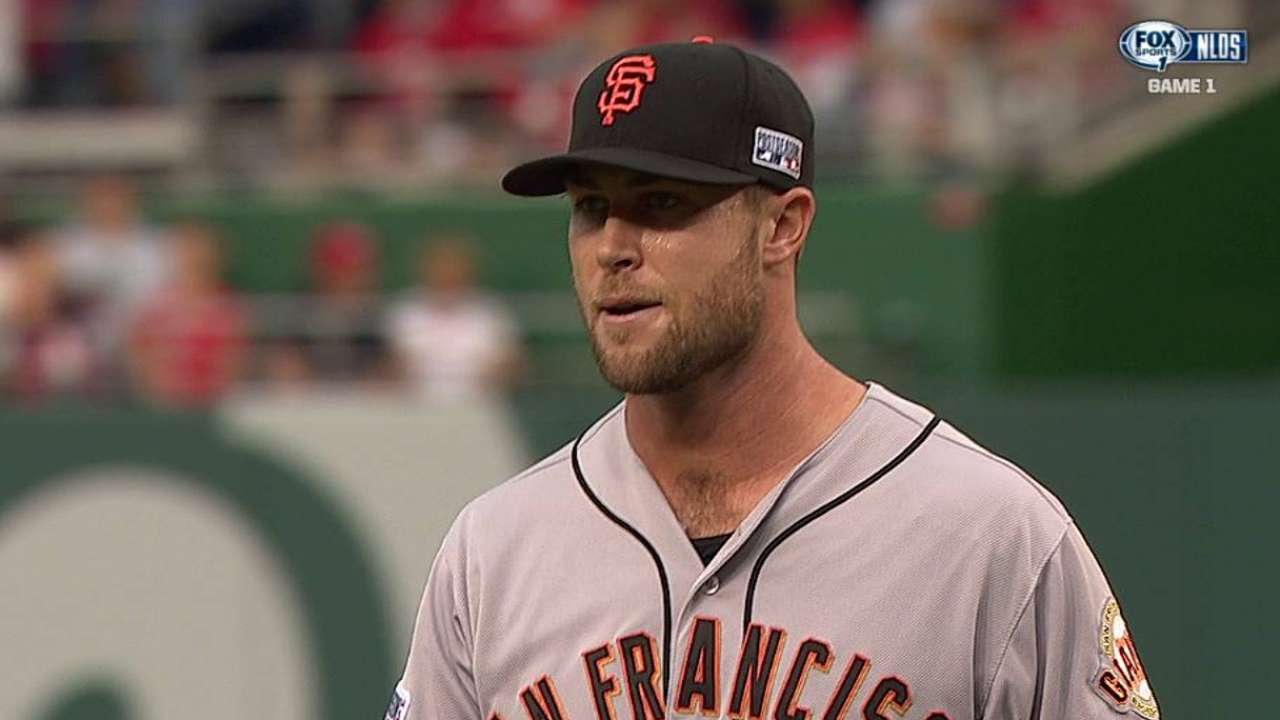 WASHINGTON -- The situation set up perfectly for the Nationals. They trailed the Giants, 2-0, in Game 1 of the National League Division Series on Friday, but they appeared to be on the verge of a breakthrough.
With two outs in the sixth inning, Jayson Werth and Adam LaRoche drew back-to-back walks, loading the bases for Ian Desmond. Giants manager Bruce Bochy countered with Hunter Strickland, a hard-throwing rookie with all of seven Major League innings to his name.
Desmond finished second on the Nationals with 91 RBIs this season, with 17 of those coming with the bases loaded. He did his most damage in those situations, going 8-for-12 with a double and a home run.
"I would take that opportunity for Desi every day," Nats manager Matt Williams said. "He has been really big for us this year, hitting from that spot. [He's] driven in a lot of runs for us. We will take that opportunity any time we can get it."
But Strickland reached back and fired four fastballs. The last one, with two strikes, zoomed past Desmond's bat for strike three to end the rally.
"[He's a] guy I hadn't faced, but I was just trying to get something out over [the plate], and I wasn't able to get it done," Desmond said.
The shortstop got a chance for redemption in the eighth, but he faced another tough situation. With runners on first and second and one out in a 3-2 game, Desmond squared off against Sergio Romo, who held right-handed batters to a .172 average and a .528 OPS during the regular season.
Romo threw a sinker for a called strike one, then slung two straight sliders that dove off the outside corner and sent Desmond chasing. Bryce Harper followed with a groundout, and the threat was over.
"I just didn't put my best foot forward," Desmond said. "[We've] got some games left, and hopefully I'm able to bounce back."
Andrew Simon is a reporter for MLB.com. Follow him on Twitter @AndrewSimonMLB. This story was not subject to the approval of Major League Baseball or its clubs.