Giants' middle infielders deliver with lumber, leather
Rookie Panik, Crawford combine for five hits, turn key double play in Game 1 win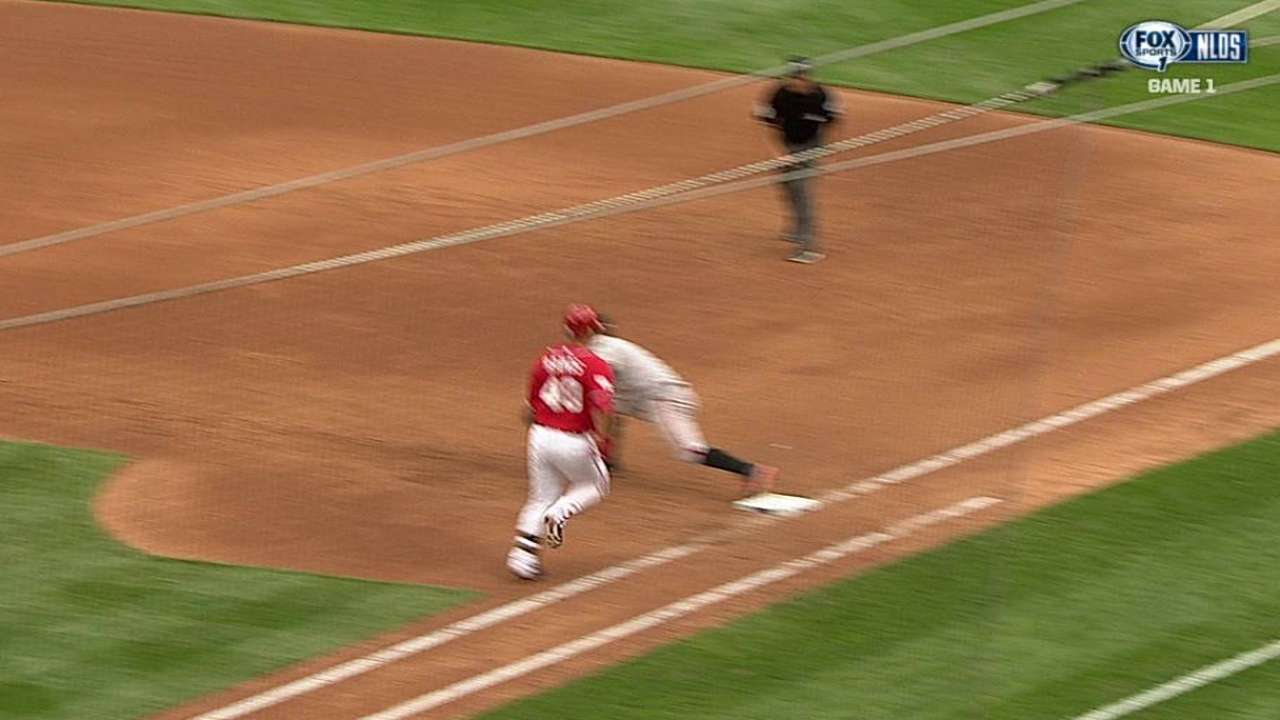 WASHINGTON -- The middle of the Giants' infield was right in the middle of their 3-2 win over the Nationals in Game 1 of the National League Division Series on Friday at Nationals Park.
Rookie second baseman Joe Panik had two hits, drove in a run and scored after a leadoff triple in the seventh inning. Shortstop Brandon Crawford had two singles and a double.
The duo combined for an important double play in the fifth inning that helped short-circuit what could have blossomed into Washington's first rally.
Panik is a fresh-faced 23-year-old who had just finished a season in which he had batted .257 at Double-A Richmond last year at this time. Crawford, four years older, features long hair and a beard, and he is a veteran of the Giants' World Series championship season in 2012.
So far this October, the infielders have been a big part of their team's success. Panik was 3-for-5 in Wednesday's NL Wild Card Game win over the Pirates, while Crawford hit the grand slam that broke the game open.
While Crawford isn't a surprise, Panik sort of came out of nowhere after incumbent second baseman Marco Scutaro was lost for the season with a back injury and San Francisco cycled through several other second basemen. Manager Bruce Bochy has been repeatedly asked about the kid.
"I've said this a few times, he really saved us," Bochy said. "We had a need there at second base. We tried a couple guys. He was having a good year down in [Triple-A] Fresno. He came up right away and had a sense of belonging, as we say. He showed me that early.
"To be on this stage, he has a calmness about him. He's a tough kid. He's a guy who keeps it simple up there. He doesn't try to do too much. He has a great swing."
Panik said he hasn't changed his approach just because he's in the playoffs.
"It gets a little louder and stuff," he said. "But when it comes down to it, it is the same game. You have to be more fine with the little things. When the pressure gets on you, tell yourself to stay within yourself. All the work in the offseason comes down to this point.
"As a competitor, you always want to help the team win. Since I came up, I wanted to be another link in the chain. That's how this team is. There isn't one guy that we have to rely on. It's the entire team. To be able to be another link in the chain, that's special."
Bochy also noted that Panik plays well on both sides of the ball.
"He probably saved us defensively, too," the manager added.
That was a reference to a nifty double play Panik and Crawford teamed up for in the fifth after Bryce Harper opened the inning with a single off the glove of a diving first baseman Brandon Belt, the Nats' first hit of the game off Jake Peavy.
That sparked the home crowd, which hadn't had much to cheer about until then. But Panik made a nice scoop on a grounder up the middle and flipped to Crawford for the force. The shortstop managed to get an off-balance throw to first in time to double up Wilson Ramos, taking the crowd right back out of it.
The classic blueprint for building a winning team has always been to be strong up the middle. Panik and Crawford have demonstrated the wisdom of that old adage for the Giants so far this postseason.
Paul Hagen is a national reporter for MLB.com. This story was not subject to the approval of Major League Baseball or its clubs.