Angels' season rests in Wilson's left hand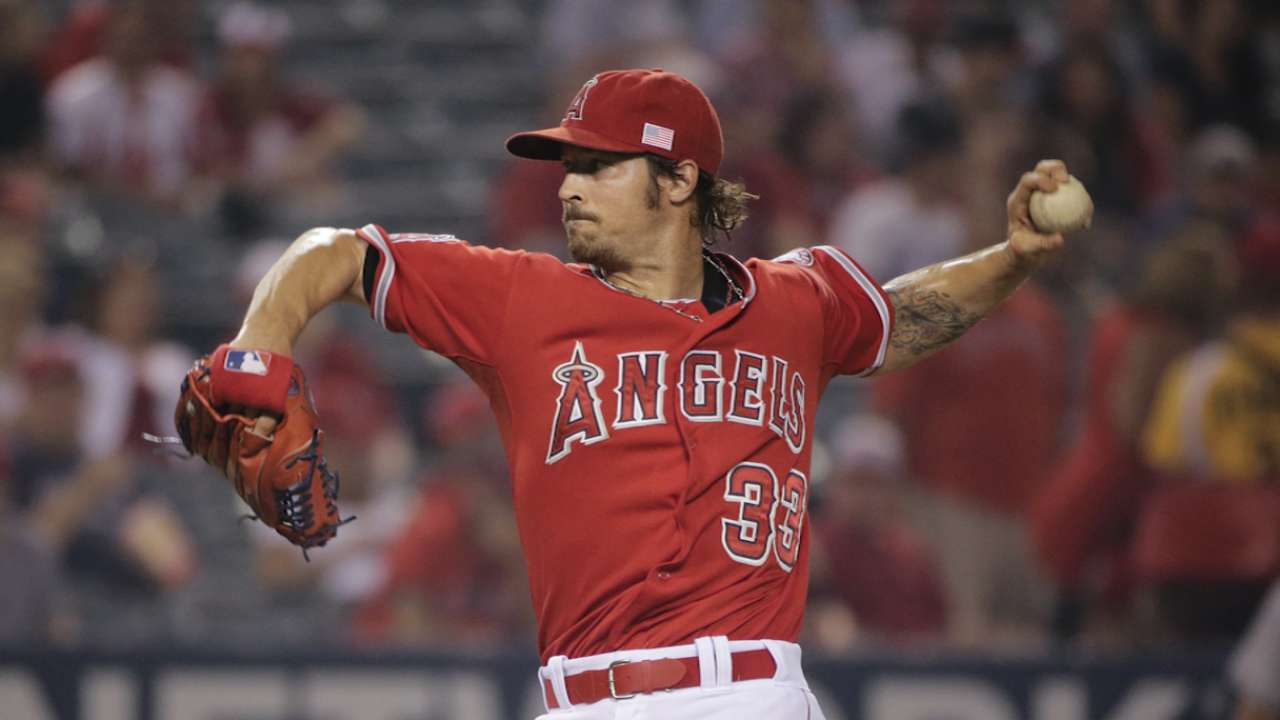 KANSAS CITY -- As they look to rediscover their missing offense against James Shields with the season on the line on Sunday at Kauffman Stadium, the Angels are asking C.J. Wilson to keep the Royals at bay in Game 3 of the American League Division Series, 4:30 p.m. PT on TBS.
Wilson, arriving on the scene on Saturday night, expressed complete confidence in his and his team's prospects of keeping their championship hopes alive. A pair of draining 11-inning losses at Angel Stadium left Wild Card Kansas City up 2-0, one win away from moving on to the AL Championship Series.
"I feel like we're going to be playing [Game 4] on Monday," Wilson said. "That's what I feel like. Because the way everybody came back through the dugout into the clubhouse after the last game, everybody had that right level of intensity. Like where they're a little bit upset that they didn't come through with whatever they wanted to do, but they were determined to do it, and I think that's what you see.
"You see that resiliency from our team. We've had a lot of things go wrong for us this year. We still managed to win a lot of games. It was just because we pull together and we work well as a team. Everybody gets along. Everybody trusts the other guy. Everybody feeds off each other. We have a lot of good energy, and I don't think this is any different a situation than that for me or for the team."
While his overall numbers weren't up to his high standards -- he was 13-10 with a 4.51 ERA in 31 starts -- the durable, cerebral southpaw finished strong. He was effective in four of his last five starts, including a pair of gems against the Mariners wrapped around his one bad outing in Oakland.
"At the end of the season," he said, "you're always kind of juggling the workload vs. the fatigue versus any sort of nagging physical stuff that's going on. I think everybody, every baseball player, is in the same position in that sense. But a couple games ago against Seattle I was great, and then a couple games later against Seattle I was great, and they're just as good as anybody else."
Wilson clearly feels the Angels' bats, grounded at home with only three runs in 22 innings, are due to come alive -- and catch a few breaks that didn't come their way in Anaheim. A spectacular Royals defense turned the tide in both games.
"We had some instances where we're hitting balls on the warning track, hitting balls almost off the fence and they're making circus catches in the outfield, and we just didn't get a lot of breaks," he said. "So I think we're looking to reset the trap a little bit. And since we're the leadoff team in this case, we get to set the tone on offense -- and hopefully that helps all of us, including me."
Wilson has a history of success against the Royals. In 17 career appearances, seven as a starter, he is 4-0 with six saves and a 3.20 ERA. In the "Show Me State," he's 1-0 in six games and three starts with a 3.32 ERA.
Facing the Royals on May 23 at Angel Stadium, he yielded one run in 6 1/3 innings, claiming a 6-1 win. On June 29 in Kansas City, Wilson scuffled in taking a 5-4 loss, charged with four runs in 3 2/3 innings.
"It really depends more on what's going on with me," he said. "Like last time I was here, the circumstances weren't super awesome for me, but I pitched well against the Royals last year and I pitched well against the Royals earlier this season in Anaheim, so I feel good about it. This ballpark is a fairly neutral ballpark. It's not like Fenway or Houston, where they have a really short porch or some weird dimensions."
Wilson is following strong efforts by fellow starters Jered Weaver and Matt Shoemaker.
"We're confident in every pitcher taking the ball for us," Albert Pujols said. "We don't turn our backs on our pitching staff. I know C.J. is having a tough season, but he's a gamer. He's going to go out there pretty pumped up.
"Hopefully, we can give him a little bit of cushion so he can go out and execute his pitch. He's a veteran guy. He knows what we'll be looking for, and that's a win."
Wilson, a high-energy athlete, embraces a high intensity level from the crowd as well as the players. The park will be rocking for Game 3.
"You grow up as a little kid, and you say, 'I want to pitch in the playoffs or I want to get the game winning hit' or whatever it is," Wilson said. "You're envisioning doing that in front of 40, 50, 60,000 people, not 18 people sneezing and coughing at a Spring Training game," he said. "This is more fun. This is better."
Lyle Spencer is a reporter for MLB.com. This story was not subject to the approval of Major League Baseball or its clubs.