MLB.com Columnist
Mike Bauman
Giants draw on pluck, postseason pedigree in Game 1
Team mentality helps San Francisco turn it up a notch in October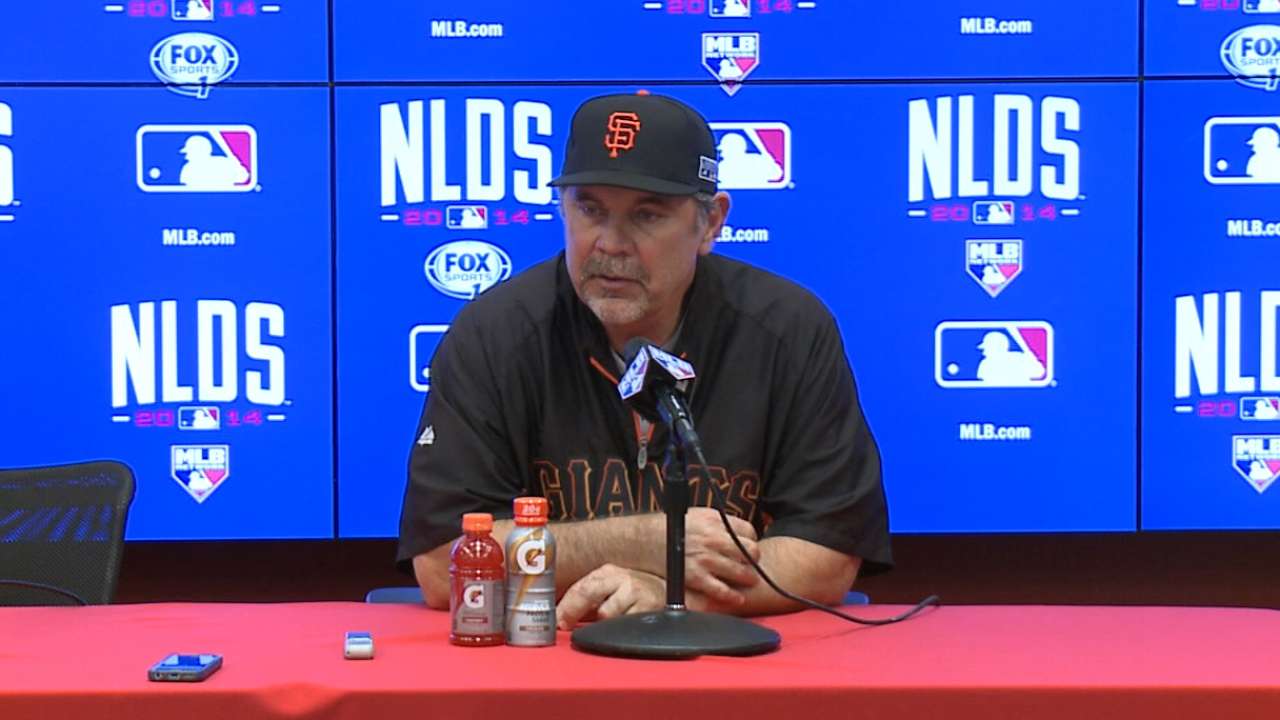 WASHINGTON -- Lining up these two teams by numbers, by names, by sheer talent, there doesn't seem to be much comparison. The Nationals win, the Giants lose, let's move on to the National League Championship Series.
But when the postseason games are actually played, the Giants no longer suffer by comparison. They just win, the way they did Friday at Nationals Park in the opener of their NL Division Series. Their 3-2 victory over the Nats was a typical Giants combination of fine pitching, solid defense and just enough timely hitting.
As those who have been loyally following this club fully understand, this is what you get from the Giants in the postseason. San Francisco is 6-0 in postseason series managed by Bruce Bochy. That would account for those World Series championships in 2010 and '12.
With the victory Friday, the Giants are on a nine-game postseason winning streak, longest in franchise history, longest in NL history. They have won 13 of their last 16 postseason games and 23 of their last 31.
When San Francisco wins in October, in other words, it is no fluke. There are plenty of Giants who have not only been here before, they have won here before.
"These guys, they have been through it," Bochy said Friday night. "They have a calmness about them. When you have your back as many times against the wall as you can in the postseason, that experience is invaluable. You can talk about runs early, but our defense won us that game. [Second baseman Joe] Panik and [shortstop Brandon] Crawford, big double play. Panik's play in the eighth. [Juan] Perez's play there in left field kept them from second and third. These little things add up in a tight ballgame.
"These guys are used to it. That is always nice to have that experience to draw on."
The pitching matchup Friday underscored the point. Jake Peavy, a veteran who had worked very well down the stretch, against the Nationals' Stephen Strasburg, who was practically a legend before he reached the Major Leagues. Peavy wasn't the one throwing fastballs in the upper 90s, but he certainly was the one who had the better of this matchup.
Peavy produced 5 2/3 shutout innings, in a performance that Bochy referred to as "terrific job, gutty effort." Peavy needed 104 pitches to navigate his way through Washington's lineup for 17 outs, but he gave up only two hits. In the end, he opened the door for San Francisco to take the series lead and make the opening statement.
"It means the world for us to come in here, against the best team in the National League, to get Game 1, we feel really good," Peavy said. "We understand it is just one game and we have an uphill battle still; [Jordan] Zimmermann going [Saturday] night [for the Nats]. Not an easy challenge. The boys will come out. We will fight as we did today. We feel very fortunate and blessed to come away with this win."
The Giants' Game 1 performance made an indelible impression on the opposition.
"They defend well, they have speed, they have some power," Nationals manager Matt Williams said. "They have the ability, with veteran hitters in the middle of their lineup that are battle-tested, to drive runs in. We saw that with Buster [Posey] today. You know, they are tough to beat."
In the end, the postseason is a test not only of talent, but of mettle. It is a test of which team has the poise to stand up under the biggest baseball spotlight of all, the one that gets turned on only in October.
"That's what makes this team as special as we are," Peavy said. "We understand that we may not be the favorites, but we play every pitch, on every side of the ball. I think you saw that come to fruition today, with the way we grind it out, on the defensive side of the ball, the way we grind it out on the offensive side of the ball."
Peavy was joined in the postgame interview room by Panik, whose contributions late in the season and again in this game, were indispensable. The younger players on San Francisco's roster, Peavy said, could look to the experience and the approach of postseason veterans on the club.
"I think these guys see that nobody is scared of the moment," Peavy said. "We are going to go out, play the game that we know how to play. We are going to grind it out. In the postseason, you really, really have to grind out every pitch to have a chance to win. If you don't do it, the other team will do it and beat you.
"We understand that we might not be man for man, you know, the favorites. We are not given a lot of credit. Our strength is in who we are as a team. It is not any individual. We have great individual players, but we have to play to the game as a team.
"That type of baseball is who we try to be in the regular season. I think it really translates in the postseason, because you have to play that way."
The Giants' work in the 2014 postseason has just begun. But don't expect them to play any other way.
Mike Bauman is a national columnist for MLB.com. This story was not subject to the approval of Major League Baseball or its clubs.