Aggressive early, Peavy writes new playoff chapter
Entering with 9.27 postseason ERA, veteran earns first win with 5 2/3 shutout innings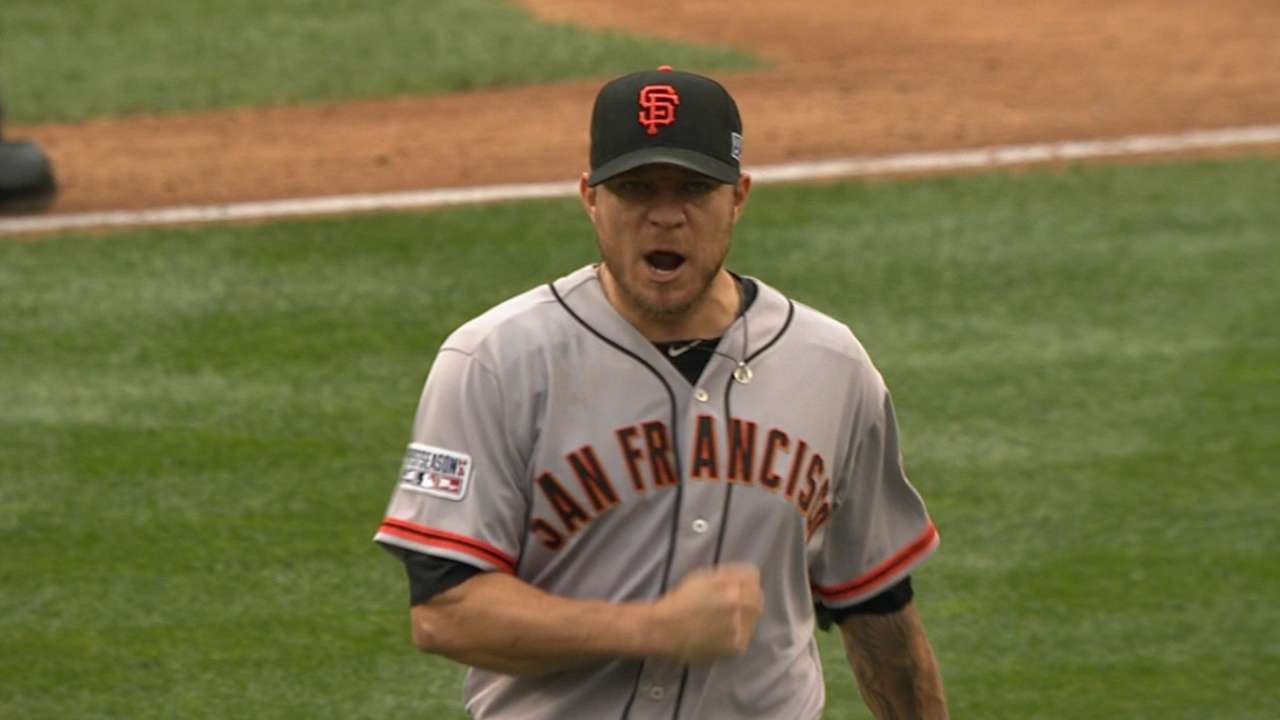 WASHINGTON -- Jake Peavy has had a lot of success in his career. Not much of it has happened in the postseason, though. And it didn't take long after the Giants right-hander shut down the Nationals on two hits for 5 2/3 innings on Friday for him to be asked if his previous struggles made this success any more satisfying.
"You know, any time you win in the postseason, it's sweet," Peavy said. "Any time you get beat, it makes it sweeter when you do win. So it was a nice victory."
Peavy had a 9.27 ERA and was winless in five previous playoff starts, but you wouldn't have known that from watching him methodically set down Washington in San Francisco's 3-2 win in Game 1 of the National League Division Series at Nationals Park.
"I think he just mixed really well. He's a very smart pitcher," said catcher Buster Posey. "He knows when not to give in. He had a higher pitch count [104] than normal, but I think it's because he went ahead and made some really tough pitches early in the game. He understood how important those first few innings were."
In both the first and second innings, Peavy issued a two-out walk before getting the final out of the frame.
"I just used everything I had, honestly. You have to against teams this good," Peavy said. "You can't take a batter off. I think that's the attitude. That's what makes this team as special as we are. We understand that we may not be the favorites, but we play every pitch on every side of the ball."
The Nationals were playing for the first time since Sunday, but manager Matt Williams didn't think that was why Peavy was so effective.
"I think Jake was good. Throwing the ball to both corners, breaking balls in fastball counts and vice versa," Williams said. "He's a veteran. He knows what he's doing."
Peavy came to the Giants from the Red Sox at the non-waiver Trade Deadline.
"He saved us, especially with [Matt] Cain going down," said Giants manager Bruce Bochy. "He did a terrific job [Friday], a gutty effort. He really made his pitches when he had to."
Paul Hagen is a national reporter for MLB.com. This story was not subject to the approval of Major League Baseball or its clubs.