Royals hoping to have Herrera back for Game 3
Reliever diagnosed with slight flexor strain after early exit in ALDS opener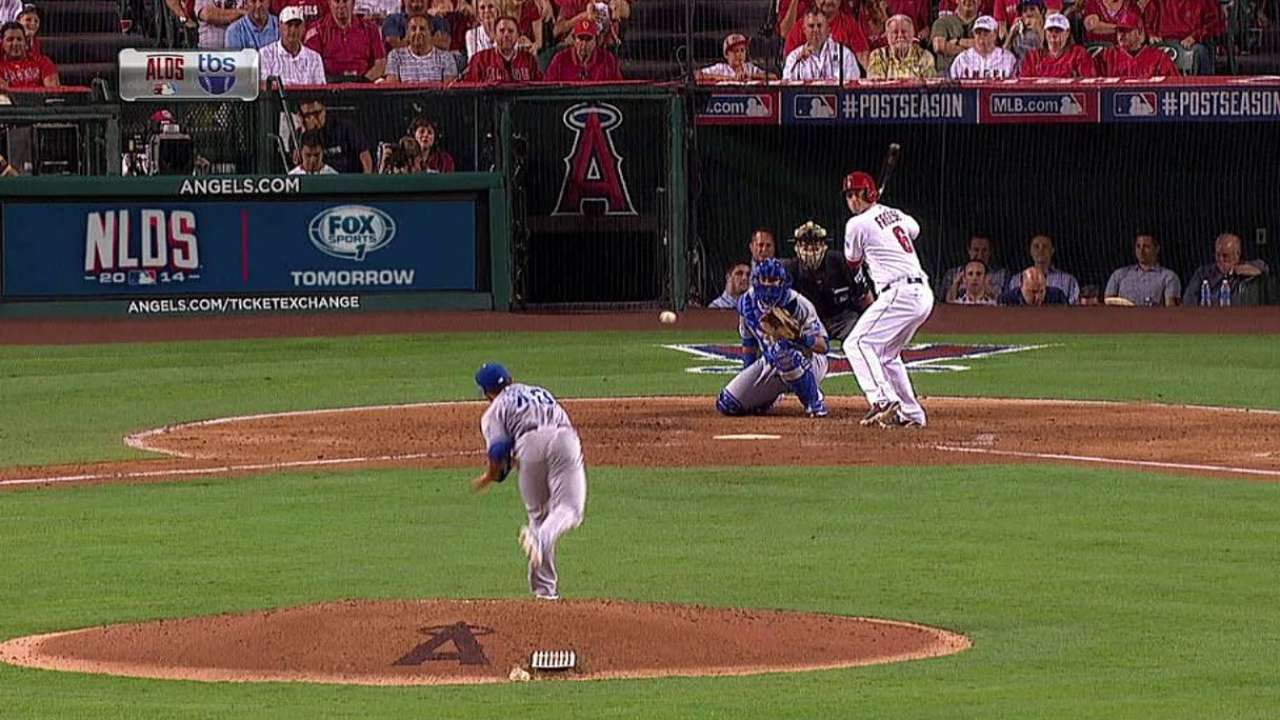 ANAHEIM -- There's a chance that Royals reliever Kelvin Herrera will be available to pitch in Sunday night's Game 3 against the Angels in the American League Division Series.
Herrera had to leave in the seventh inning of Thursday night's 11-inning, 3-2 victory because of a tight right forearm. He faced just one batter, walking David Freese on five pitches.
"Herrera is fine. He's got a slight flexor strain," manager Ned Yost said Friday. "They did the MRI and it came out, actually, really good. No damage, not much fluid -- very, very little fluid which is great news. We're going to re-evaluate it on the off-day tomorrow and hopefully he's going to be available on Sunday. We'll see."
That obviously put Herrera, the team's seventh-inning specialist, out for the second game on Friday night at Angel Stadium.
"It's matchups now. We'll just see where we're at in the game. If [Yordano] Ventura takes us into the seventh inning, that'd be great, but we can mix and match it between [Jason] Frasor, [Brandon] Finnegan and [Tim] Collins and go from there."
Yost almost brought Herrera into the game in the sixth inning when starter Jason Vargas, a left-hander, had two on with two out and right-handed-hitting Howie Kendrick coming up. Yost went out to the mound and talked to Vargas.
Vargas was throwing the ball well with a changeup that was effective against the Angels' righty hitters. Yost could see that but wanted to see something else.
"I want to see the look in his eyes," Yost said.
Apparently Vargas' eyes had a glint of steel in them because Yost left him in the game. Kendrick pounded a drive to right field that was caught by Nori Aoki's stab at the wall. Close call, but the inning was over.
"Luckily for us, with the problem Kelvin had, we would have been in trouble if we brought Kelvin in in that spot," Yost said. "So we were kind of lucky right there."
Instead, Herrera came out to start the seventh inning and issued the walk and was removed.
Closer Greg Holland said he wasn't worried about Herrera.
"He's a tough player and a tough individual," Holland said. "I'm not a doctor or physician by any means, but from what I heard, he's fine and hopefully will get back on the field sooner than later because he means a lot to this team."
If Herrera can't return, the Royals have three non-roster relievers, Aaron Crow, Louis Coleman and Francisley Bueno, working out at their training complex in Surprise, Ariz., to stay sharp and ready if needed.
Dick Kaegel is a reporter for MLB.com. This story was not subject to the approval of Major League Baseball or its clubs.