Oct. 3 Bruce Bochy postgame interview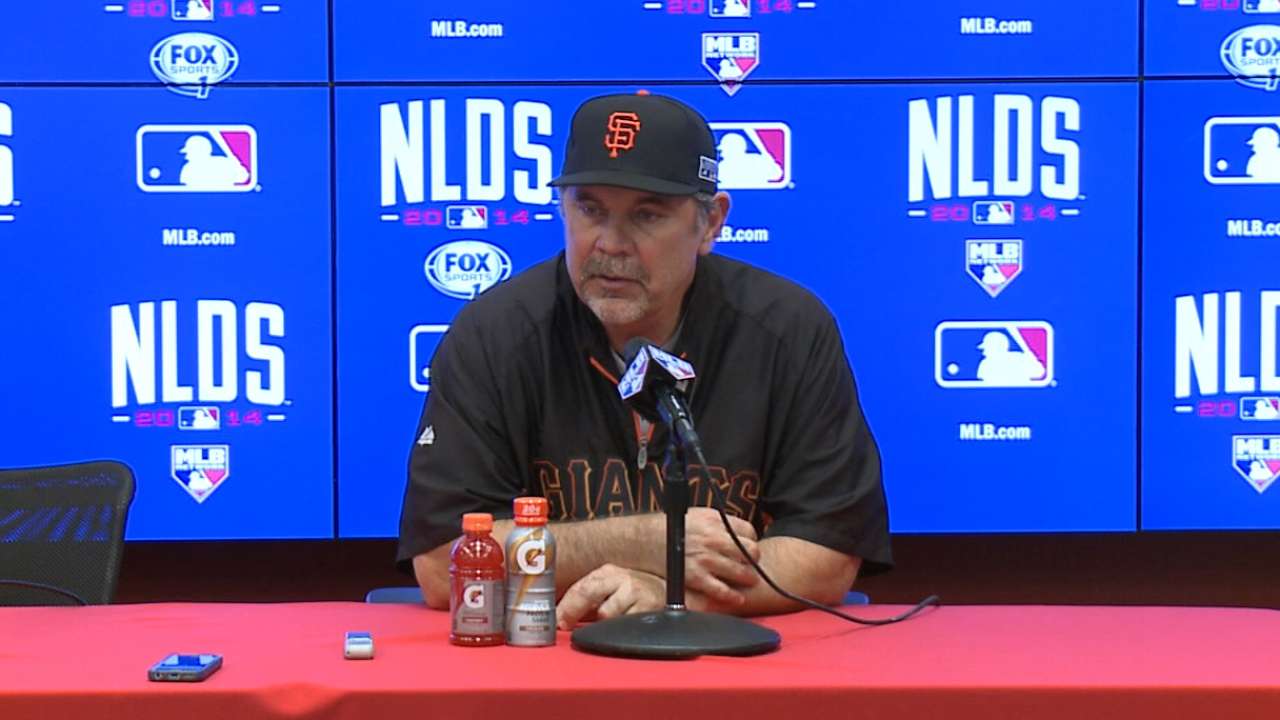 Q. Can you talk about the job that Jake did tonight.
BRUCE BOCHY: Terrific job, gutty effort. A lot of good, long innings. Going against a tough pitcher. Throwing the ball, coming in this game (inaudible) he really made pitches when he had to.
He saved us. He has come over here, especially with Cain going down (no microphone).
Q. Nine-game postseason winning streak, what is different?
BRUCE BOCHY: You know, these guys, they have been through it. You know, they have a calmness about them. When you have your back as many time against the wall, as you can in the postseason, that experience is invaluable. You can talk about runs early, but our defense won us that game. Panik and Crawford big double play. Panik's play in the eighth. Perez's play there in left field kept them from second and third. These little things add up in a tight ballgame.
You know, these guys are used to it. That is always nice to have that experience to draw on.
Q. What kind of approach did you have against Strasburg? Same as always?
BRUCE BOCHY: Same as always. We get ready for every starting pitcher like we normally do. I can't say we change our approach a lot. We try to keep it simple. Get a pitch, be selective up there. Try to do little things to help out, move runners. And the guys did a good job of that.
He has been throwing the ball well. He threw the ball well tonight. We scratched and clawed, got a couple of early runs off of him. That is always a good thing when you are in a game like this.
Q. Were you worried at any time, when you left all of those runners on base in the middle innings, and then you see what Harper does --
BRUCE BOCHY: Yeah, well, you'd like to add on, and give yourself a bigger cushion. Understand, you are going against a tough pitcher who knows how to make pitches, too. What you hope to do is create those chances, and which we did a few times, but didn't take advantage of all of them. We did get a couple of runs.
They are a good ballclub. They came right back, made it a one-run game, which we expect. Strickland got a big strikeout, when he needed it. Romo made a big pitch when he had to it. And of course, Casilla. Bullpen stepped up in a huge way today.
Q. Seemed like there was pretty good contact on good fastballs tonight. Is velocity a little overrated when it comes to situations in the postseason like this?
BRUCE BOCHY: It can be. I don't think you ever change from trying to get a good pitch to hit. That is the way it should be. Don't try to do too much. Don't overanalyze anything. You start thinking too much against a good pitcher, you get yourself in trouble. We try to keep it simple.
Q. I know you have been asked a few times about the kid, Panik. For him to come up in these kinds of situations, and deliver on this kind of stage, does it tell you anything about him?
BRUCE BOCHY: Well, he showed me that early, when he came up. I said this a few times, he really saved us. We had a need there at second base. We tried a couple of guys. He was having a good year down in Fresno. He came up, right away, had a sense of belonging, as we say. Played well on both sides of the ball. To be on this stage, he has a calmness about him.
He is a tough kid. You know, he is the guy that keeps it simple up there. He doesn't try to do too much. He has a great swing, and a good glove. Like I said, he probably saved us defensively tonight, too.