Experience not required for postseason spotlight
Relievers like Royals' Finnegan, Giants' Strickland revel in opportunity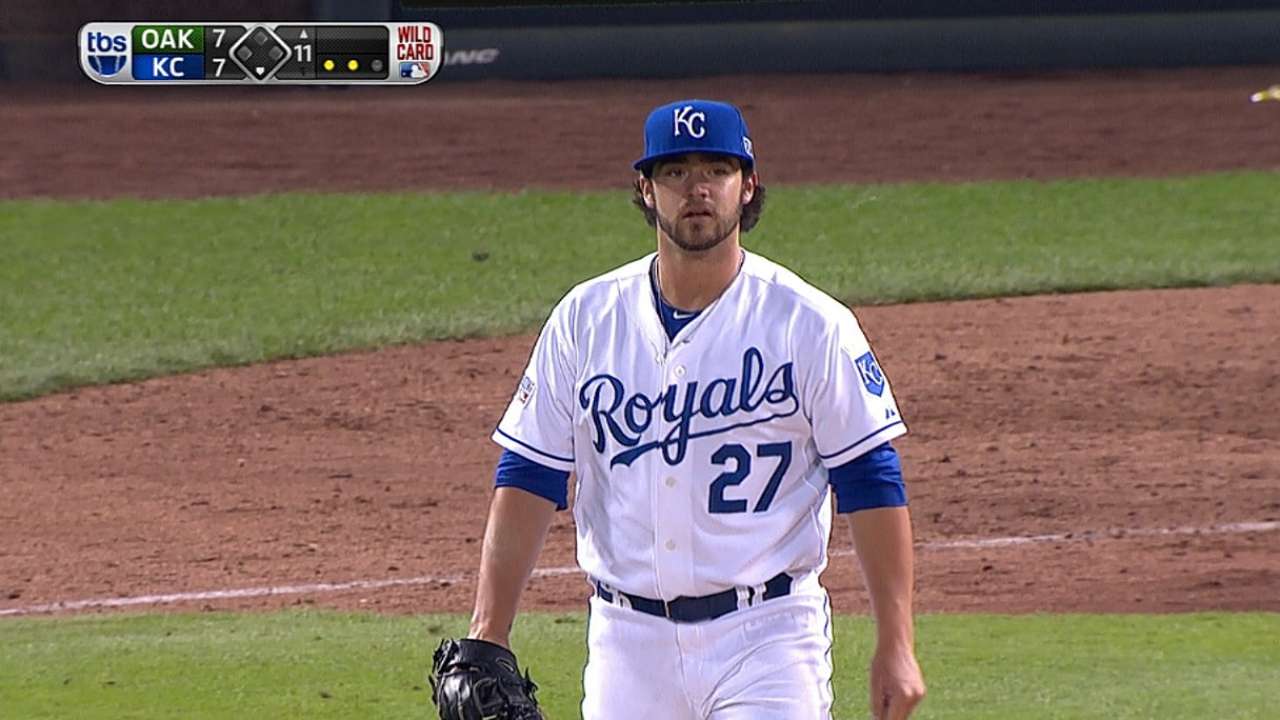 The last that we checked, no one has hung a sign on the baseball's postseason that read "experience not required." But if this particular postseason has taught us anything so far -- other than not to leave your seat early -- it's that experienced arms, while a luxury, aren't the only means to get 27 outs (or more).
On Tuesday, it was Royals rookie reliever Brandon Finnegan, the 21-year-old who was drafted with the 17th overall pick in June, who tossed 2 1/3 scoreless innings in that crazy extra-inning American League Wild Card Game victory over the A's. Then on Friday, he tossed a scoreless 10th inning for his first postseason win, as well as first Major League victory, when the Royals topped the Angels, 4-1, in 11 innings.
Finnegan threw all of seven innings in the regular season. That's right, seven.
Then on Friday, Giants rookie reliever Hunter Strickland, a 25-year-old who also had just seven innings in the regular season to his resume, found himself pitching in a high-leverage situation in Game 1 of the National League Division Series against the Nationals.
Strickland scuffled in his first playoff appearance, allowing home runs to Bryce Harper and Asdrubal Cabrera in the seventh inning, as the Nats cut the Giants' lead to 3-2.
But that Giants manager Bruce Bochy showed faith in the rookie gave credence to the idea that managers can -- and will -- eschew experience for better raw stuff.
Finnegan and Strickland aren't the only two neophyte relievers who have had to cut their teeth on the big stage.
Jarrod Parker of the Angels logged 5 2/3 innings with the D-backs in 2011 but made the playoff roster. He appeared in one game in the NLDS that year against Milwaukee, allowing one run in one-third of an inning.
Joey Devine pitched five innings for the Braves in 2005 and also made the playoff roster that year. He took the loss in Game 4 of the NLDS that year against the Astros, allowing a walk-off home run to Chris Burke in the 18th inning of that epic game.
Of course, not everyone can be like Francisco Rodriguez
K-Rod, who came up with the Angels late in 2002, was a dynamo in the postseason that year. He logged only 5 2/3 innings for Anaheim, but went 5-1 with a 1.93 ERA in 18 2/3 innings during the Angels' magical postseason run that culminated with a World Series.
How good was Rodriguez? He struck out 28, allowed 10 hits, walked just five and opponents hit a measly .156 against him.
And even though he wasn't a pitcher, we can't forget about Oakland infielder Mark Kiger -- who never actually appeared in a regular-season game, but did appear in the postseason in 2006 as a defensive replacement on two occasions.
Corey Brock is a reporter for MLB.com. Keep track of @FollowThePadres on Twitter. This story was not subject to the approval of Major League Baseball or its clubs.