Gonzalez can punch Orioles' ticket to ALCS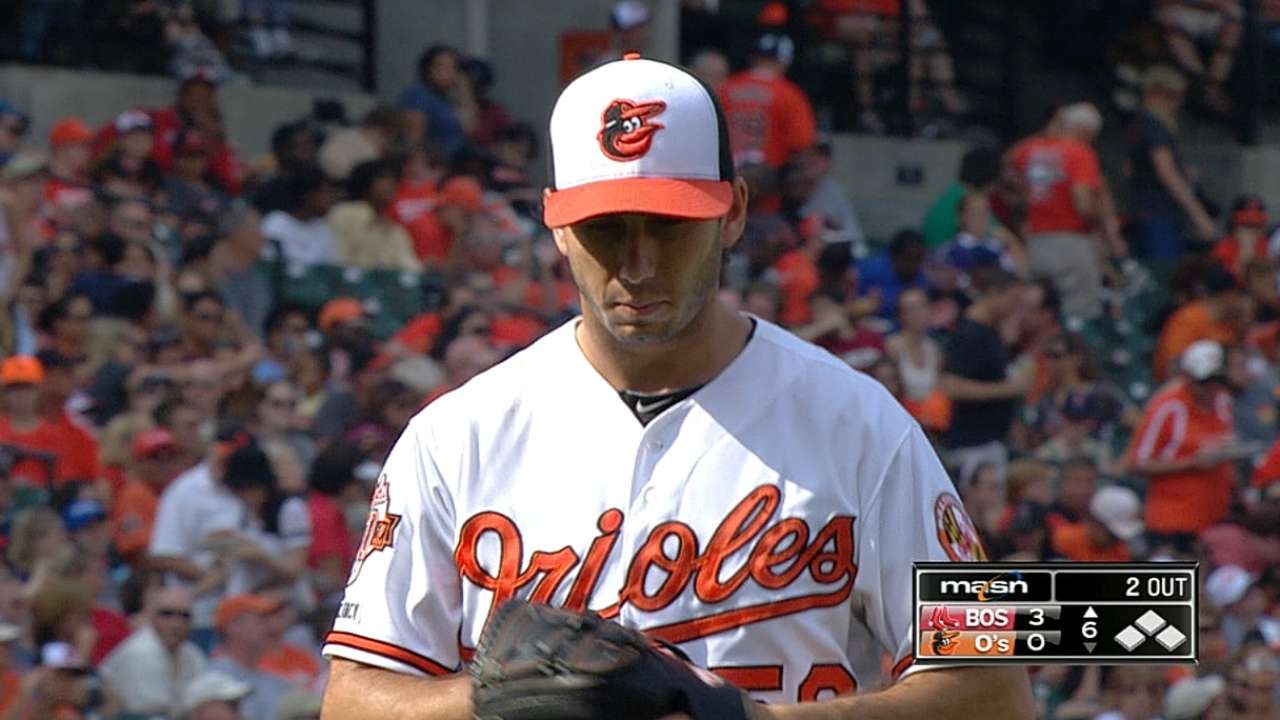 BALTIMORE -- Orioles starter Miguel Gonzalez will have a chance to close out the American League Division Series on Sunday afternoon, but it's not going to be easy.
Gonzalez will have his work cut out for him against a Tigers lineup that hasn't exactly been kind to the third-year starter. Detroit has posted some gaudy numbers in a relatively small sample size against Gonzalez, and now it will be up to the righty to bring those stats more in line with his career norm.
The 30-year-old Gonzalez has faced the Tigers four times over the past three years and has allowed 16 earned runs in 17 innings. He also has surrendered 24 hits and 10 walks while striking out just 11 during those appearances.
Orioles manager Buck Showalter said "there are a lot of variables" that led to Gonzalez being named the Game 3 starter over right-hander Bud Norris. Game time was one, as Norris had a 5.57 ERA in afternoon starts this season compared to a 3.45 ERA for Gonzalez.
Those splits don't change the fact that Detroit's current lineup has combined to post a .328/.380/.672 slash line in 71 plate appearances vs. Gonzalez. That doesn't bode well for the righty, but all it will take is one strong outing in the postseason to negate the previous shortcomings.
Surprisingly enough, Rajai Davis has caused Gonzalez the most trouble over the years. Detroit's outfielder is known more for his speed than his hitting abilities, but in 12 at-bats vs. Gonzalez, he has three homers and six RBIs. Davis, who has been fighting through a strained pelvic ligament, likely will be considered questionable on Sunday afternoon after he was forced to depart midway through Game 2 due to the injury.
Other hitters to watch out for in the Tigers' lineup include second baseman Ian Kinsler (3-for-11, 2B, HR, four RBIs), right fielder Torii Hunter (2-for-5, HR, RBI) and first baseman Miguel Cabrera (3-for-9, HR, two RBIs). All of the sample sizes are small, but it will still provide an elevated level of confidence for the Detroit lineup that is facing a win-or-go-home scenario in Game 3.
Gonzalez made his 2014 season debut against the Tigers at Comerica Park and allowed seven runs on nine hits and a pair of home runs on April 4. It was his second loss in four games vs. Detroit and also marked the last time he started against Detroit. His only other appearance against the Tigers this season was in relief of right-hander Kevin Gausman.
The Mexico native will have to hope that his consistency during the second half of the regular season will compensate for whatever previous shortcomings he experienced against Detroit. Gonzalez posted a 2.09 ERA in 13 starts since July 5, and only one of those outings involved more than three earned runs.
Gonzalez doesn't necessarily always eat up a lot of innings, but if he can get the Orioles through five or six innings with a low amount of runs, Baltimore manager Buck Showalter will gladly turn things over to his very reliable bullpen. Gonzalez doesn't have to be perfect, but he also needs to make sure the game doesn't get away from him like his previous appearances vs. the Tigers did.
"They are a great team," Nelson Cruz said after Friday's 7-6 victory in Game 2. "They have a good lineup and pretty good starting pitchers, so the main thing for us is to stay focused and hopefully in late innings like today we can do damage."
Gregor Chisholm is a reporter for MLB.com. Read his blog, North of the Border, and follow him on Twitter @gregorMLB. This story was not subject to the approval of Major League Baseball or its clubs.