Potential big inning dashed by Miggy's dash
Slugger thrown out at plate in eighth inning on V-Mart's double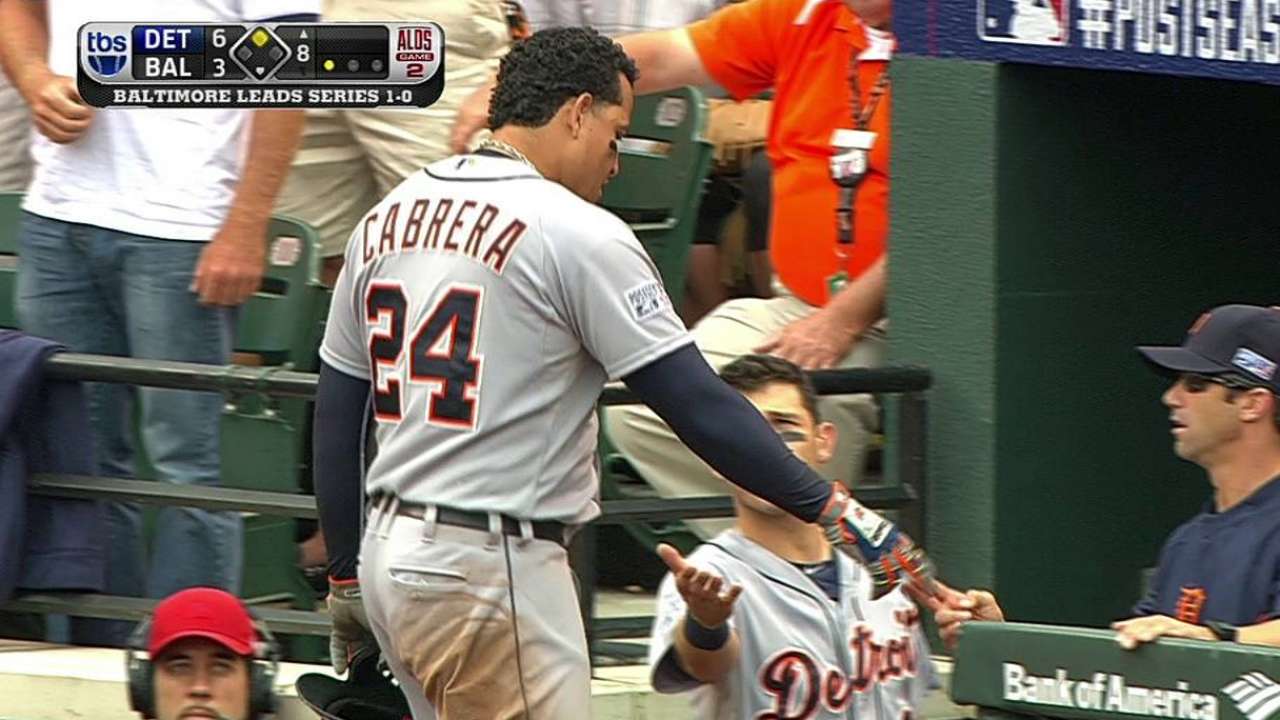 BALTIMORE -- The Tigers' bullpen will receive a lot of heat after Game 2 -- and rightfully so -- but a baserunning blunder in the top of the eighth inning loomed just as large for a Detroit team that suddenly finds itself down 0-2 in the American League Division Series after a 7-6 loss on Friday.
Detroit had a golden opportunity to put the Orioles away in the top of the eighth inning but gave away an insurance run when Miguel Cabrera was thrown out at the plate with none out. It was a run the Tigers would wish they had just a half-inning later.
The Tigers' rally started with a walk to Torii Hunter and a single by Cabrera, putting two runners on with nobody out. Designated hitter Victor Martinez then doubled over the head of Baltimore center fielder Adam Jones. Hunter easily scored on the play to give the Tigers a 6-3 lead, but Detroit wanted more.
Cabrera was waved around third, but a perfect relay throw from Jones and second baseman
Jonathan Schoop
got him at the plate. Instead of runners at second and third with nobody out, there was a man on second and one out. The rally came to a full stop. Flyouts to right field by
J.D. Martinez
and
Nick Castellanos
ended the inning, the second of which definitely would have scored a runner tagging up from third base.
Victor Martinez was stranded at second and the three-run lead wasn't enough as right-handers Joba Chamberlain and Joakim Soria combined to allow four runs in the bottom of the frame.
"When it's all said and done, it was a bad decision on my part," Tigers third-base coach Dave Clark said after Detroit's 7-6 loss. "I'll take ownership of it. Wish it hadn't happened, but it happens, and it was a chance that we could put an extra run across the board.
"Two long throws coming in from the outfield to an infielder, who had to make a long throw, as well. It just didn't work in our favor, and so I take the blame for it every time."
What was manager Brad Ausmus' thought on the decision?
"Like you, I was watching the play develop and hoping they would both make it," he said.
Clark pointed out that, earlier in the game, he held Hunter at third base under similar circumstances, but with a three-run lead, he wanted to be aggressive and try for an extra run.
Almost lost in all the commotion of the moment, though, was just how perfectly executed the Orioles made the play. If everything doesn't go right, Cabrera likely scores the end result of Game 2 could have been completely different.
"The name of our game is defense," Jones said. "If you hit the cutoff man, good things happen. Schoop made a great throw right to home. Play catch. That's something that we do really well."
Gregor Chisholm is a reporter for MLB.com. Read his blog, North of the Border, and follow him on Twitter @gregorMLB. This story was not subject to the approval of Major League Baseball or its clubs.