Lynn quietly brings impressive resume to Game 2
Having made big strides in maturity, Cards righty ready for emotions of LA start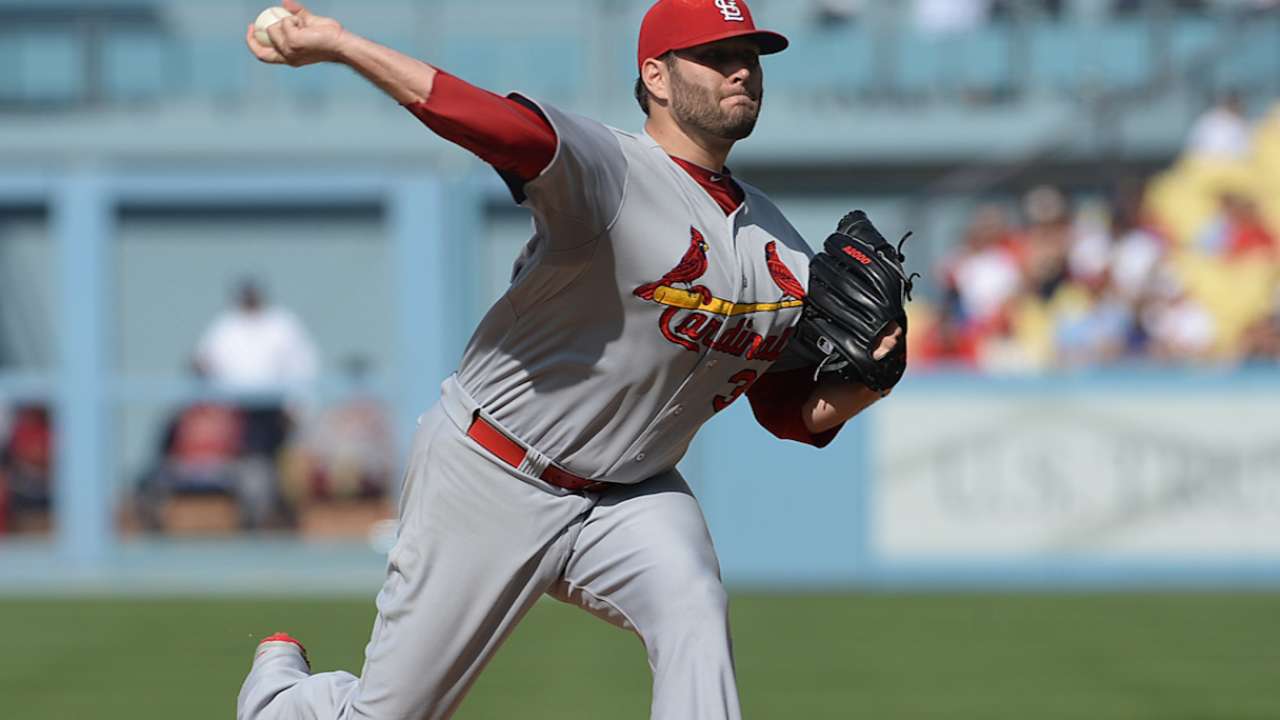 LOS ANGELES -- Lance Lynn seems to realize that what he does from the pitcher's mound will always resonate much higher on the decibel scale than anything he might say about it.
Take his news conference in advance of his start for the Cardinals in Saturday night's Game 2 of the National League Division Series against the Dodgers at Dodger Stadium (8:30 p.m. CT on MLB Network). When asked if the right-hander feels like he's in a better overall place entering this postseason after inconsistent Octobers in 2012 and '13 in which he shifted from starter to reliever, Lynn didn't say much.
"Maybe," he said. "We'll find out."
It makes sense for a guy who occupies the same pitching rotation as perennial Cy Young Award candidate Adam Wainwright but hardly gets any publicity despite tallying more wins (48) since 2012 than any NL starter other than Wainwright and Dodgers ace Clayton Kershaw.
Lynn went 15-10 with a career-low 2.74 ERA and career-high 203 2/3 innings pitched in 2014, making him one of the better starters in the NL. Of course, that was accomplished in the regular season. In Game 2 of the NLDS, he'll be up against a 17-game winner, righty Zack Greinke, a tough Dodgers lineup, and on enemy turf with a sold-out crowd of more than 50,000 trying to rattle him on every pitch.
"Emotions are good," Lynn said. "You've got to play with emotion. It's going to be an exciting time. I'm looking forward to it."
Lynn's stellar work in 2014 is just another step in what has quietly evolved into one of the better resumes of any big league starter. He's one of only three pitchers in Cardinals history (Dizzy Dean from 1932-36, Harry Brecheen from 1944-48) to win at least 15 games in three consecutive seasons beginning as a first- or second-year player.
The Cardinals have loved his arm all along, but there were inconsistencies and kinks that needed to be worked out. Manager Mike Matheny became convinced that Lynn's outward emotion on the mound, while beneficial in the competitive sense, also could lead to fluctuations in execution if Lynn experienced spotty defense behind him or umpires' calls with which he disagreed.
That's not the case anymore.
"He's able to harness that this year, and it's just part of that maturing process," Matheny said. "He's been rewarded, also, that he sees when he's able to put that kind of game plan together and stick with it regardless of the things outside of his control, how they happen, he's going to give himself a better chance of success. It's worked out really well for him.
"So I think that same thing could be said about the postseason. There's potential for distractions out there, but if he sticks with what he's been doing and stays the course, he's got a much better chance of being successful."
So that's where it stands with Lynn. He's already secured a reputation as a top-line starting pitcher. The fact that he's getting the ball right after Wainwright in a crucial playoff series proves that. Now he's tasked with establishing himself as an October stopper -- someone who can be counted on to win game after game in the thick of the postseason. That progression continues Saturday.
"You look at some of the great pitchers in the game, they do that," Lynn said. "That's what I want to be. So that's the next step to becoming what I want to be."
Doug Miller is a reporter for MLB.com. Follow him on Twitter @DougMillerMLB. This story was not subject to the approval of Major League Baseball or its clubs.