Down two games, Tigers maintain confidence
Detroit believes bullpen can bounce back after tough start to series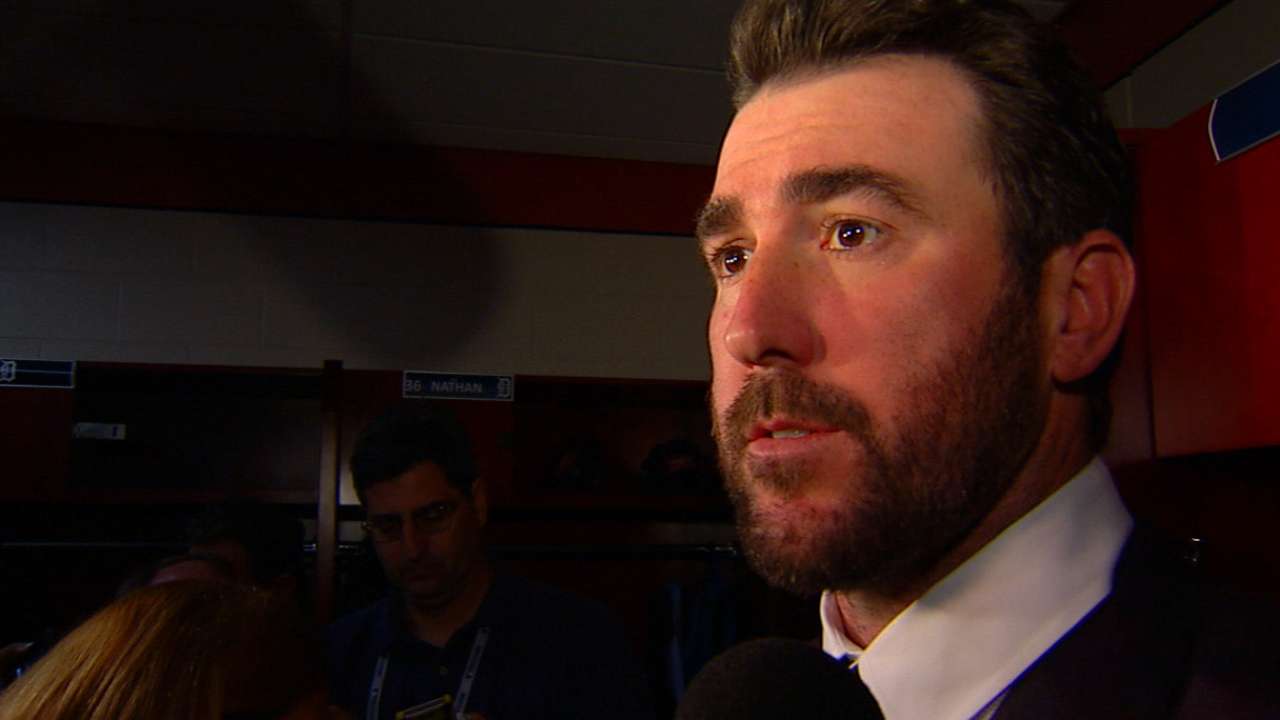 BALTIMORE -- Silver linings were hard to come by in the visiting clubhouse at Camden Yards on Friday afternoon following the Tigers' 7-6 loss to the Orioles.
It was another tough loss, another lead wasted away, another step closer to going home for the winter. The defeat put them in an 0-2 hole that few teams ever climb out of in a best-of-five series.
But even with the odds stacking up higher and higher against them, not all is lost for the Tigers.
"What happens with confidence? It's not over yet. We're going home," designated hitter Victor Martinez said. "Obviously, in a tough spot. We're against the wall, no secret. A lot of things happen in this game. A lot of crazy things happen in this game. Just make sure that we keep playing hard. Hopefully, we turn it around to our side."
There is some precedent, albeit not much. In the last 19 years, five teams have come back from an 0-2 deficit to win their Division Series. The Giants did it against the Reds two years ago on their way to a World Series title. The last American League team to do it was the Red Sox in 2003.
And the series is heading to Detroit, where the Tigers went 45-36 this season. On paper, the Tigers also have the starting pitching advantage in Game 3 with David Price and, if they win Sunday, in Game 4 with Rick Porcello.
"That's a tough pill to swallow, but we're heading back home. Right now, the pressure's on us," Game 2 starterJustin Verlander said. "Win a couple ballgames at home, though, and the pressure goes right back on them. I'm sure our fans at home are going to be fantastic. We've got David going tomorrow and Ricky going the next day. We're lined up to put the pressure back on those guys. ... Hopefully, we can take care of business at home."
The good news for the Tigers is that their hitters have been taking care of business, and their starters have pitched well enough to win with that kind of run support. If they can fix their leaky bullpen -- and, to be fair, that's a big if -- then they'd be in decent shape.
The Tigers proved again on Friday that they're capable of hitting their way out of an early hole. As they did in Game 1, they fell behind the Orioles early. And once again, they evened it up a half-inning later, this time with a five-run rally in the fourth against Orioles lefty Wei-Yin Chen.
The Tigers used five straight hits off Chen -- including back-to-back homers for the second day in a row -- to spark that attack. And once again, it was the middle of the order doing the bulk of the damage.
Torii Hunter got things started with a single to center field, and Miguel Cabrera launched a double to deep center to put two men in scoring position. Victor Martinez knocked a 3-1 fastball to left, scoring Hunter and cutting Baltimore's lead in half.
J.D. Martinez, facing Chen for the first time, then ripped a three-run homer to left field. That made Martinez the first player in Tigers history, the first overall since Paul Goldschmidt in 2011 and the 16th player in Major League history, to go deep in each of his first two career postseason games.
Nick Castellanos followed up Martinez's three-run blast with a solo shot, giving the Tigers back-to-back homers in back-to-back games and putting Detroit ahead, 5-2.
With that, the Tigers became the first team to hit back-to-back homers in consecutive playoff games since Carlos Pena and Evan Longoria did so for the 2008 Rays in Games 4 and 5 of the AL Championship Series against the Red Sox.
The Tigers' two through six hitters finished Game 2 9-for-19 with two doubles, two homers and six RBIs. The night before, Cabrera, Victor Martinez and J.D. Martinez each hit a solo homer.
Detroit scored enough runs to win on Friday, an encouraging sign if you're desperately searching for one. But the bullpen pushed the Tigers within one step of the end of their season.
"They're going through a tough stretch, but they've been there. We have all the confidence in them," J.D. Martinez said. "Unfortunately, the last two nights hasn't really worked out like they wanted. But there's no lack of confidence in them."
Adam Berry is a reporter for MLB.com. Follow him on Twitter at @adamdberry. This story was not subject to the approval of Major League Baseball or its clubs.