Oct. 3 Buck Showalter postgame interview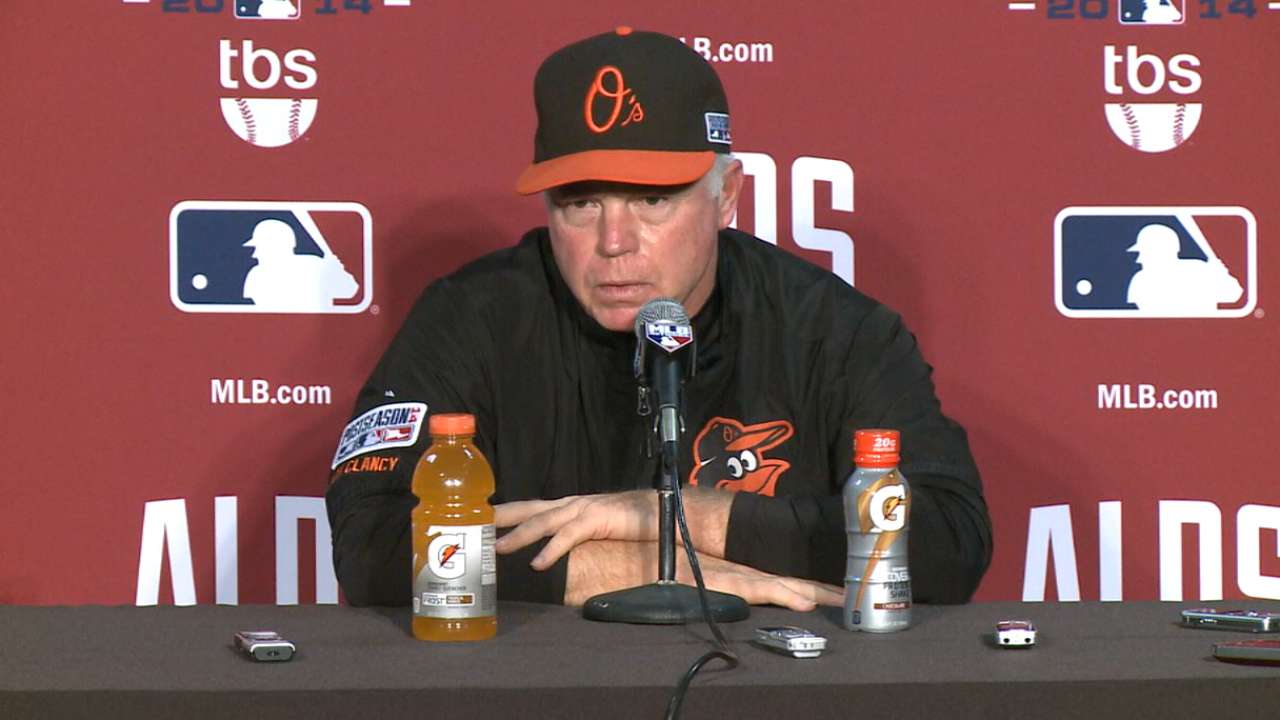 Q. When Delmon Young showed up to mini camp in January basically as a try-out, did you imagine at that point the possibilities and how he could help this ballclub or is he exceeding expectations?
BUCK SHOWALTER: Delmon, nobody's that smart, and Delmon Young has a good pedigree. A lot of people forget he just turned 29. He had a lot of "want to." He wanted to reestablish himself and we had a good talk about we can provide opportunity, but he's got to go jump through the door and bring the things that we're in need of, and he has. He has.
Q. Echoing that, he's got an awful lot of postseason experience. How important is that, that he's been in a lot of big games?
BUCK SHOWALTER: He's been in some big games for us during the season, too, and Delmon has always -- he's slashing it, letting it rip and he fits us well.
He doesn't go around reading a lot of resumes and a lot of bubble gum cards. He goes up there and he works very hard. His work ethic and things he does to prepare, you know, it's very hard to sit around and not know where the consistency at-bats are coming. But he's done the things that you need to do to give yourself a chance to be successful.
You put your head on the pillow because he's prepared. He's a professional hitter. He's worked hard. He's running as good as he has in a long time. He's defended well for us, and he's done some good things in our clubhouse for us.
Q. Buck, he wasn't a particularly accomplished pinch-hitter before this year. He was 10-for-20 in the regular season and now this. Has that snowballed or has he just accepted the role?
BUCK SHOWALTER: There is a drill we do. Who knows? You don't know that. That's Delmon. Guys like him you never preclude them from accomplishing anything. It's okay for me to say I don't know. I don't know. He keeps doin' it and we keep giving him an opportunity, that's pretty easy.
I know conventionality, from what has happened in the past, things like that shouldn't happen, but that's why we play the game. They're human being and some of the baseball players in the world don't always follow a pattern. It would be pretty boring if they did all the time.
Q. Your thoughts on Gausman today being his first postseason game and his composure overall today.
BUCK SHOWALTER: He was good. A lot of times with young players like that, if you can put 'em into a come-to-the-rescue mode where they have a margin, you know, the expectations are probably potentially lower than what he has, Kevin has high expectations. I mean, this is a Friday night pitcher in the SEC.
Have you ever been to a Friday night game in the SEC in Baton Rouge? Obviously there is more people, bigger stage, basically the volume is turned up.
You just got to remember to breathe it in. Kevin presented himself real well. And we thought he could be a weapon for us in the bullpen in the playoffs because with their lineup, you're going to have some challenges pitching to them.
Worked out good. Wei-Yin was real good for three innings, as good as you want to see and flattened out there in the end. Plus those guys are great hitters. I don't care who you pitch, whether it's Tillman or whatever. What did Gaus give us, three or four?
Of course, Brad Brach, we knew when he came in there was a "W" somewhere. He snaked out a few of 'em. What would that make him, 8-1 for the year? He should be a starting pitcher! What else?
Q. That's 12 runs in the last eight innings, 12 runs. What do you make of the eighth inning and what makes this team successful in the eighth inning?
BUCK SHOWALTER: I don't know. If I knew that -- another one, I don't know. I guess there is that sense of finality. You always wished you could bottle this level of concentration for everybody, because it's every pitch, it's every defensive positioning. You never take off. If you take any pitch off, you know in the back of your mind it could be that pitch.
But if we knew that, we would move it to another inning and make it less stressful on all of us, huh? I sure would.
But if you figure it out, let me know.
Q. Could you run by something, in the bottom of the eighth, once you've taken the lead, you could have kept Caleb Joseph in the game. Did you think about doing that at that point in time?
BUCK SHOWALTER: Yeah, sure we did! You get a chance to score another run off...
Knowing where they were in the order, if they could have got the batting order turned around with those guys -- I wanted to take a pop there at scoring another run and improve our defense as much as possible at third base.
The tough one was not running for Delmon, but I didn't want to burn that many players with a potential of extra innings.
Q. Buck, I apologize if it was asked, but what told you folks that Delmon would be a good pinch-hitter this season?
BUCK SHOWALTER: I'm not that good. I don't know. We didn't sign him to be a pinch-hitter. We signed him to be a professional hitter that handled himself against left-handed pitching well. The fit on our club initially when I told him about what was expected and what we needed him to do, he was all in.
He came into camp in probably the best shape since I don't know when. He's just been engaged in the clubhouse. This guy likes to win, okay? As evidenced by his track record, he's been around a lot. I remember when Dan first called me about him and I told him I would like to talk to him a little bit, I think it was at the mini camp, wasn't it?
So he's been -- but we didn't have some pinch-hitter. When you DH, you pinch-hit four times, but as Dan said, there is not a lot to hang your hat on that in the background, but you can hang your hat on a professional hitter.
I know how we used to try to pitch to him and it was always carefully, because he's a guy that's going to let it rip. He's going to not go home passively.
THE MODERATOR: Thanks, Buck. Good luck in Detroit.