Tigers carry 0-2 deficit home after losing lead
Three-run cushion vanishes with more shaky relief from Joba, Soria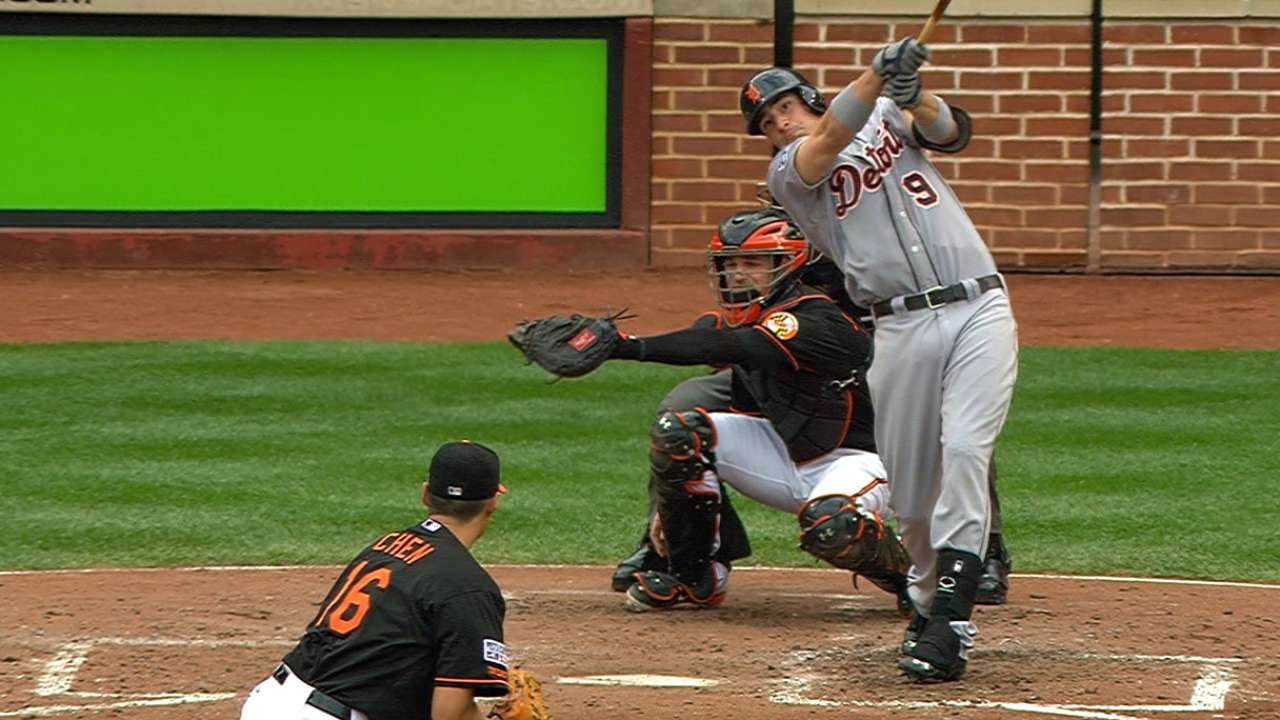 BALTIMORE -- J.D. Martinez, Justin Verlander and Anibal Sanchez put the Tigers on the verge of leaving town with a series split and erasing the memory of Thursday night's Game 1 collapse. Another Orioles eighth-inning outburst off Detroit's bullpen brought it all back again, then compounded it.
And after Detroit's 7-6 loss in Game 2 of their American League Division Series on Friday afternoon at Camden Yards, the Tigers need a win Sunday (3:30 p.m. ET on TBS) in Game 3 to keep their championship hopes alive.
Five teams in 44 tries have come back from an 0-2 deficit to win a Division Series, including the San Francisco Giants on their road to the World Series in 2012. With two games coming up at home, the Tigers at least have a more pitcher-friendly ballpark to try to start their attempt.
Still, unless they get a complete game from David Price, they're going to have to figure out a way to protect a lead with the bullpen first.
"I don't know that I necessarily have an answer for that," manager Brad Ausmus said, "but if we have a lead in the eighth inning on Sunday, we're going to have to find somebody."
The Tigers took a 6-3 lead into the bottom of the eighth inning Friday, having gotten a three-run home run from Martinez -- his second homer in as many games -- and six outs from Sanchez in relief of Verlander. Their sixth run was an add-on tally courtesy of a Victor Martinez RBI double, but Miguel Cabrera was thrown out easily at the plate with nobody out to thwart what could have been a four-run lead or more.
What followed would have erased a four-run lead, and left closer Joe Nathan stuck in the bullpen.
"When you have a three-run lead going into the last couple innings, you feel like you should get the job done," Ausmus said. "But we didn't."
Ausmus said going into the series that he planned to use Sanchez for an inning or two, but not beyond. Sanchez retired six batters he faced, using 30 pitches in the process. Ausmus, citing a pitch limit of 35, stuck to his plan.
"It's more about him not being stretched out," Ausmus said. "He was hurt -- What was he out? Six weeks. -- and he threw one inning [plus] one simulated game.
Sanchez missed six weeks with a strained right pectoral muscle. He returned from the disabled list with a week to go in the regular season after throwing a 45-pitch simulated game, but pitched only one inning of game action down the stretch while the Tigers tried to wrap up a divisional title.
Ausmus' eighth-inning setup man, Joba Chamberlain, has struggled down the stretch and did so again in Game 1. So, for that matter, did Soria in Game 1. Ausmus hoped having both available could get him through the eighth, with Soria essentially as a break-the-glass option.
Chamberlain, long a target of boos from his Yankees days, jogged in from the bullpen to cheers from Orioles fans, who sensed the opportunity. He retired Alejandro De Aza to lead off the inning, but hit Adam Jones.
What followed was chaos, eventually setting up a go-ahead, bases-clearing double from former Tigers postseason hero Delmon Young off Soria, who took the loss.
"This one's on me," Chamberlain claimed. "If I don't put us in that situation, Soria doesn't have to come into that situation. Obviously, this one's on me and I'll wear it."
For all practical purposes, though, it's more group attire. Take away Sanchez's perfect performance, and Detroit's bullpen has allowed 11 runs -- already the fourth-highest total in Division Series history, trailing the 18 runs allowed by the 2011 Tigers bullpen in a five-game series against the Yankees -- on eight hits while recording five outs.
"They are a great team. They have a good lineup and pretty good starting pitchers," Orioles slugger Nelson Cruz said. "So, the main thing for us is to stay focused and hopefully in late innings like today we can do damage."
Even if the Tigers can forget about it, the trend has been set. An aggressive-swinging Orioles lineup is now aimed at working counts, chasing starters and testing a Detroit bullpen that ranked next-to-last in the American League with a 4.29 ERA and 1.48 WHIP.
At some point, the Tigers' bullpen -- including at least one of the guys who has struggled -- will have to get a big out for the Tigers to survive. Price could pitch a complete game Sunday, but he cannot pitch three.
"I've been in situations like this before," Chamberlain said. "It's one of those things that you don't ever want to get used to, but you've got to manage your emotions and keep them under wraps and get after it again. We've got a day to reset tomorrow and get after it on Sunday."
Jason Beck is a reporter for MLB.com. Read Beck's Blog and follow him on Twitter @beckjason. This story was not subject to the approval of Major League Baseball or its clubs.