Healthy Hudson ready to face familiar foe
Veteran brings strong record vs. Nationals into NLDS Game 2 start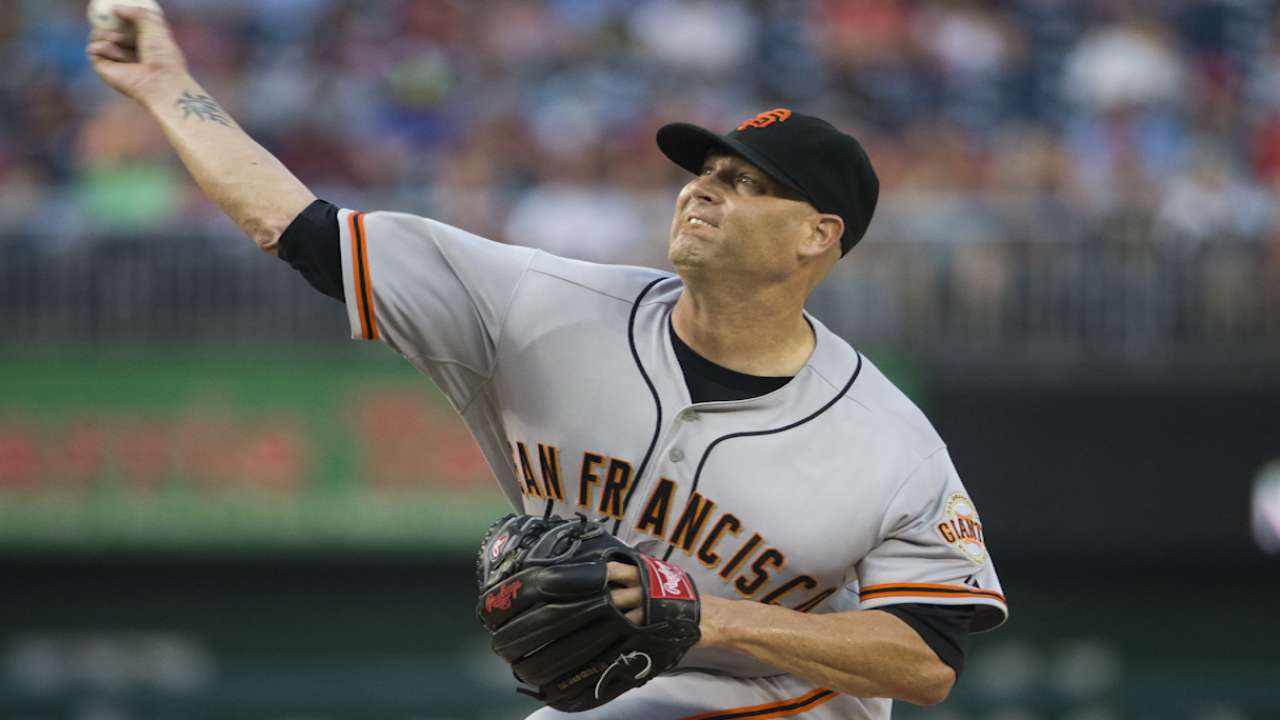 WASHINGTON -- Some manager's decisions are clear and simple. Most are not. And so it was when Bruce Bochy had to decide who would start Game 2 of the National League Division Series for the Giants.
It could have been Ryan Vogelsong. It could have been Yusmeiro Petit. Either would have been an excellent choice and, indeed, both are on the NLDS roster and potential starters for Game 4 (if necessary) on Tuesday.
Instead, veteran right-hander Tim Hudson will be on the mound Saturday afternoon to face the Nationals (2:30 p.m. PT on FOX Sports 1). That is interesting because while the 39-year-old has had a distinguished career, he also had his problems down the stretch. In five September starts, he was 0-4 with an 8.72 ERA. Opponents batted .357 against him.
Bochy looked beyond the numbers. He noted that Hudson was pitching with a strained hip and also that he pitched pretty well in his final start of the season, even though he allowed three earned runs in 5 1/3 innings at Dodger Stadium on Sept. 24.
So it will be Hudson trying to help the Giants take a commanding lead in the best-of-five series after San Francisco took the opener at Nationals Park on Friday, 3-2.
"I like the way he threw the ball in L.A. It looked like he was healthy again, able to execute his pitches," the manager said. "You have to like his experience. He's such a pro in how he goes about his business, how he prepares. I think his biggest issue was that his hip was bothering him. I think he's over that."
Hudson shrugged off the suggestion that his recent struggles might have caused the Giants to skip over him for this game.
"Throughout the year, obviously, you're going to go through ups and downs. Mine just happened to be there at the end of the year in September," he said. "Me and [pitching coach Dave Righetti] did a lot of work on the side in between starts. Going into my last start, I felt we had gotten a good handle on some things mechanically. I felt like I was airing some things out. I feel really good physically and where I am mechanically."
Bochy didn't mention it, but the fact that Hudson has had a lot of success in his career against the Nats may have played a part in the decision. Hudson is 18-5 with a 2.35 ERA lifetime and 2-0, 0.73 this year against Saturday's opponent.
"There's obviously a lot of history between myself and these guys, going back a lot of years from when I was with Atlanta. Obviously, they are a different club than what I faced early on in my career," Hudson said. "They're a really good ballclub. They have a lot of talent. For me, it's no secret what they're about. It's no secret to them what I'm about. For me, it is going out there and coming up with a good game plan, trying to watch a lot of videos, seeing what strengths and weaknesses are at this point in the year for those guys, and come up with a good game plan.
"Familiarity can never be a bad thing for a pitcher. I feel the more history you have against a team, the more history you have against hitters, the better off you can be. It can also go both ways. They obviously feel pretty familiar with me, what I am going to bring to them. So it's all about making pitches, coming up with a good game plan, try to keep the guys off balance and executing pitches. If that happens, then things will be OK."
In the excitement of the Giants' NL Wild Card Game win over the Pirates, Hudson used an indelicate phrase while suggesting that it takes, um, guts in addition to talent to win in the postseason. That was widely viewed as a knock on the Nationals, an interpretation he laughingly rejected.
"I was absolutely not questioning their heart or their intestinal fortitude," he said. "I was referring to our team. Obviously, they have a lot of talent over there. They have some guys who know how to play the game and play the game hard.
"I was speaking on our behalf, on our team. I feel like we have a team that can go out there, grind things out. I feel like we play tough baseball. We have guys who are tough as nails in the locker room. That's what I was referring to. ... I am talking about what we have in our locker room. The guys we have in the locker room, they come with it. It's an honor to be on the field with those guys."
Paul Hagen is a reporter for MLB.com. This story was not subject to the approval of Major League Baseball or its clubs.