Fernandez practicing patience with throwing program
Ace says he's 'never felt this good,' but wants to avoid reinjuring elbow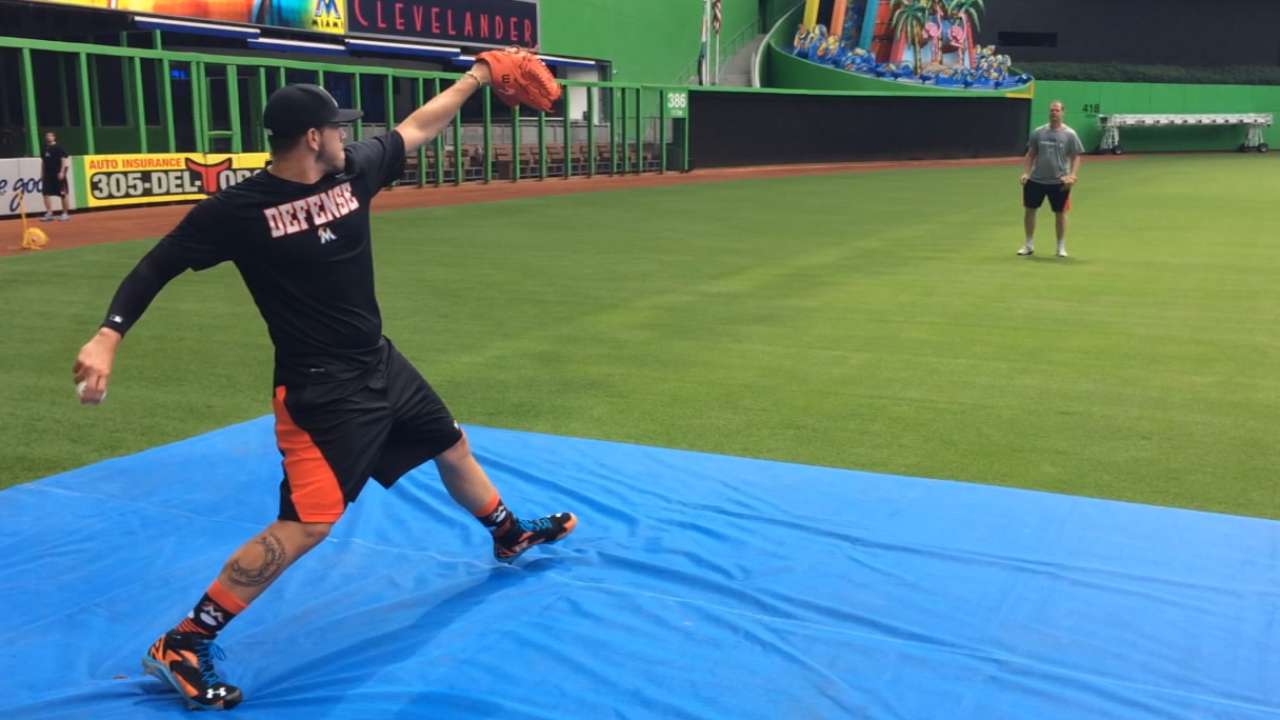 MIAMI -- Balancing progress with patience will be one of Jose Fernandez's biggest challenges as he comes back from Tommy John surgery. The 22-year-old isn't planning on rushing anything on his road to recovery.
"Going with the flow" may be easier said than done for the energetic Miami ace. But he's following doctors' orders in his throwing program, which continued with 25 light tosses off flat ground on Friday afternoon at Marlins Park. He started off with 10 lobs at 30 feet to trainer Sean Cunningham. He ended his 10-minute session at 45 feet.
Fernandez began his throwing program on Wednesday, and Friday was his second time out. Next week, he is scheduled to throw Monday, Wednesday and Friday.
"It felt like I was ready to pitch," Fernandez said. "Obviously, it's a process. It's a slow process. I'm really happy it's a slow process. I want to be here a long time. I don't want to come back and be the first one to come back from Tommy John and in a year be hurt again. We're going to be patient and enjoy the ride."
If Fernandez has learned anything since sustaining the ligament tear in May, it is patience. He had his surgery on May 16 and is anticipating a 14-month total recovery timeline.
The eagerness to get back on the mound is there, but he understands the importance of not risking a setback.
"The most important thing is to just go with it," the hard-throwing right-hander said. "No matter how you feel, you just have to remember, it's a new tendon that has to become a ligament. They're giving you all the reasons why you can't rush it. I'm really just going with the flow, and whatever the doctor says. I'm going step by step."
There is no firm return date for the 2013 National League Rookie of the Year.
"We haven't talked about that," Fernandez said. "We've talked about 14 months, maybe later, maybe before that. We'll see. Now, I'm just focusing -- Monday, Wednesday, Friday. Just getting my arm feeling great and going with the plan."
It will be a few months before Fernandez is back on the mound. For now, he is impressed with how his arm feels after two flat-ground sessions.
"It's funny," he said. "The ball is just flying out of my hand incredibly. I've never felt this good. The ball is coming out of my hand effortlessly. I'm just excited."
Joe Frisaro is a reporter for MLB.com. He writes a blog, called The Fish Pond. Follow him on Twitter @JoeFrisaro. This story was not subject to the approval of Major League Baseball or its clubs.