Harper goes upper deck to get Nats on board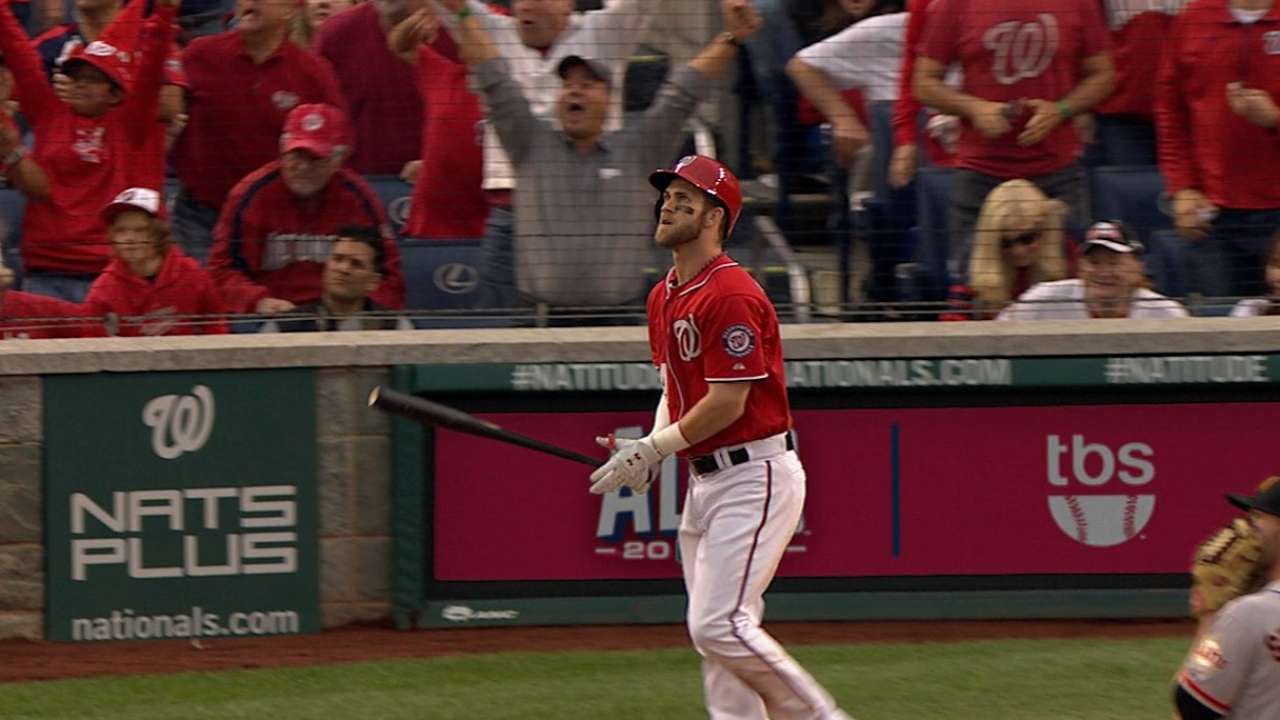 WASHINGTON -- With one resounding crack of his bat, Bryce Harper put an emphatic end to the Giants' shutout bid against the Nationals in Friday's Game 1 of the National League Division Series at Nationals Park.
Washington trailed, 3-0, entering the bottom of the seventh inning when Harper led off against San Francisco rookie right-hander Hunter Strickland, who fell behind in the count, 2-1. Strickland pumped a 97-mph fastball over the middle, and Harper uncoiled and drove the ball high into the air. It arced into the third deck of seats that juts out into fair territory down the right-field line, sending 44,035 fans into a frenzy.
"It's a situation where you want to come up and try to do something, get on base, get some runs on the board, get this crowd back into it," Harper said. "Getting them going was very exciting. I was trying to sprint around as fast as I could and get back in the dugout with the guys, turn the page and get in what we needed to do. I wish some guys would have been on [base]."
The blast traveled 445 feet, the longest of the 21-year-old's career, according to ESPN Stats & Info, which measured the ball's speed off his bat at 114.2 mph.
It was the second career postseason homer for Harper, who also hit one in Game 5 of the 2012 NLDS against the Cardinals. That made him only the seventh player in postseason history to go deep twice before his 22nd birthday, joining Miguel Cabrera, Jimmie Foxx, Andruw Jones, Tony Kubek, Mickey Mantle and Brian McCann.
"He enjoys being in that spot," first baseman Adam LaRoche said. "He's comfortable there. He likes it; he looks forward to it. And that's huge in those situations."
Andrew Simon is a reporter for MLB.com. Follow him on Twitter @AndrewSimonMLB. This story was not subject to the approval of Major League Baseball or its clubs.