Result aside, Strasburg pleased with playoff debut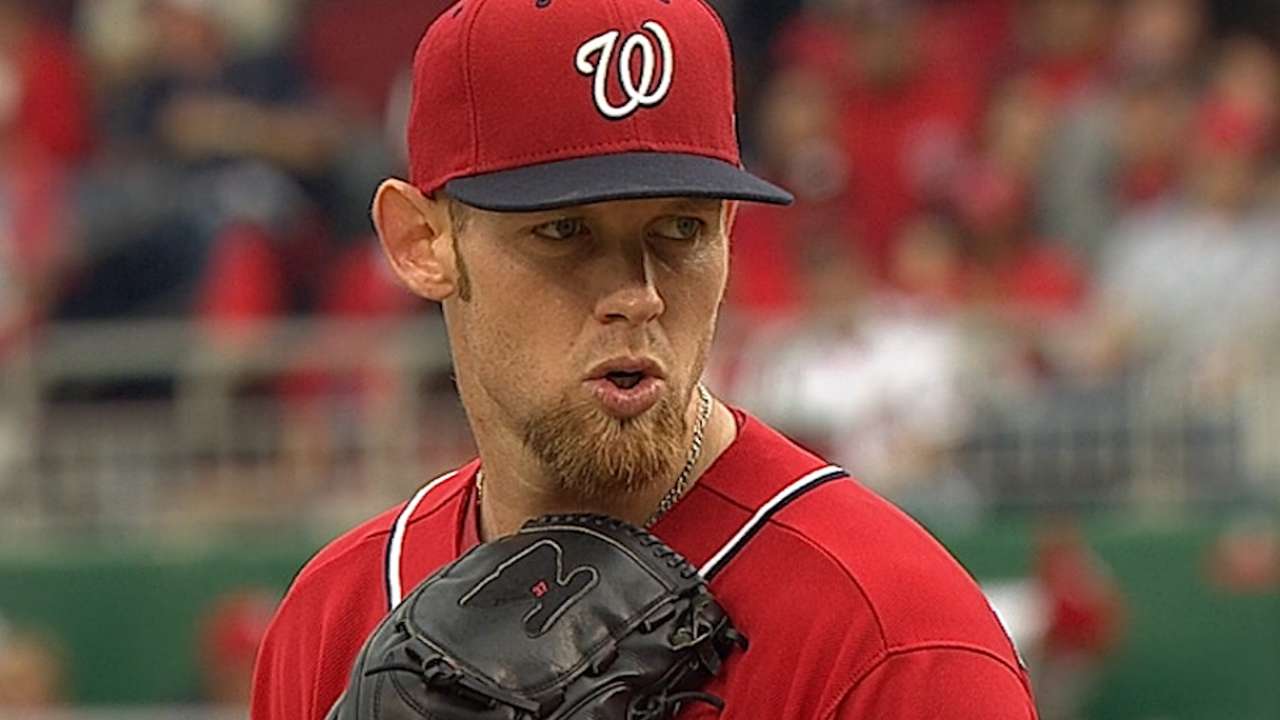 WASHINGTON -- The first pitch of Stephen Strasburg's postseason career zipped into the strike zone at 97 mph. The next three sizzled at 98, and Strasburg had his first out.
It was a boisterous start to an ultimately frustrating afternoon for the Nationals right-hander, his much-anticipated playoff debut marred by a flurry of Giants singles that found their way over or through the Washington infield. Strasburg kept the Nats in Game 1 of the National League Division Series on Friday, but he couldn't match veteran Jake Peavy, giving up two runs (one earned) in five-plus innings of a 3-2 loss.
"I was getting contact. I was getting ground balls," Strasburg said. "I was giving up all singles, so it wasn't like they really hit me all around the yard.
"It was just kind of one of those days where I felt like I made a pitch, and they fought it off and hit it where we weren't."
Strasburg said he noticed the "great" atmosphere at Nationals Park, and the 26-year-old made it through the first two scoreless innings on only 25 pitches.
"He was good," manager Matt Williams said. "Throwing strikes early. It wasn't that he was so excited that he wasn't throwing strikes. Worked through the first inning well. I think he pitched fine."
Strasburg's velocity -- averaging 97-99 mph in the first inning, slightly above his season average of 95.7 -- settled in as the game went on, but he still leaned heavily on the fastball, throwing it 78 percent of the time, compared with 60 percent during the regular season. He barely used his curveball, normally a significant weapon for him.
Meanwhile, San Francisco made contact relentlessly and attacked the middle of the diamond. Six of the Giants' eight singles against Strasburg went to center field, and Strasburg finished with only two strikeouts after leading the NL with 242 this season. It was the first start of his career of at least five innings with fewer than three K's.
"[Strasburg] has been throwing the ball well," San Francisco manager Bruce Bochy said. "He threw the ball well tonight. We scratched and clawed, got a couple of early runs off of him."
Strasburg came into Friday with a streak of 20 straight scoreless regular-season innings, and he had posted a 1.13 ERA in six starts since a rough outing against the Giants on Aug. 24. This time, Strasburg exited after giving up back-to-back singles to begin the sixth.
It might not have been the postseason debut many envisioned, but Strasburg still could get another chance in either a potential Game 5 (if necessary) on Thursday, or if the Nationals advance to the NL Championship Series.
"I'm glad I was able to go out there and get my feet wet," he said, "and I'm excited for the next opportunity."
Andrew Simon is a reporter for MLB.com. Follow him on Twitter @AndrewSimonMLB. This story was not subject to the approval of Major League Baseball or its clubs.