Hampered by pelvic injury, Davis exits Game 2
Center fielder hopes to play in Game 3, but Tigers may have to use backup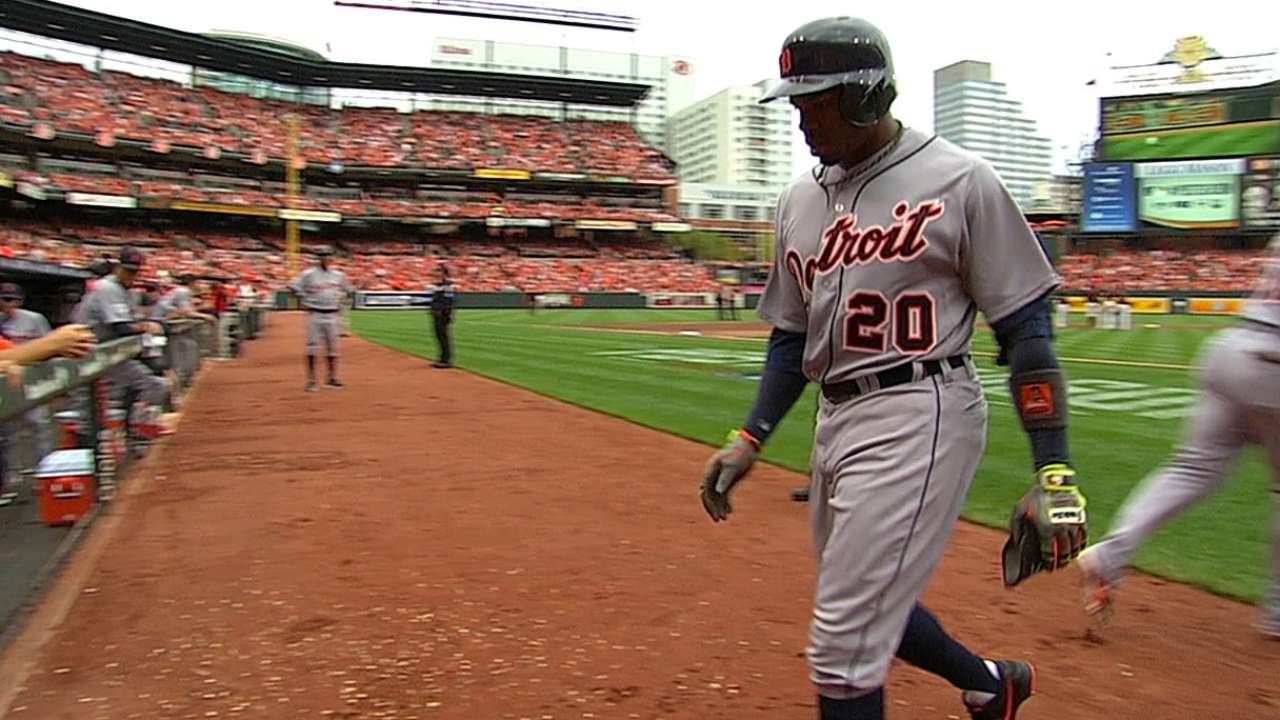 BALTIMORE -- The Tigers waited most of Friday morning before announcing a starting lineup for Game 2 of their American League Division Series, hoping Rajai Davis would be healthy enough to play. He started, but they did not need long to decide he was not healthy enough to run.
Though Davis played three innings in center field, he said his sprained pelvic ligament was worsening on him even before he tried to speed up on a fourth-inning hit off the left-field wall. He held up at first base and was lifted for pinch-runner Ezequiel Carrera.
"It just tightened up," Davis said after the 7-6 loss. "Quick turnover, didn't really have much time to really let it rest."
Davis is hopeful, sounding almost confident, he'll be able to play in Game 3 on Sunday (3:45 p.m. ET, TBS) at Comerica Park. After Friday's quick exit, however, the Tigers have to figure out how much they count on him.
"We will continue to treat him and hope he can play on Sunday," manager Brad Ausmus said.
If not, or if the injury is worse, the Tigers have a decision to make.
1. They can play short-handed for the rest of the series, hoping to get him back by the start of the AL Championship Series if they can overcome their 2-0 series deficit.
2. They can replace Davis on the roster, likely with outfielder Tyler Collins, but Davis wouldn't be eligible to return until the World Series.
With a 2-0 Division Series deficit, the World Series seems far off. With the Tigers needing to win three in a row to get to the ALCS, however, the prospect of Carrera or Don Kelly starting in center field in spacious Comerica Park for a must-win game -- though Carrera did it Sunday in the division-clinching win over the Twins -- seems tricky as well.
The Tigers announced that Davis left the game with tightness, without specifying the injury. Davis confirmed it was the same injury, the sprained pubic symphysis he suffered trying to break out of the batter's box Saturday against the Twins. He missed the regular-season finale Sunday, but was in the starting lineup for each of the first two games of this series.
The injury clearly slowed him Thursday night in Game 1, but he didn't have a play that required him to test his legs. He went 1-for-3 with an easy ground-ball single and no hard-hit balls in the gap to run down.
Davis seemed to have a bounce in step during batting practice Friday morning before Game 2, and he clearly had his swing, driving pitches over the fence. What he didn't do on the field, however, was sprint.
"It was a lot better [before the game]," Davis said. "Over the course of doing all that and playing, it just got tight."
He finally had to test it on his fourth-inning drive, and it didn't go well. What would've been a double for him when healthy ended up a single, with Davis not reaching first base until the throw was coming in.
"When I'm healthy, when I'm normal, like I'm capable of running, that's definitely a double," Davis said.
Jason Beck is a reporter for MLB.com. Read Beck's Blog and follow him on Twitter @beckjason. This story was not subject to the approval of Major League Baseball or its clubs.