Price expects to thrive, have fun in must-win Game 3
With season on the line, Trade Deadline acquisition relishes pressure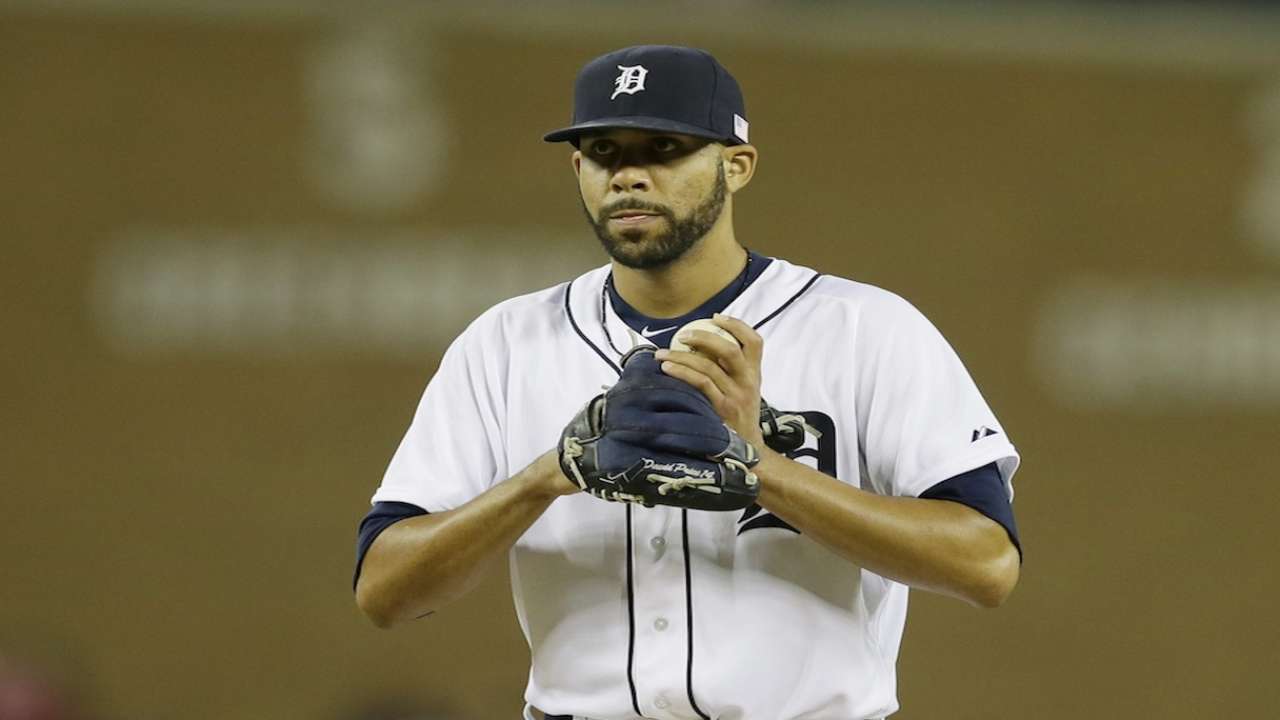 DETROIT -- When the Tigers pulled off the three-team trade for David Price hours before the July 31 Trade Deadline, they had one goal in mind: a World Series championship.
Price came to Detroit saying he wouldn't let those expectations put any extra weight on his shoulders, that he couldn't allow that pressure to change him. He talked about joining a staff of, essentially, five aces and not having to lead the rotation himself, the way he did toward the end of his tenure in St. Petersburg.
But in the end, Price became a Tiger for starts like this. He may not be viewed as "The Guy" in a Detroit rotation that also features Max Scherzer and Justin Verlander, but he's the guy the Tigers will turn to in Sunday's must-win Game 3 of the American League Division Series against the Orioles at Comerica Park.
Price wouldn't have it any other way.
"This is the game I dreamed of whenever I was a kid," Price said Saturday at Comerica Park. "I'm not going to go out there and apply extra pressure to myself, because I can do that, and go out there and pitch well and still not have fun. I want to have fun, live in the moment, and relish it and throw my game."
If he wins, the Tigers stay alive for Game 4 at Comerica Park and a potential Game 5 back at Camden Yards. If he loses, the season's over well short of the World Series.
Price has never been one to shy away from pressure. In a win-or-go-home Game 163 last season, Price tossed a complete game as the Rays beat the Rangers and advanced to the postseason. He started the Rays' famous Game 162 in 2011, too. This is, after all, the same person who said in an interview in 2008, "When people think about baseball and people think about pitching, I want them to think about David Price."
"This is the time to step up. It's not easier that you're down 0-2, as opposed to being up 2-0, but you know what you've got to do," Price said. "This is the time when you want to be able to step up for your team, for your fan base, for the city of Detroit."
The 29-year-old left-hander hasn't been at his best since joining the Tigers, going 4-4 with a 3.59 ERA in 77 2/3 innings over 11 starts. But he came through in a big moment in Detroit's regular-season finale, helping the Tigers clinch the AL Central title with 7 1/3 shutout innings against the Twins. Price struck out eight, allowed four hits and walked two in one of his best starts since the trade.
Price could have started Friday in Game 2 on regular rest, but the Tigers opted to go with Verlander, having taken into account his strong finish to the season, his postseason track record and a number of other factors. Now, they will turn to Price with their season on the line.
"He is what we thought we would get when we acquired him," Tigers manager Brad Ausmus said. "The one thing that stands out about David is his focus on every pitch is unmatched. I don't know that I've seen a pitcher have so much focus on every single pitch. So you know it would not be a lack of concentration when he takes the mound."
Price has pitched well against the Orioles throughout his career, going 7-3 with a 2.82 ERA in 108 1/3 innings over 17 starts. His numbers against the Orioles aren't encouraging -- they've batted .285 with a collective .742 OPS in 224 plate appearances -- nor is the fact that he allowed 25 home runs this season, considering Baltimore led the Majors with 211 homers.
What is encouraging, however, is the fact that Price can pitch deep into games like few others. He led the Majors with 248 1/3 innings this season, and the Tigers will need him to get as many outs as he can Sunday after a pair of bullpen meltdowns in the first two games of the series.
"David Price, I'm pretty sure, is going to give us every opportunity to get that win," right fielder Torii Hunter said. "But like I said, those guys [in the bullpen] are here for a reason. I always say those guys drive Mercedes, too. They play the game the right way."
While he'd rather be pitching with a chance to clinch, not just to keep the Tigers' season alive another day, this game -- on this stage -- is where Price wants to be.
"This is a special moment," Price said. "You've got to be able to go out there and throw my game, and that's what I plan on doing."
Adam Berry is a reporter for MLB.com. Follow him on Twitter at @adamdberry. This story was not subject to the approval of Major League Baseball or its clubs.