Gonzalez to remain Braves skipper; Porter hired to coach
Most of coaching staff to return next season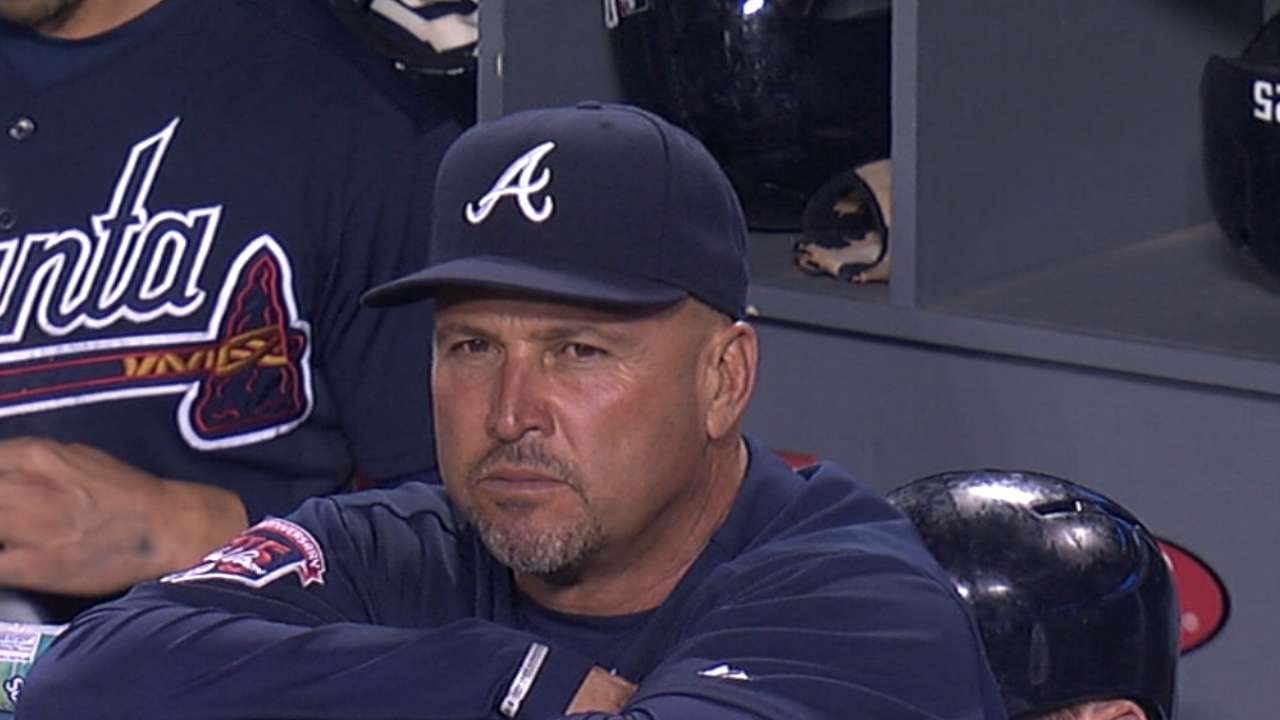 ATLANTA -- Instead of making wholesale changes at the conclusion of a disappointing season, the Braves have determined manager Fredi Gonzalez will return for the 2015 season with a coaching staff that will now include former Astros manager Bo Porter.
Along with confirming Gonzalez will return to continue his role as the club's manager next year, the Braves announced Porter will replace Doug Dascenzo as third-base coach. The only other coaching changes involved hitting coach Greg Walker, who resigned earlier this week, and assistant hitting coach Scott Fletcher, who will not return to the organization next year.
The Braves were in contention to earn a third consecutive playoff entry until they went 7-18 in September. This collapse conjured memories of 2011, Gonzalez's first season in his current role. Consequently, fans questioned whether Gonzalez would be brought back despite the fact that he is signed through the 2015 season.
Questions about Gonzalez's future were seemingly answered on Sept. 22, when Hall of Fame manager Bobby Cox provided his vote of confidence for his successor, who has been the National League's winningest manager over the past four seasons.
"When these situations happen, you're grateful that you get another opportunity," Gonzalez said. "I'm thankful that people have taken a look at the body of work and provided this chance to return."
Porter's hire comes a little more than a month after he was relieved of his duties with the Astros, who hired him to serve as their manager before the 2013 season. He will now return to the coaching role that he was introduced to while serving as Gonzalez's third-base coach with the Marlins from 2007-09.
As Porter was nearing the end of his playing career, he played for the 2002 Triple-A Richmond Braves, who were managed by Gonzalez.
"He brought his 'A' game every single day -- kind of like Jason Heyward does," Gonzalez said. "He's carried that into his coaching career and continued to bring a lot of energy to whatever he does."
Gonzalez is looking forward to another chance to work with Porter. But he also was genuinely saddened to bid adieu to Walker, Dascenzo and Fletcher, who were the casualties of the organization's third losing season dating back to 1990.
"Sometimes as coaches when teams lose or don't live up to expectations, great people lose their jobs," Gonzalez said.
Bench coach Carlos Tosca, pitching coach Roger McDowell, first-base coach Terry Pendleton and bullpen coach Eddie Perez are all slated to return next year.
Pendleton is considered a candidate for the hitting-coach position, which he had previously held in Atlanta from 2001-2010. But Gonzalez said the club is still in the early stages of the search for the next hitting coach.
Mark Bowman is a reporter for MLB.com. This story was not subject to the approval of Major League Baseball or its clubs.