Oct. 3 Jordan Zimmermann Pregame Interview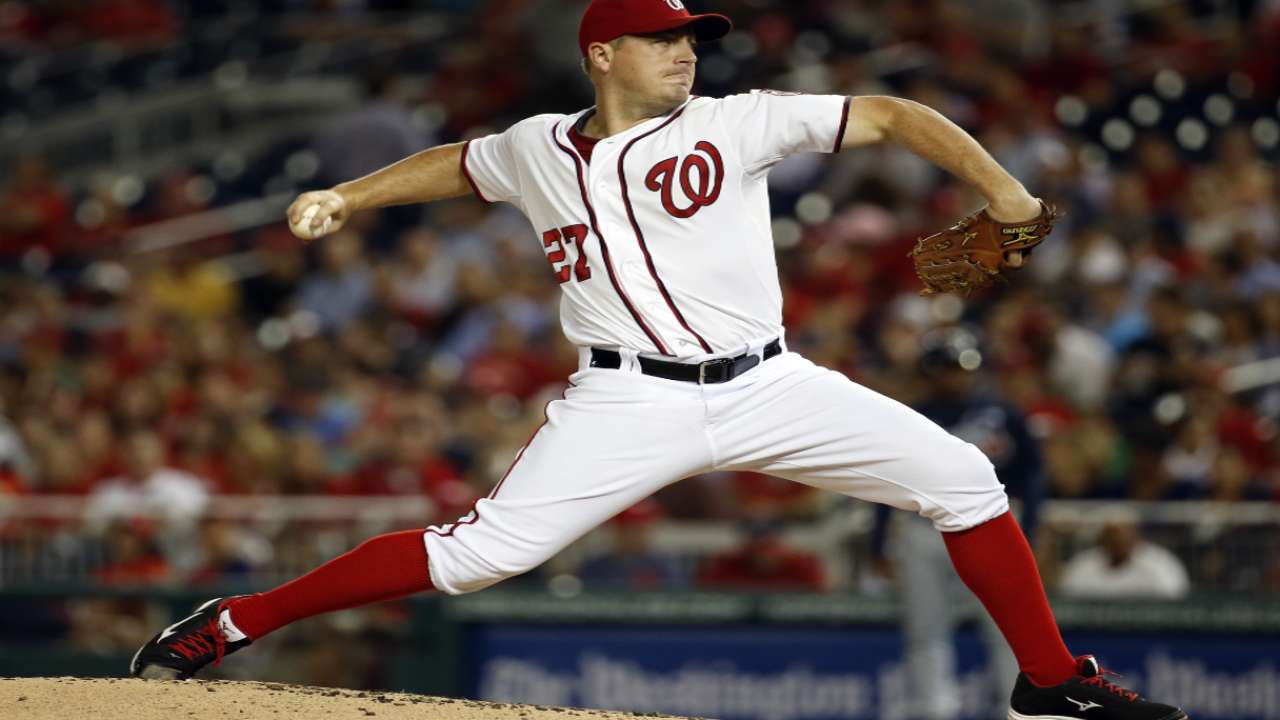 Q. Jordan, could you tell us how life has been since the no hitter? And how do you feel about following Stras in Game 2?
JORDAN ZIMMERMANN: Life has been the same way it has always been. Come to the ballpark every day, prepare for the playoffs, here. You know, my phone has been blowing up every day, but I guess that comes with throwing a no hitter. Following Stras, as long as I am pitching, I don't care where or when, as long as I am pitching, I am fine with that. Hopefully he goes out there, gets us on the right track.
Q. How much do you look back on the Game 4, LDS four years ago, coming in, the emotion? Are you able to dial it up, and pitch in a big moment?
JORDAN ZIMMERMANN: It is exciting going out there for sure. The fans are going crazy, and get you all amped up, and it was a fun moment. Hopefully, we have a bunch more of those coming up.
Q. First, wanted to ask, have you bought Steve (Souza) anything yet?
JORDAN ZIMMERMANN: I have. You will have to ask him what it is.
Q. Coming in here today, and this past week, how has the atmosphere been different for the entire team compared to 2012? Does it feel any different now than it felt for you guys the last time?
JORDAN ZIMMERMANN: I don't think it is much different. You know, we are riding high right now. Everybody is playing good. We are playing our best baseball right now. We feel good coming into this series and we are peaking at the right time, I think.
Q. Having said that, does it matter that you guys have now experienced what you did two years ago, most of you? Do you know what you didn't know two years ago, as you go into this series?
JORDAN ZIMMERMANN: Yes, we didn't really know anything coming in two years ago. Jayson is the only guy who said, "It will be crazy. Something you guys never experienced." You know, after going out there, and experience it one time, I think we are all more prepared now, and kind of know what to expect.
Q. All the times you have watched Stephen pitch in the past, what are the keys to look for to see, whether it's his stuff or demeanor, that he is really locked in and on his game today?
JORDAN ZIMMERMANN: Just attacking. He is at this best when he's attacking and getting a first pitch strike. He has some of the best stuff in the game. You know, he is deserving of this game today, and as long as he goes out and throws strikes and attacks the guys, I think he will be just fine.
Q. You guys got contributions from a lot of different people over the course of the season to get here. Now they have to trim it down to 25. Tough decisions for you guys in the clubhouse. Is it tough to see that? How do you deal with that when guys you know teammates make it or don't make it?
JORDAN ZIMMERMANN: It is tough. There are definitely tough decisions that have to be made. Some guys aren't happy. You know, we have to move on. They are all in the clubhouse and with us, they are just not on the roster. We have to keep pushing forward, not look too far ahead, take it one game at a time. You feel for those guys, but something had to be made.
Q. When you look at the Giants' lineup, their patience, experience, what jumps out at you in the lineup, and makes them such a good team?
JORDAN ZIMMERMANN: You know, they are good 1 through 8. Any one of them can take you deep at any time, if you make a mistake. You know, they are experienced. That is for sure. If you make your pitches, and throw the game you want to throw, I mean, good things will happen. You have to stay out of the middle of the plate, pitch your game.
Q. Do you find yourself thinking back to your start from two years ago, this time of year?
JORDAN ZIMMERMANN: No. We have moved past that. We are ready to go now. Not think about two years ago. We learned a lot since then. I think we are ready to go.
Q. Have you gone back to watch Sunday's start, with your family, yourself?
JORDAN ZIMMERMANN: No, I haven't I watched the last out a few times. I haven't watched the whole start. I am sure after the season is over, I will go back and watch it. No, I haven't watched it since.
Q. What did you think of your reaction, the close up shot of you on the last play?
JORDAN ZIMMERMANN: I thought it was pretty funny. You don't really know what you did at the time when you are out there. After looking back and me throwing my head back like it was a double, I thought it was pretty funny.