Confident Coulter experimenting with position change at instructs
Brewers' prospect trying out right field after struggling defensively behind the plate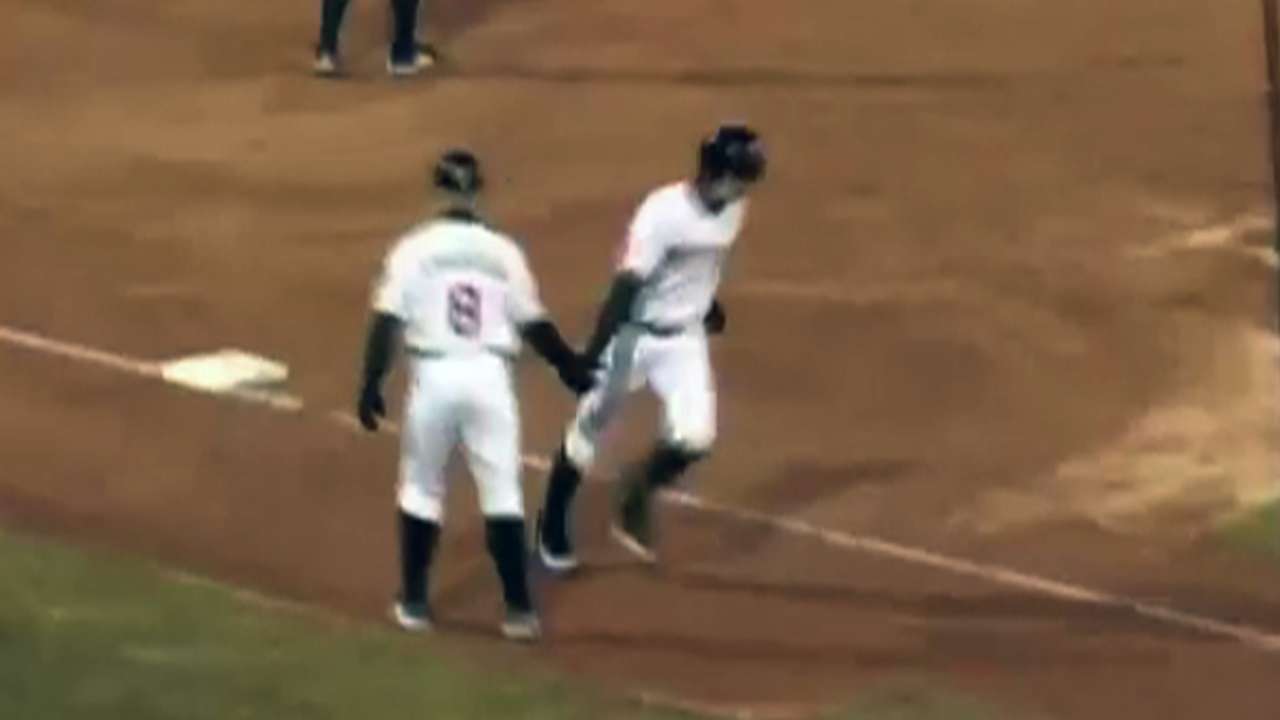 After a disappointing first full professional season in 2013 that saw injuries limit him to 70 games, Clint Coulter bounced back in a big way this year. He played in 126 games at Class A Wisconsin and hit 22 home runs, tying him for both the Midwest League home run crown and the franchise's single-season record.
Offensively, Coulter's season couldn't have been much better. In addition to his 22 home runs, he hit .287/.410/.520 and led the league with a .930 OPS. He was named the Brewers' Minor League Player of the Year and earned a spot on the Midwest League's postseason All-Star team.
Coulter remained a work in progress behind the plate, however. In 61 games as a catcher for the Timber Rattlers, he committed 10 errors and 17 passed balls.
In instructional league this fall, the Brewers have begun a long-discussed position change for Coulter. Director of player development Reid Nichols said Coulter has settled into right field and has also seen time at first base and third base.
One of Coulter's best tools has always been his strong arm, which Nichols said is one of the reasons a switch to right field can work.
"He's picked it up well," Nichols said. "He gets good jumps on balls off the bat, which is unique for a guy going out there for the first time.
"He fits the best there of everywhere we've seen him."
The Brewers haven't made a final decision about Coulter's position, but a move to a less arduous position would also likely help him offensively in the long run.
Nichols said the keys to Coulter's breakout season were an increase in his confidence and an improved approach.
"He's a strong kid and sometimes he gets a little jumpy at the plate," Nichols said. "He's done a good job with it."
• Instructional league has also given the Brewers staff a chance to work with shortstop Gilbert Lara, who signed in July the largest contract in franchise history for an international free agent.
Lara won't turn 17 until the end of the month, making him one of the youngest players in the instructional league. Nichols said the Brewers wanted to introduce Lara to professional baseball in the U.S. so he could see what was coming in the future.
Lara has done more than just get experience. Nichols said he has been impressed by the Dominican native, especially defensively.
"For as young a kid as he is, he handles himself extremely well," Nichols said. "He can run, he has good hands and a good arm. He's hit a couple of home runs, no doubters."
• Left-hander Kodi Medeiros, shortstop Jake Gatewood and outfielder Monte Harrison, the Brewers' top three picks in the 2014 Draft, are all in instructional league, as well. They were among the first 50 picks in June and played together in the Arizona League after signing.
Nichols said all three are progressing well after getting their first taste of the Minor Leagues this summer. The Brewers are working with Medeiros and Gatewood to be more consistent - Medeiros with his arm path and Gatewood with his approach.
Harrison, Nichols said, is the most athletic of the three. He was a three-sport star in high school and was committed to Nebraska to play football and baseball before signing with the Brewers.
Nichols likened Harrison to former Brewers' prospect Lorenzo Cain, now the Royals center fielder.
"[Harrison] just needs baseball experience," Nichols said. "He's a lot like Lorenzo Cain when he came into the system."
Teddy Cahill is a reporter for MLB.com. Follow him on Twitter at @tedcahill. This story was not subject to the approval of Major League Baseball or its clubs.