MLB.com Columnist
Phil Rogers
Out of blue? Royals' success shouldn't be surprising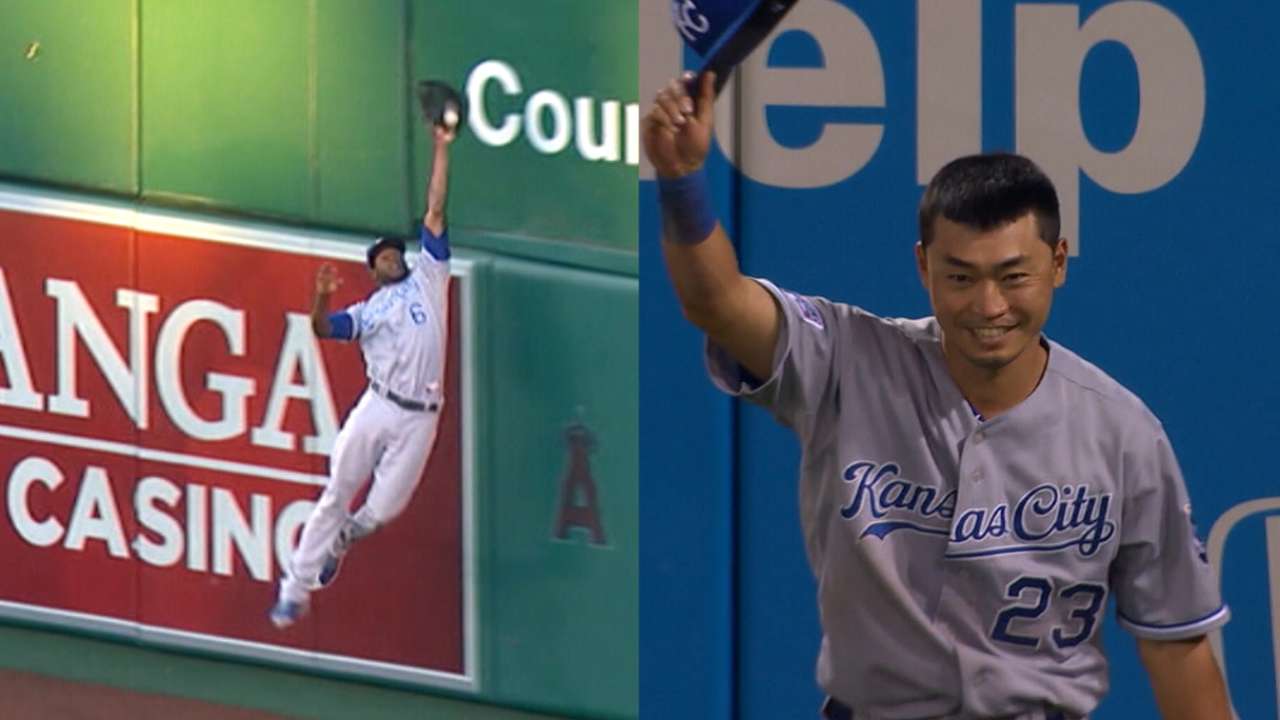 ANAHEIM -- They did it again, didn't they?
Those Kansas City Royals surprised us again. But let's make this the last time.
Yes, the Royals won a game they probably should have lost on Thursday night, shocking the top-seeded Angels, 3-2, in 11 innings in the American League Division Series opener. They used eight pitchers, made four gravity-defying catches in the outfield and wound up with the same number of hits, the last of which was Mike Moustakas' leadoff homer in the 11th inning.
And down went the Angels of Mike Trout, Albert Pujols and Josh Hamilton, the talented trio with $509.5 million in guaranteed salaries -- that trio a combined 0-for-13 with two walks in their 15 trips to the plate.
Very impressive, for sure. But despite the disparity in paychecks, this wasn't some middle-of-the-pack team like Minnesota or Brooklyn beating the Miami Heat. Hardly.
Here's something you might not know about the Royals: Since July 22, they have a 43-23 record, including a comeback for the ages to beat the A's in Tuesday's Wild Card Game. That's not just good; it's the best in the Major Leagues.
"It shows the heart in this team,'' first baseman Eric Hosmer said. "That Wild Card Game was a great example of that. We got behind quickly and we were fighting until the end. When we had that players-only meeting in Chicago [on July 22], as a team that's our goal -- from that day on to be the best team in baseball. This team has the ability to forget pretty good. In this game you have to have it.''
Two catches by center fielder Lorenzo Cain and two more by right fielder Nori Aoki were instrumental in stealing a victory when the Angels stranded eight men on base after the fifth inning, when David Freese's home run had tied the score 2-2. The Angels were 0-for-7 with runners in scoring position in innings six through nine as starter Jason Vargas and relievers Brandon Finnegan, Wade Davis, Tim Collins and Jason Frasor got one big out after another.
"That's what we do,'' Cain said. "Sometimes you struggle swinging the bats. We faced a tough pitcher in [Jered] Weaver tonight. We knew it was going to be a close ballgame. Defensively we definitely stepped up and we got the win. That was huge.''
Oh, yes, the Angels were starting Weaver, their ace. For the Royals to beat him with their ace, James Shields, lined up to go in Game 3 on Sunday in Kansas City puts them in an enviable position. If rookie Yordano Ventura is as tough in Game 2 as he can be, Shields could get a chance to close out a sweep of the AL's winningest team.
"They had their guy going tonight,'' Hosmer said. "It's huge to pull this one out. We've got Ventura going tomorrow, who we feel pretty confident with. Taking the first game is always huge. Coming out tomorrow, we like our matchup. That would be big momentum heading back home.''
Weaver and relievers Joe Smith and Huston Street retired 16 straight Royals at one point. Pinch-runner Terrance Gore had the only stolen base for Kansas City, which had seven players with steals against the A's, but the Royals' athleticism showed up in other ways.
Cain's leaping catch at the wall to rob leadoff man Kole Calhoun set the tone.
"When he hit it, I wasn't sure if it was going to go high off the wall,'' Cain said. "I didn't think it was going to go out [of the park] but I thought it might go high off the wall. So I just tried to make a good read, try to jump my 36, 37-inch vert and make a play. I had to throw that in there.''
Cain took a hit away from Erick Aybar with a sliding catch in the second inning. But the two plays by Aoki, neither as graceful as Cain's two catches, were the real game-changers.
With two outs and men on first and second in the sixth, Howie Kendrick hit a drive to the wall that split Cain and Aoki. Cain thought it was his ball and leaped to catch it but didn't get a glove on it. Somehow Aoki slid behind him to make a catch just before the ball caromed off the wall, most likely for a two-run double, maybe a triple.
"I completely whiffed on the ball, missed it, but he came through,'' Cain said. "It was a huge catch.''
Aoki ran a long way with a twisting route -- one analyst called it a perfectly executed curl pattern -- to make a waist-high grab of a long, high drive to the warning track by C.J. Cron to end the seventh inning. That catch left the go-ahead run stranded at third base.
"He's [usually] a lot smoother than that,'' Hosmer said.
When Moustakas homered off Fernando Salas, manager Ned Yost probably thought, "about time.'' The Angels have out-homered the Royals 12-2 in seven games this season, yet it's the Royals who have won four times.
They're not winning with smoke and mirrors either. They're winning with pitching, defense and an ability to manufacture runs. That's not a whole lot different than the kind of team that was in residence at Kauffman Stadium in 1985, and nobody blinked an eye when it won the World Series.
We probably shouldn't read too much into one game -- two if you include the 9-8 victory over Oakland in the Wild Card Game -- but hang around the Royals long enough and they'll steal your heart. They might steal a lot more than that before they're done.
Phil Rogers is a columnist for MLB.com. This story was not subject to the approval of Major League Baseball or its clubs.