MLB.com Columnist
Lyle Spencer
Angels unshaken after Royals snare Game 1
AL West champs eager to shake off setback, rebound behind Shoemaker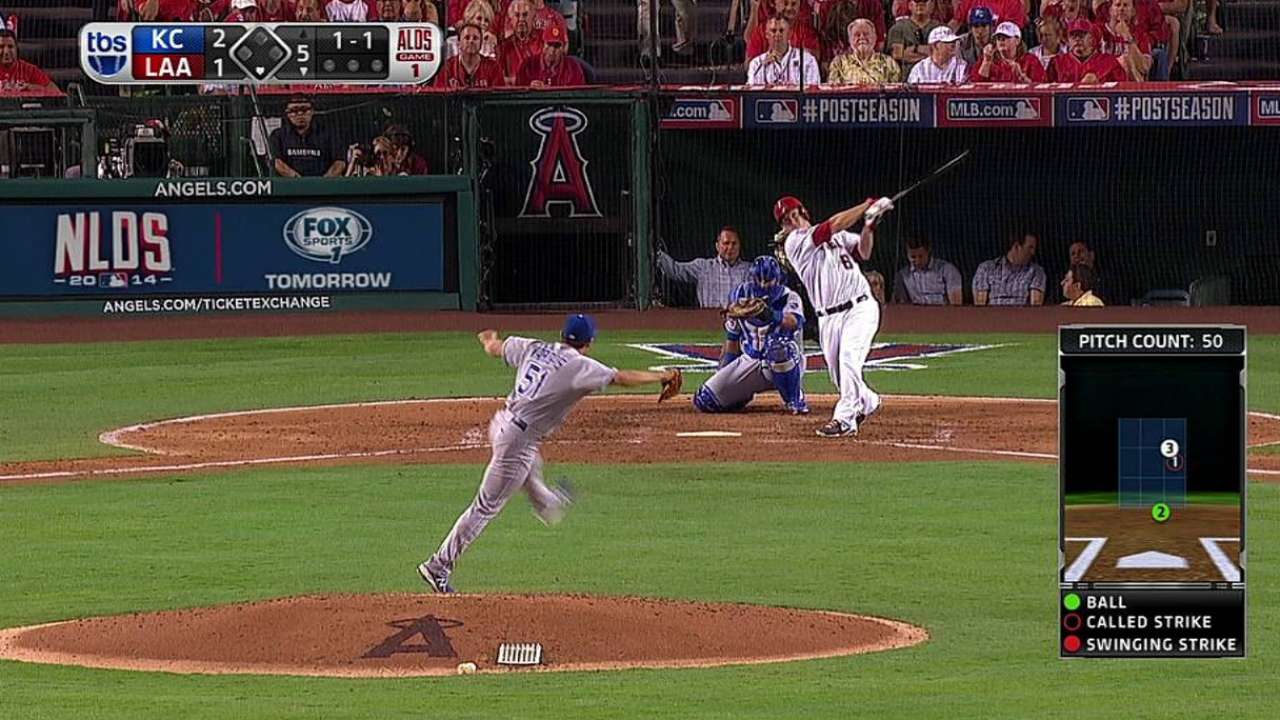 ANAHEIM -- In light of the fact they'd just had something important -- Game 1 of the American League Division Series -- stolen from them, the Angels were remarkably rational and unaffected on Thursday night.
Their eyes clear, their voices calm and reasoned, the AL West champions took this 3-2 loss to the Royals in 11 innings on Mike Moustakas' home run as more of an occupational hazard than a jarring blow to the psyche. When you play 162 games together, winning 98, and things go weirdly wrong one October night, you don't overreact or curse the baseball gods.
You go get some rest and get ready to get even.
"We've still got four games to play," said Howie Kendrick, victim of a sensational play by Royals right fielder Nori Aoki that kept the game from getting away from Kansas City in the sixth inning. "We've lost games before and come back.
"We can't put more emphasis on this one. We've got a lot of guys here who show up to play, and that's what we'll do tomorrow."
The Angels answered runs off ace Jered Weaver in the third and fifth innings with solo homers by Chris Iannetta and David Freese against ex-Angel Jason Vargas.
Having endured four seasons without a postseason payoff, these Angels then went through something similar to what the 2009 club experienced in New York in Game 6 of the AL Championship Series. But this loss was nothing like that one, which ended the season.
"It's not difficult at all," said Kendrick, one of four Angels left from the 2009 troupe, when asked about turning the page quickly. "Just come out and play. You don't make excuses. Tomorrow, I think we'll get in the flow of the game and be more consistent."
Weaver, with seven strong innings, and the bullpen kept the Runnin' Royals -- fresh off an amazing Wild Card victory over the A's -- from turning it into a track meet. Not until the 10th inning, when Billy Butler walked on a full count and pinch-runner Terrance Gore turned on the afterburners, did Kansas City steal a base.
Angels setup man Kevin Jepsen, another of the holdovers from 2009, stranded Gore by retiring Salvador Perez and Omar Infante.
"It's tough," Jepsen said. "They made great plays that could have gone our way and made it a different game. That's playoff baseball.
"Losing the first game of a five-game series is just, to me, a test of where we're at. With what we've overcome this year, it's definitely a team that comes back and plays hard every game. And that's what we'll do tomorrow."
Matt Shoemaker saved the Angels' season in the words of manager Mike Scioscia with his brilliant second-half work. Now, Shoemaker, rebounding from a rib-cage ailment, is asked to help save the postseason when he engages Yordano Ventura in Friday night's Game 2.
Ventura can only hope his outfielders perform an encore in the afterglow of a remarkable show in the opener.
It began with an ambush of Vargas by leadoff man Kole Calhoun in the bottom of the first. Unloading on a first-pitch fastball, Calhoun sent it rocketing to right-center. Lorenzo Cain, flying to the base of the wall, leaped and took it down, robbing Calhoun of at least a double.
"I've taken [the first pitch] all season long," Calhoun said. "I wanted to be aggressive early, create some excitement. He made a great play. We had our shots. We were one swing away, but they made some great plays."
Cain ended the second inning with another superb play on Erick Aybar's line drive. There was nothing Gold Glove left fielder Alex Gordon could do to intercept Iannetta's blast in the third and Freese's in the fifth, before Aoki turned it into his personal show in the sixth and seventh innings.
After Calhoun singled and Albert Pujols walked in the sixth, Kendrick launched one of his familiar drives toward the wall in right-center. Cain got there and made a flying stab but couldn't reach it. Aoki somehow managed to avoid his teammate and snatch the ball as it was about to bang against the barrier.
"That was one of the weirdest plays I've seen all year," Kendrick said. "I was surprised. I got a first-hand view. Cain stabbed at it and missed, and Aoki made a crazy play. It could have been a different game."
The Angels would have had a two-run lead with Weaver in command and Joe Smith and Huston Street armed to finish it.
In the seventh, with a runner at second, C.J. Cron lifted a two-out drive to deep right. Aoki made a wrong turn but it turned out right after his theatrical one-handed grab. He did everything but bow before bounding to the dugout.
The frustration deepened for the Angels with missed opportunities in the eighth and ninth innings. After Moustakas, a Los Angeles native, took Fernando Salas over the wall in the 11th, Greg Holland, the Royals' hammer, finished the job.
"No one in here is pressing the panic button," Iannetta said, with a catcher's authority. "If anyone else does out there, go ahead."
This, the faithful should be reminded, was a mere bump in the road compared to a loss in the Bronx five years earlier with the Angels two wins from a World Series date.
Lyle Spencer is a reporter for MLB.com. This story was not subject to the approval of Major League Baseball or its clubs.