Moose's mash in extras powers Royals to Game 1 win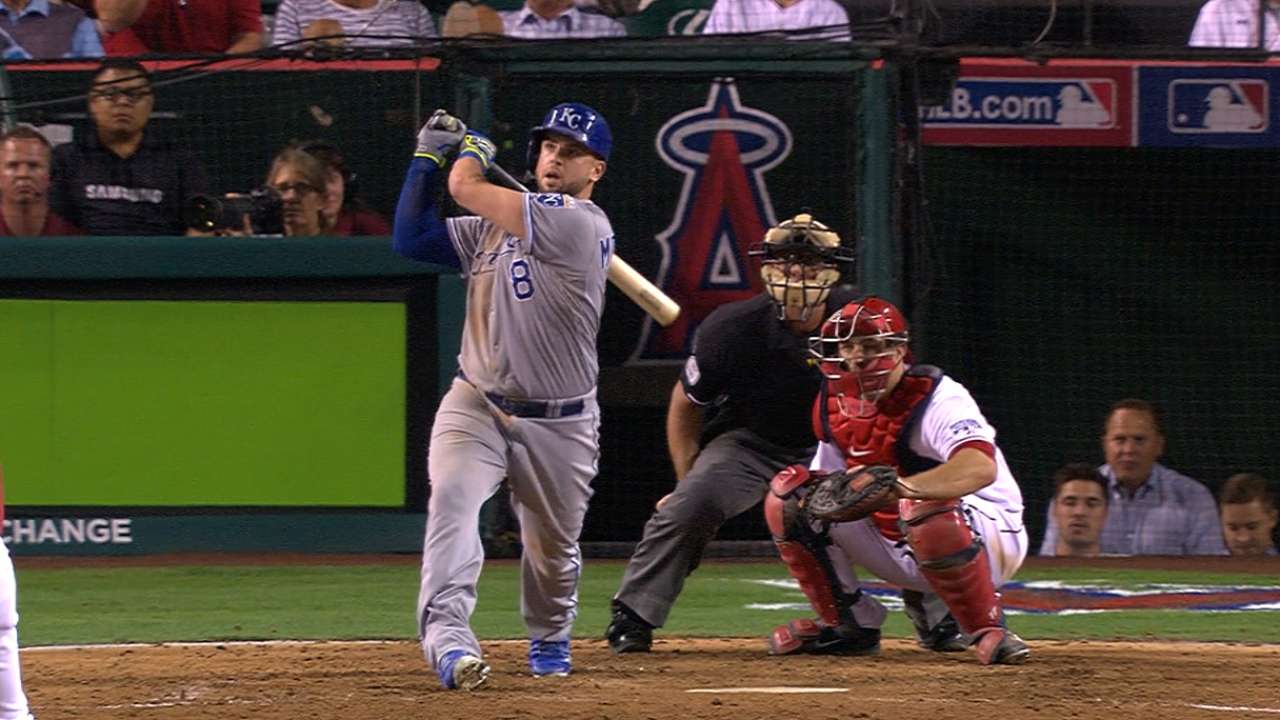 ANAHEIM -- All Mike Moustakas wanted to do was get on first base. After all, the Royals had Jarrod Dyson stretching his legs on the bench, ready to pinch-run and wreak all manner of havoc. Turns out that Moustakas created enough havoc of his own.
Moustakas led off the 11th inning with a home run -- the first extra-inning homer in Royals postseason history -- to give the Royals a 3-2 victory, sending most of the 42,321 fans out of Angel Stadium in a red cloud of despair after their Angels lost the opener of the best-of-five American League Division Series on Thursday.
"As far as how big of a home run that is, that's probably the biggest one I've ever hit so far," Moustakas said of connecting on a 1-1 pitch from right-hander Fernando Salas. "So it felt really amazing."
This is Moustakas' home territory, this is near where he grew terrorizing opponents with his left-handed swing from kids' leagues on up to Chatsworth High School. It's what got him drafted by the Royals in the first round in 2007. Put Moose in the Los Angeles area, and he feels real comfortable.
This also happens to be where Moustakas made his Major League debut, on June 10, 2011. He got his first hit that day, and his first home run the next.
"I don't know. Must be something about the water out here, man," Moustakas said with a grin. "No, it's a beautiful ballpark. It's a great place to play, and all my family and friends were here. But it's just one of those things where you sometimes feel a little more comfortable in one place than another."
Moustakas' home run was followed by closer Greg Holland's perfect inning -- two strikeouts and a popup orchestrated by a guy who just returned from North Carolina, where his first child was born.
That the game went into extra innings was largely thanks to the Royals' own angels in the outfield. The brilliant catches of center fielder Lorenzo Cain and right fielder Nori Aoki continually frustrated the Angels.
Starter Jason Vargas, who gave up two solo home runs but nothing else in his six innings, was the main beneficiary of that dazzling defense.
Vargas' first pitch of the game was smashed so far by Kole Calhoun that the Rally Monkey must have been doing flip-flops, but Cain leapt high at the wall and robbed Calhoun of extra bases. In the second inning, Cain dove to take a hit from Erick Aybar.
In the sixth, Howie Kendrick sent a dangerous-looking drive to right-center. Cain leaped toward the ball at the wall, but it was Aoki who stuck out his glove and got the third out.
"I tried to jump and avoid him and catch the ball at the same time," Cain said. "I completely missed the ball, but he caught it, and that definitely saved a run. That was huge."
Manager Ned Yost was stunned.
"I wasn't sure either one of them was going to catch the ball, and I was shocked when Nori made the play," Yost said.
Aoki later made a diving grab of C.J. Cron's drive, another run-saver, for the third out of the seventh.
"This game was not won and lost in that 11th inning," said Angels manager Mike Scioscia. "This game was won by Kansas City with four incredible defensive plays."
The Royals struck first after 6-foot-7 right-hander Jered Weaver struck out the first two batters in the third. Moustakas drew a walk and scored when Alcides Escobar's double fell out of Josh Hamilton's reach in deep left field.
With Cain's help, Vargas retired the first eight batters he faced. But No. 9, Chris Iannetta, was another matter, as he sent Vargas' 2-1 pitch into the left-field bullpen.
Alex Gordon opened the fifth inning with a double to left-center and was looking to trot home on what appeared to be Salvador Perez's home run until Hamilton backed into the bullpen fence and made the catch. Instead Gordon tagged up and raced to third base, then scored on Omar Infante's sacrifice fly to center for a one-run lead.
But the Royals didn't lead for long. David Freese, leading off the fifth for the Angels, belted a 1-1 pitch into the left-field bullpen, and it was tied again.
Once Vargas departed, the bullpen put together five shutout innings, although not by following the script. Kelvin Herrera, as usual, entered for the seventh inning, but he exited immediately after walking Freese because of tightness in his right forearm. He'll undergo an MRI on Friday.
Thus began a parade that included Brandon Finnegan, Wade Davis, Tim Collins, Jason Frasor, Danny Duffy and Holland.
"We wouldn't be here without our bullpen. This is the type of game that we play," Yost said. "We don't score a bunch of runs. We try to get one or two or three runs and maybe [get] one or two ahead by the time we get to the seventh inning and let those guys come in and shut it down for us."
The Angels made some threatening gestures in the late innings but couldn't push a run home.
One guy from L.A., could, though, and his name is Moustakas.
Dick Kaegel is a reporter for MLB.com. This story was not subject to the approval of Major League Baseball or its clubs.