Markakis makes splash in long-awaited postseason debut
Longtime Orioles outfielder goes 2-for-4 with an RBI and two runs scored in Game 1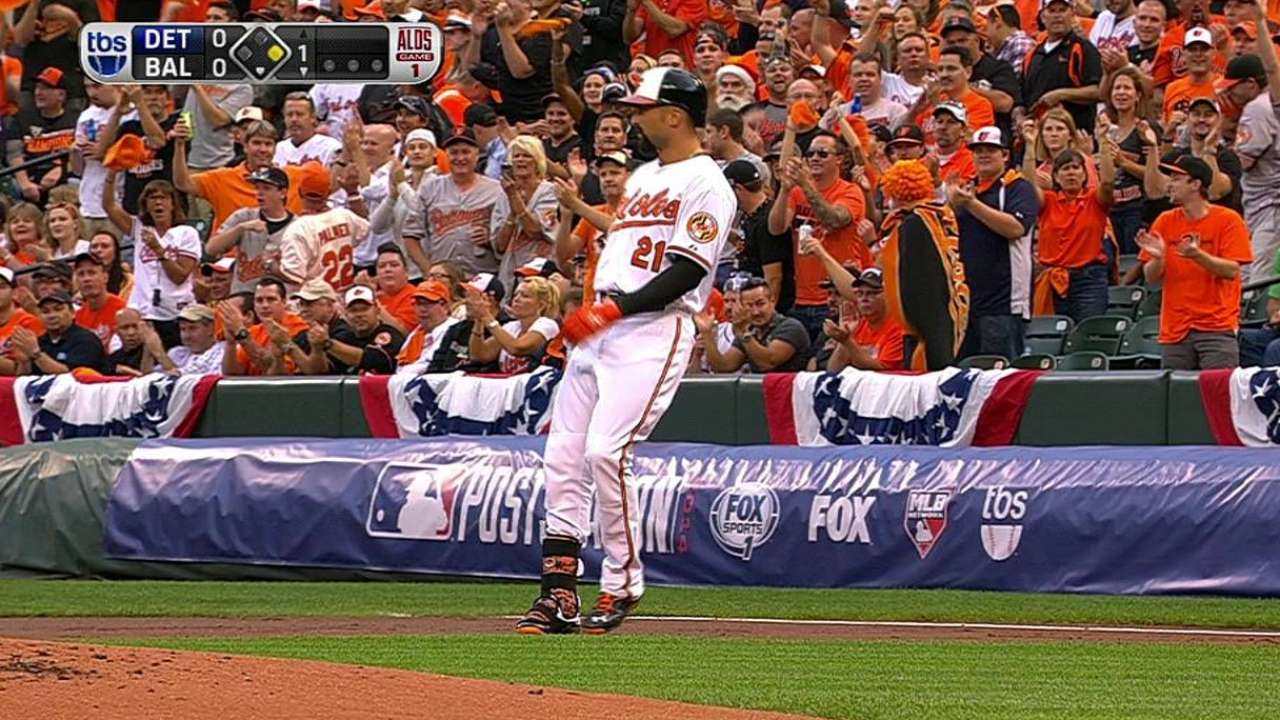 BALTIMORE -- Nick Markakis waited a long time for his playoff moment. At 5:48 p.m. ET on Thursday, it finally came.
Markakis lashed the fourth pitch he saw in the postseason out to center field for a single -- his first postseason hit. Three batters later, he was jogging across home plate for the opening run after Nelson Cruz's first-inning homer in Baltimore's 12-3 win in Game 1 of the American League Division Series.
"The butterflies were flying around a little bit," Markakis said.
When he came back to the plate an inning later for the second playoff at-bat of his career, he was a seasoned veteran. The game had slipped back to a 2-2 tie and the O's had runners on the corners.
With two outs, Markakis put the Orioles back on top with an RBI single to right.
"There were so many unspoken things and just a look at each other," manager Buck Showalter said. "With Nick and a lot of our guys, it's just so many little things that you want to step back and take in. He may not wear it on his sleeve, but trust me, there is a lot of burn underneath him -- in a good way."
After nine Major League seasons with the Orioles, Markakis finally played in his first postseason game Thursday and even delivered the hit that put Baltimore ahead for good in its blowout win.
After countless games in front of smaller crowds at Oriole Park at Camden Yards early in his career, toiling away for losing teams, he nearly had his chance two years ago when the O's ended a 15-year playoff drought. His season, however, came to an end in September when a CC Sabathia pitch broke his thumb. Markakis had to watch from the bench as the team that he helped lead played into October without him.
"I think the nice part for Nick is just being here. He battled and battled through his career," Adam Jones said. "He's one of our team leaders here and I'm just happy he's in this position."
Since then, things have changed in Baltimore. Crowds are electric throughout the season and the O's contend into September. But Thursday was the first time he played in front of a true playoff crowd.
His name was the first one called as part of the starting lineup, and it drew a thunderous ovation from the 47,842 at Camden Yards.
"It's everything you expect," Markakis said. "It's everything you want and it's everything you worked for."
And when he finally stepped to the plate, he was typical Markakis with singles in his first two at-bats and a walk in his last. And then he downplayed everything. This is the stage the always-steady outfielder has waited for.
"That's part of the game, that's part of the job," Markakis said. "It's a matter of controlling your emotions and staying within yourself on a big stage."
David Wilson is an associate reporter for MLB.com. This story was not subject to the approval of Major League Baseball or its clubs.