Berra honored with Athlete Ally Action Award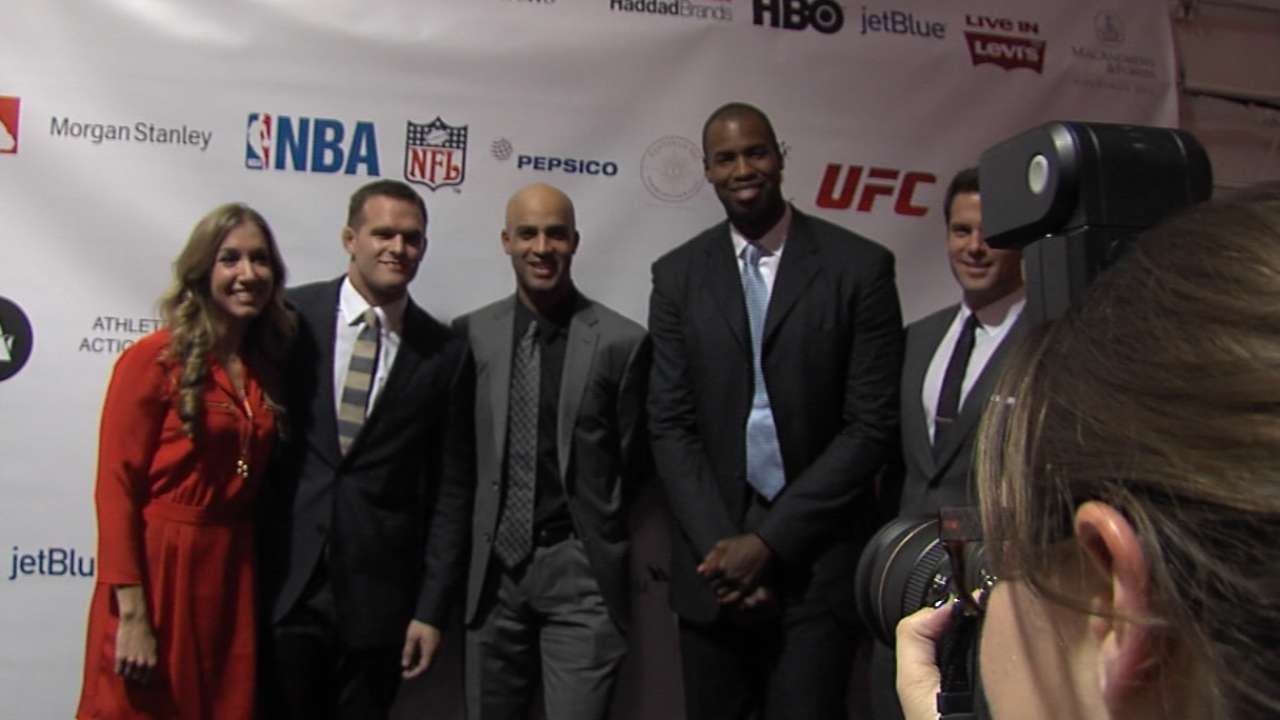 NEW YORK -- Yankees pitcher Brandon McCarthy on Thursday night became the first active Major League Baseball player to join Athlete Ally's group of 101 athletes as an "ally" to support LGBT athletes, and his first action in that capacity was to present Hall of Famer Yogi Berra with one of the first Athlete Ally Action Awards at the inaugural fundraiser dinner in Manhattan.
Accepting the award on Berra's behalf was the legend's granddaughter Lindsay Berra of MLB.com, who invoked a Yogi-ism -- "The future ain't what it used to be" -- and then noted how apropos that quote is now for LGBT athletes. Other awards were presented to Jason Collins -- the first gay active player in a major U.S. pro sport to come out of the closet -- as well as declared ally James Blake of U.S. men's tennis, former tennis superstar Martina Navratilova, KPMG and the WNBA.
The event, held at Café Rouge near Madison Square Garden, raised $200,000 for Athlete Ally, the nation's largest non-profit organization in LGBT sports, dedicated to eliminating homophobia and transphobia in athletic communities through educational programs of inclusion, respect and allyship. Major League Baseball is among Athlete Ally corporate backers, and Joe Torre, MLB executive vice president of baseball operations, congratulated Yogi Berra and Athlete Ally in a taped video, drawing applause when he reiterated MLB's intention to create a culture of inclusion.
"I want to congratulate Yogi for receiving the first Athlete Ally Action Award, and I think it's appropriate that his granddaughter Lindsay receives it on his behalf," said Torre, also a declared ally for the organization. "It's really an indication of how Yogi lived his life and played the game -- with fairness, and certainly feeling that everybody should feel included.
"I also want to congratulate Athlete Ally, for the work they are doing with MLB and the Yogi Berra Museum and Learning Center. They are carrying on the legacy of respect and character and understanding, that there is absolutely no room for discrimination in all sports."
During this year's All-Star Week in Minnesota, Commissioner Bud Selig announced the appointment of former outfielder Billy Bean as MLB's first Ambassador for Inclusion. That announcement came one year after MLB issued a policy prohibiting players from harassing and discriminating against others players based on their sexual orientation. Wendy Lewis, MLB senior vice president for diversity and strategic alliances, was on hand for Thursday's dinner as well.
A step forward in LGBT sports happened when McCarthy attended the event, with wife Amanda, and announced that he will be the 101st active athlete ally in the group. In that role, McCarthy can be instrumental in not only helping any gay Major Leaguers who might wish to come out, but also in leading by example and speaking out about discordant tones. It is not just about looking for the Jason Collins of MLB in 2014, but also about players coming forward as a declared ally -- as Collins noted during his acceptance speech, citing the overwhelming support he got from NBA teammates.
McCarthy reiterated before the dinner that he would be very interested in returning to the Yankees, if they want him back now that he is eligible for free agency next month. But he called this his downtime, and his thoughts on this night were with individuals who might have a bigger decision in life. He said he was approached this summer by Athlete Ally and decided to be a willing pioneer for support.
"It just helps to have that ally, to have people that are going to help a community," McCarthy said. "Jackie Robinson couldn't have done it on his own. He had people like Pee Wee Reese. You just think of small gestures, like putting his arm around him, which was unheard of at that time, making a big difference in the white community accepting him. So I think it just helps to have people outside of the LGBT community that are willing to say, 'We're partnering with them. We're allies. We want to make a difference, too. We support exactly with what they're doing, and we're in tune with what's being said.'
"Hopefully, in many years, we'll look back at this and almost be horrified with what took place in these times."
There is an "Allyship" exhibit at the Yogi Berra Museum and Learning Center in Montclair, N.J., showing the history of inclusion in the Major Leagues and how baseball has been a leader in acceptance -- no matter how gradual. Berra has been there through it all, from Robinson breaking the color barrier for Brooklyn in 1947 to Latin integration by Roberto Clemente and others to female sportswriters in clubhouses in the '70s and '80s. Berra is an advocate for athletes of all walks, and as Lindsay noted, his late wife Carmen once said of LGBT sports last year, "It's 2013 -- get with the program."
So they actually created a "program" at Berra's museum, after Sam Marchiano, the former MLB.com personality and Athlete Ally co-founder, approached David Kaplan, director of the museum, in April 2013. She thought that institution's mission was a good match with that of Athlete Ally, and it has served as an example of how sports stars can show respect and foster inclusion in creative ways. That led to Torre's interest, and then MLB's initiative followed.
"I think we can see from a lot of players, they come out and voice their support. ... the list goes on and on of people who really have that mindset of: 'It's cool,'" Collins said. "That's what it should be about. Especially in team sports, it's, 'Can you help us win ball games?' And off the court, off the field, you should be able to live your authentic life."
Collins said he was impressed by MLB's appointment of Bean, calling it "a great step."
"They're really trying to create the change in the culture of baseball," Collins said. "Football, soccer, basketball, they obviously have some out athletes. And baseball, they do exist, but we have to try to create that environment that gives them security and strength knowing that when they do step forward, everyone is waiting there to support them."
Navratilova came out in 1981, recalling how her rival Chris Evert would be applauded stepping onto the court while for her, "some booed, some whistled, some were quiet, and some clapped."
At this dinner, she announced that Evert will be one of her bridesmaids. Navratilova was accompanied by her fiancee, Julia Lemigova. The former popped the question at the U.S. Open last month.
"Most of the weddings I have attended have been Chris Evert's," Navratilova said. "I've been in two of them. Now I'm happy to announce that she will be my bridesmaid."
A big baseball fan -- especially impressed by the Royals -- Navratilova gave a nod to baseball and said she believes equality in sexual orientation will come to the national pastime sooner than later.
"It's taking a few decades to open people's eyes, but better late than never," Navratilova said. "It shouldn't matter. Thank God we are different. Imagine if everybody was exactly the same. How bored would we be? ... The bottom line for fans is, 'Can he pitch? Can he catch the ball? Can he punt? Can he throw? Can she hit that volleyball? Can she play golf? That's all that should matter. As well, of course, who you are as a human being."
As for MLB's impetus with Bean, she said: "People like that will just speed it up. It's going to happen whether they want it to happen or not. But with people like Billy Bean at the helm, don't let people forget, 'No sweeping under the carpet, no wait-and-see attitude.' You're going to be leading the way, and it just takes one -- everyone else will follow."
Mark Newman is enterprise editor of MLB.com. Read and join other baseball fans on his MLB.com community blog. This story was not subject to the approval of Major League Baseball or its clubs.