Oct. 2: Brad Ausmus postgame interview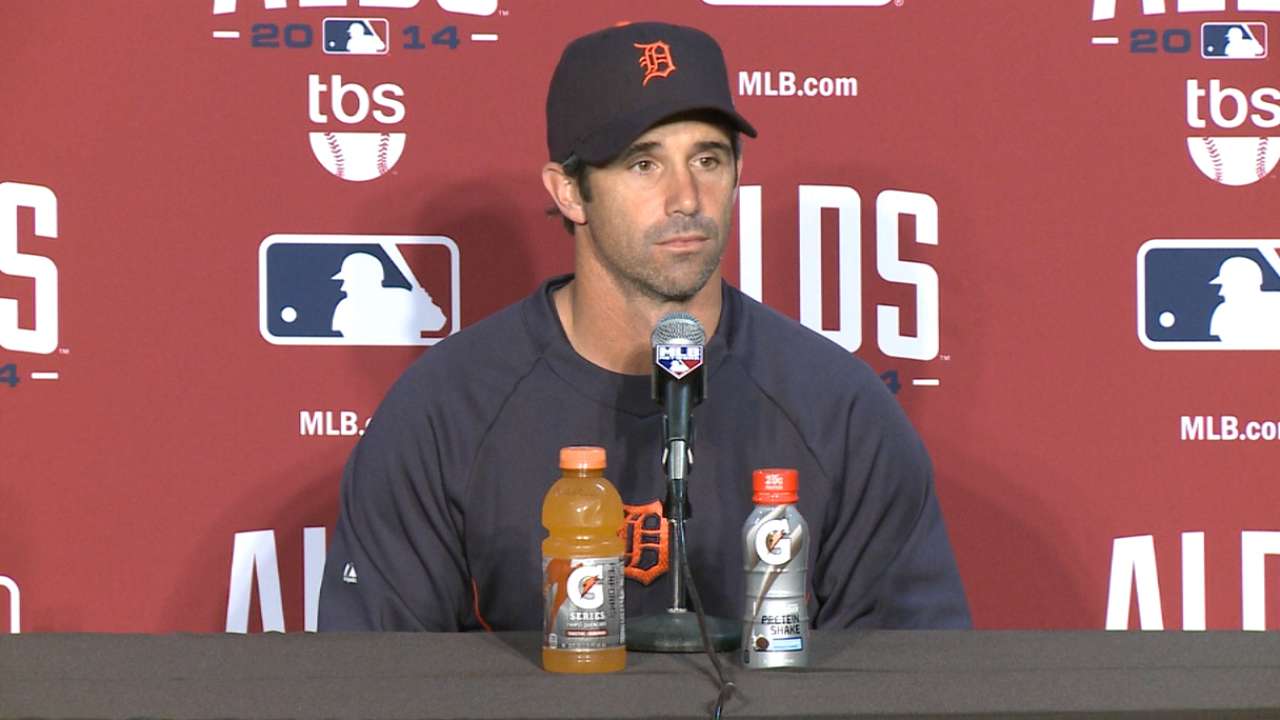 Q. Brad, when Torii lined into the double play was Ian going on his own or was it a hit and run?
BRAD AUSMUS: No, Ian was on his own there. It wouldn't be a hit and run in that situation.
Q. For this game to have gotten away as badly as it did in the 8th, Brad, is it simply summarized by lousy pitching or the fact that Romine made the young characteristic error? How are you looking at this thing that it got way that rapidly and completely?
BRAD AUSMUS: It's a team effort, and in baseball, team effort is if someone makes an error, you hope the pitcher picks 'em up. If a pitcher struggles, you hope the lineup pick him up. Tonight, we just didn't get it done. It's as simple as that.
Up until that point in the game, it was a pretty good game. Just got away from us. You got to credit the Baltimore Oriole hitters, as well.
Q. Brad, on the one that Ian Kinsler ran, can you say whether you liked that decision? Because I'm assuming he's trying to get out of the double play with Miguel Cabrera and the others coming up.
BRAD AUSMUS: It doesn't bother me. The odds of a line drive going right at a guy are pretty slim. It just so happens it did. If you finds a hole with first and third and the hear of your order up, that's a pretty good situation to be in.
If Torii swings and misses, I thought if Kinsler had a great jump, he would have been safe. I know Miggy hits a homer, but let's be honest, Miggy isn't getting the same pitches with nobody on and two out as he is with one or two on, zero or one out. It's a completely different at bat.
Q. Brad, it looked like Max was struggling with location early on. What did you see out of him there, was there an adjustment?
BRAD AUSMUS: After the second inning, Jonesy noticed something on the video and talked to Max about it and there was immediate results. He seemed to be getting on the side of the ball after the first couple of innings. After the adjustment, he was on top. His slider was breaking downhill as opposed to across, and we could tell right away the mechanical adjustment had a positive affect.
Q. Looked like Rajai wasn't exactly at full speed, there. An update on him? Did you like what you saw out of him? And when you pinch hit for him, was that a production?
BRAD AUSMUS: It looked like he was struggling. I checked with him multiple times, and Kevin checked with him multiple times, the pinch hit was getting him out of the game in case he's not feel great and it gives Cabrera an at bat.
Q. In such a short series like this, when Joakim Soria has an outing like this, to what extent do you have to look at that outing when you evaluate how you're going to use Joakim Soria the next time?
BRAD AUSMUS: He's one of our back end relievers, that doesn't change. I know his outing today wasn't what we had hoped, but it's also over. He's been around for a little while, this whole team has been around for a little while, they have been in the playoffs and we have a quick turn around, too. Trust me, this will be in the rumor by tomorrow morning.
Q. Do you see, after a tough loss, that being a good thing because you're going to get right back out there or is that an additional challenge to shake it off that quickly?
BRAD AUSMUS: It's good. It takes your mind off of it and you have a new game to focus on.
Q. The last out was confusing. Was it a strikeout or because the hitter left the circle?
BRAD AUSMUS: It was a swing and miss and the catcher just didn't catch it cleanly.
Q. I know against Chris Tillman, Ian Kinsler had two outs and a walk to show for at bats. Can you talk about how impressive he was? I think he had 30 pitches.
BRAD AUSMUS: He battled, yeah. We had a few guys that stood out, but Kinsler stands out in that regard.
Q. That eighth inning, wasn't there an opportunity to get Anibal Sanchez into the game?
BRAD AUSMUS: This isn't about getting a guy into the game. This is about trying to win the game. And Sanchee, because of the nature of him being a starter, I would like to get him into a clean inning and give him extra time to warm up. So that wasn't the case here.
Q. With this short series and with bullpens constructed like they are now, did it surprise you to see Buck go to Andrew Miller as early as the sixth inning? What does it say about the type of baseball that's played in the postseason?
BRAD AUSMUS: I wasn't shocked. Andrew Miller has had an excellent year. He's pitched extremely well for Baltimore. Heart of our order was coming up, so it's understandable he would bring him in at that point.
Q. Romine looked absolutely distraught on the field after his error. Is there something you have to say to him?
BRAD AUSMUS: I'll talk to him before the game tomorrow. This guy has been a great fielder. Gene Lamont and I were talking on the bench, I can't remember the last time he made an error. You never like to see errors, and unfortunately, there was one tonight, an untimely one, but it doesn't change my impression about this guy as a shortstop.