Yost opts to use Duffy in long relief in ALDS
Guthrie gets the nod to start potential Game 4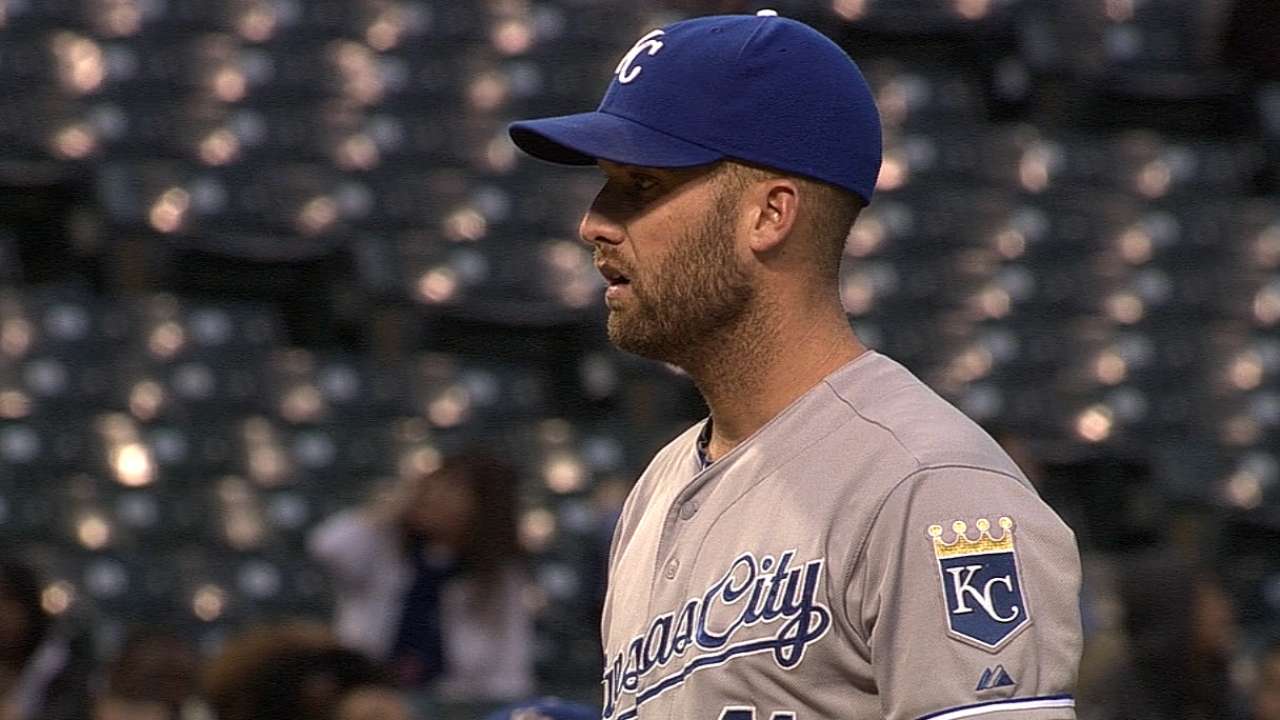 ANAHEIM -- While Danny Duffy had a solid season in the Royals' starting rotation, manager Ned Yost is choosing to use the left-hander as a long reliever in the American League Division Series against the Angels.
"Right now we like Danny coming out of the bullpen. We could use him early, if we run into problems, and he can hopefully hold the fort until we can get to our seventh-, eighth-, and ninth-inning guys," Yost said before Game 1. "He allows us to get back in the ballgame if something happens, or we can use him late."
Yost also announced Thursday that Jeremy Guthrie will take the hill for the Royals in Game 4, if necessary.
"Our idea was -- and we haven't totally settled in on it -- we have to go through the first three games, but probably what we'll do is Guthrie will throw Game 4," Yost said. "We looked, again, [at] the records on the road and the records at home, and we liked Vargy [
Jason Vargas
] on the road, and we definitely liked Jeremy Guthrie at home. But we'll just continue to play it out here and go from there to see what happens."
Duffy pitched the 10th inning of the Game 1 win, striking out one and allowing one hit in a scoreless frame, while earning the win.
Guthrie, who finished the season with a 13-11 record and 4.13 ERA, went 6-6 with a 4.25 ERA at Kauffman Stadium and 7-5 with a 4.01 ERA on the road.
Duffy went 8-11 with a 2.55 ERA in 24 starts, tossing quality starts in four of his last five outings.
However, Duffy pitched out of the bullpen in his first six games with the Royals this season, going 1-1 with a 2.16 ERA and holding batters to a .167 average.
"That's the decision we made. Danny fits right into a situation where it's going to be crucial for us that he comes in and has a good outing," Yost said. "So we wanted somebody that if we had to go to somebody early, it's Danny Duffy that we trust in that situation to hold the score there and allow us to hopefully climb back into the game."
Yost maintains that Duffy is healthy, no longer dealing with left shoulder inflammation, and that he won't shy away from using him in the series against right-handed hitters.
"Danny has tremendous stuff. He has the control of a right‐handed lineup with his stuff, and his ability to throw a baseball at 93 to 97 mph, good changeup, good curveball, so that didn't really factor into it," said Yost.
Worth noting
Royals closer Greg Holland was in uniform Thursday night after returning to his North Carolina home to be with his wife Lacey for the birth of their first child, a 7 lb., 10 oz. boy they named Nash Gregory Holland
Holland flew back to the Los Angeles area late Thursday afternoon. He pitched a scoreless 11th inning, striking out two and earning the save.
Quinn Roberts is a reporter for MLB.com This story was not subject to the approval of Major League Baseball or its clubs.