Cards don't expect antics from 2013 NLCS to carry over
Testy series brought about 'Mickey Mouse' of Hollywood vs. seriousness of Cardinal Way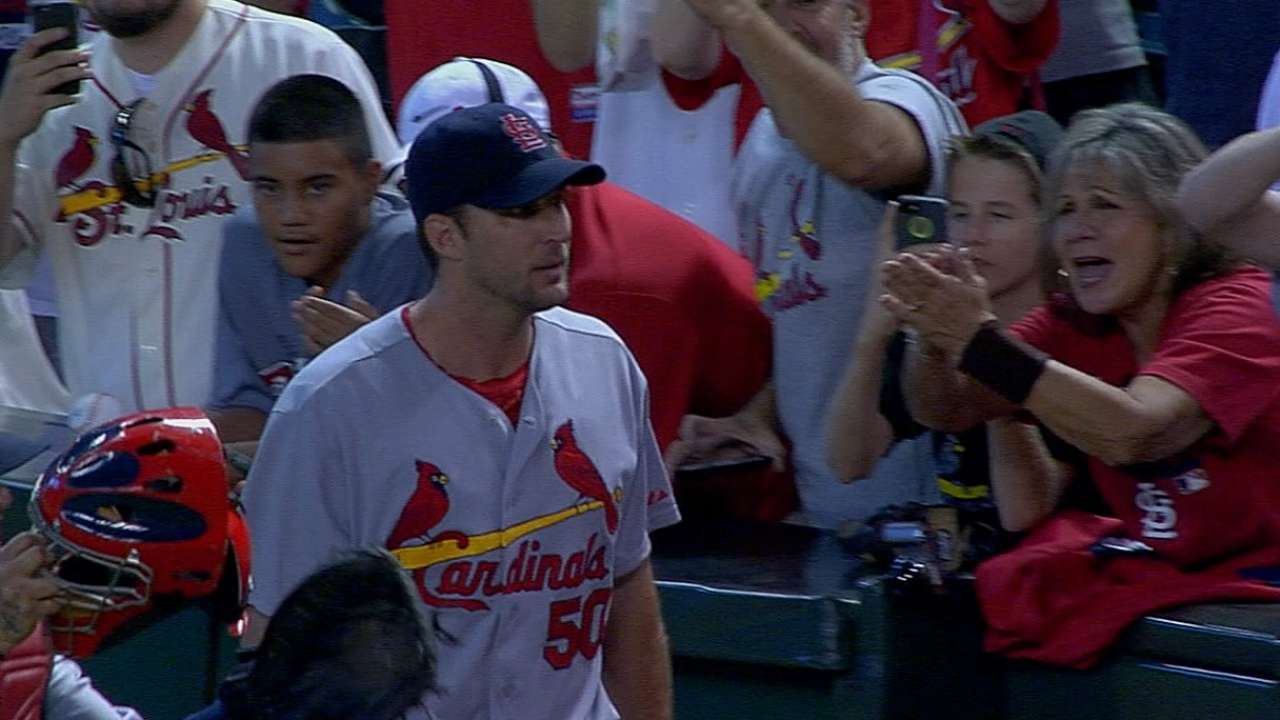 LOS ANGELES -- Last year's National League Championship Series between the Dodgers and Cardinals evolved into one that, at least from the media's perspective, pitted the "Mickey Mouse" of Hollywood against the seriousness of the Cardinal Way. The contrast in team personalities made it an easy storyline that was further enhanced by some on-the-field antics.
It all made for nice dramatics, but neither the Cardinals nor the Dodgers think that the words, gestures and hit-by-pitches that were exchanged during the 2013 NLCS are going to reemerge in this latest postseason meeting between the two teams.
"We've already played them twice this year, so I don't think they've saved up more animosity for playing us in the postseason," Matt Holliday said. "I think if there was any sort of carryover from last year that they would have already tried to get that out."
"As far as last season goes, I don't think there will be any carryover, other than I'm sure they're going to be gunning for us because we beat them last year," added Matt Carpenter.
Exuberance by Adrian Gonzalez and an emphatic bat flip from Yasiel Puig in Game 3 of the 2013 NLCS caught the Cardinals' attention and led to several players being asked about the demonstrative celebrations after that game. Adam Wainwright described Gonzalez as doing some "Mickey Mouse stuff," while Carlos Beltran expressed disappointment with Puig's on-field actions. The story then evolved into one of comparing the straight-laced Cards to the free-spirited Dodgers.
This all came on the heels of Hanley Ramirez taking a Joe Kelly pitch to the ribs in Game 1. Ramirez was affected by the injury for the rest of the series.
So could any animosity resurface between two clubs that have now met in October in three of the last six years?
"I don't think so," said Wainwright, the Cardinals' Game 1 starter. "I think that any time you have two very good teams going at it like we did last year, and two great organizations that obviously have mutual respect for each other and lay it on the line every night, you're going to have some squabbles every now and then. I don't think any of that carried over this year."
"Well, I think we're two great organizations, honestly," added Dodgers manager Don Mattingly. "We have a lot of respect for what they do. How they do it is how they do it. We're not that much different. I'm sure we rub some guys, some teams the wrong way, but that's who we are. We're trying to play the same game."
Worth noting
• The Cards held a one-hour workout at Dodger Stadium on Thursday, after which the Dodgers took the field for batting practice. Thursday's workout day also featured news conferences with manager Mike Matheny and Wainwright, the latter of whom had enjoyed a light moment while a fire alarm interrupted his gathering with the media.
"More time in the press room," Wainwright quipped as the alarm sounded. "Lucky me, right? Surrounded by my favorite people. Is this live? Because this is good TV. Should we talk about something then that doesn't matter?"
Wainwright went on to talk about his dinner spot from Wednesday before resuming a more serious line of questioning.
• Matheny said that Game 4 starter Shelby Miller will "most likely not" be used in relief during Game 1. Miller's first career NL Division Series start will come at home on Tuesday, assuming the series extends to a fourth game.
• On Thursday, the Cardinals announced the return of their 2015 Cardinals Calendar Fundraising Partnership, which provides area schools, sports teams and youth groups the opportunity to sell the Cards' official calendar for $15 and retain $7 to fund their activities. For more information on the program, contact Gabe Kiley at 314-345-9303 or publications@cardinals.com.
Jenifer Langosch is a reporter for MLB.com. Read her blog, By Gosh, It's Langosch, and follow her on Twitter @LangoschMLB. This story was not subject to the approval of Major League Baseball or its clubs.