Scouting school discovers, trains talent evaluators
Growing program recruits former players, coaches and front-office personnel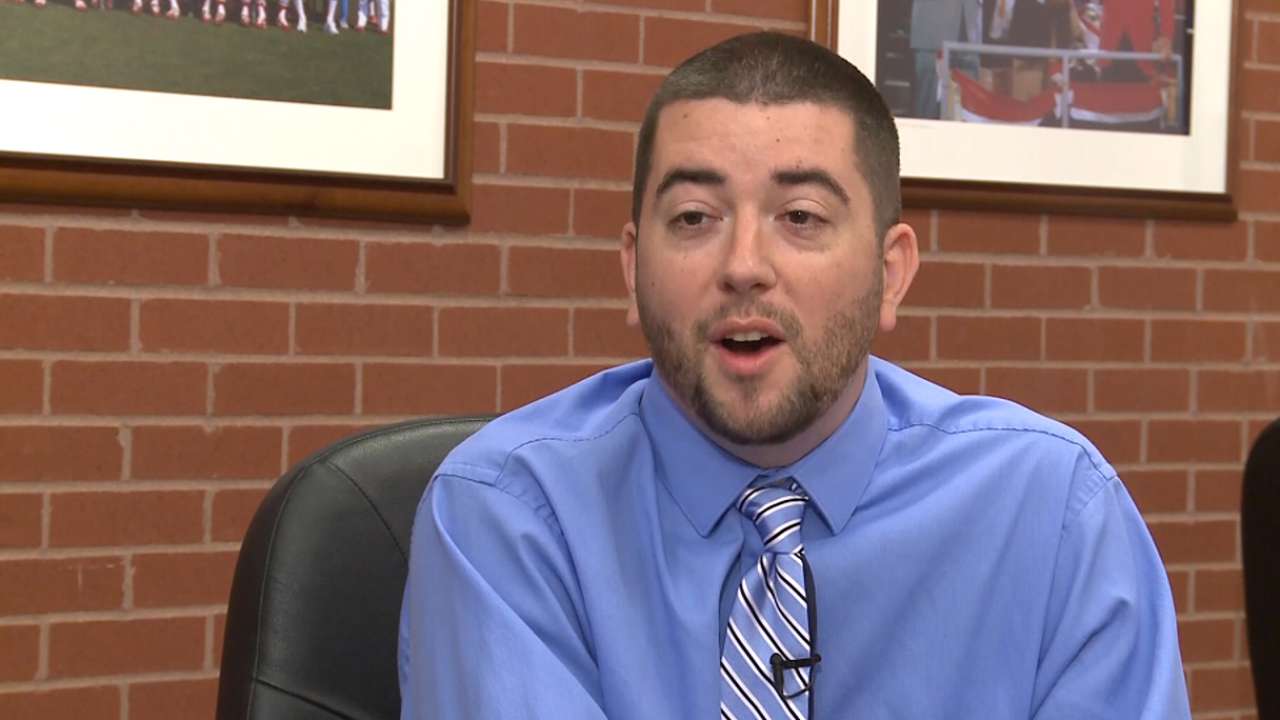 PHOENIX -- At the most basic level, good teams are built through scouting.
Whether it's scouting a high school or collegiate player prior to the Draft, looking at a Minor Leaguer to promote or acquire in a trade or scouting the next day's opponent or starting pitcher, scouting is prevalent throughout all aspects of baseball.
But where do these scouts come from?
The Major League Baseball Scouting Bureau hosts a two-week, invitation-only scouting school. The program, taking place in Phoenix, is in the middle of its 30th session of the past 41 years.
"Scout school was developed back in 1989 as a concept to help the industry," senior director Frank Marcos said. "The first year we only had 22 students. It was a small program, but the value was seen as to what it could eventually come to."
Ten years ago the program was averaging roughly 50 students per session, but participation has steadily increased and this year's class is the largest with 79 participants.
"All of the participants are recommendations by the clubs," Marcos said. "At this point, it's strictly an industry program. The clubs have recognized the importance of how we can train individuals for a career in scouting and they're the ones who will identify former players, former coaches and front office personnel to come to scout school and learn about scouting."
Marcos estimates that roughly half of this year's students have professional playing experience, while 13 -- Clay Condrey, Ben Diggins, Brent Gates, Chris Gates, Chris Getz, John Halama, Chris Hoiles, Doug Jones, Cliff Politte, Johnny Ruffin, Jerry Spradlin, Brian Sweeney, Dmitri Young -- played in the Majors.
"I think the clubs are recognizing that these players that have played a number of years in the organization have something to contribute," Marcos said. "The clubs are recognizing that and wanting them to learn a new career, and that being scouting."
Cory Hahn is neither a former player nor someone who spent much time in an organization's front office, but he is also taking part.
Hahn was paralyzed from the chest down after an injury during his freshman season at Arizona State University. His playing career came to an end, but the D-backs drafted him in the 34th round of the 2013 First-Year Player Draft and he has spent the past couple of months working in the organization.
Now, his attention has shifted toward scouting.
"It's been awesome, learning about the game and how to evaluate it," Hahn said. "It's not learning anything new about the game. It's more about watching through a different lens, knowing what to look for and seeing things that the normal person doesn't see."
For as productive as the two-week scouting class is, it wouldn't be as special without top-notch instructors.
The scouting school has 14 instructors with a combined 400 years scouting experience. In order to maximize productivity and guarantee each student a thorough experience, the instructors work with small groups of five to six students at a time.
Once in those small groups the students meet every day for two weeks. They begin the day with a couple of hours in the classroom before boarding a bus and arriving at the ballpark to observe the game and take notes.
Those notes are compiled into a scouting report, which the pupil presents to the instructor during one-on-one student-instructor consultation.
"There's constant feedback to be able to get better at seeing the talent, evaluating the talent and then being able to communicate that talent," Marcos said.
Hahn agrees.
"Long day, long hours, but it's very interactive and very hands-on," Hahn said. "There aren't really dull moments, which is great. We spend a lot of time in the classroom learning things from our instructors and the people running it, but at the same time, it goes by really quick and at the end of the day you're trained."
Scout school is a grueling process, but those involved appreciate the program and value the insight.
"It's tough, but you're out watching the game of baseball, so you can't complain too bad," Hahn said.
William Boor is a reporter for MLB.com. Follow him on Twitter at @wboor. This story was not subject to the approval of Major League Baseball or its clubs.