Nats' focus on baserunning could give them an October edge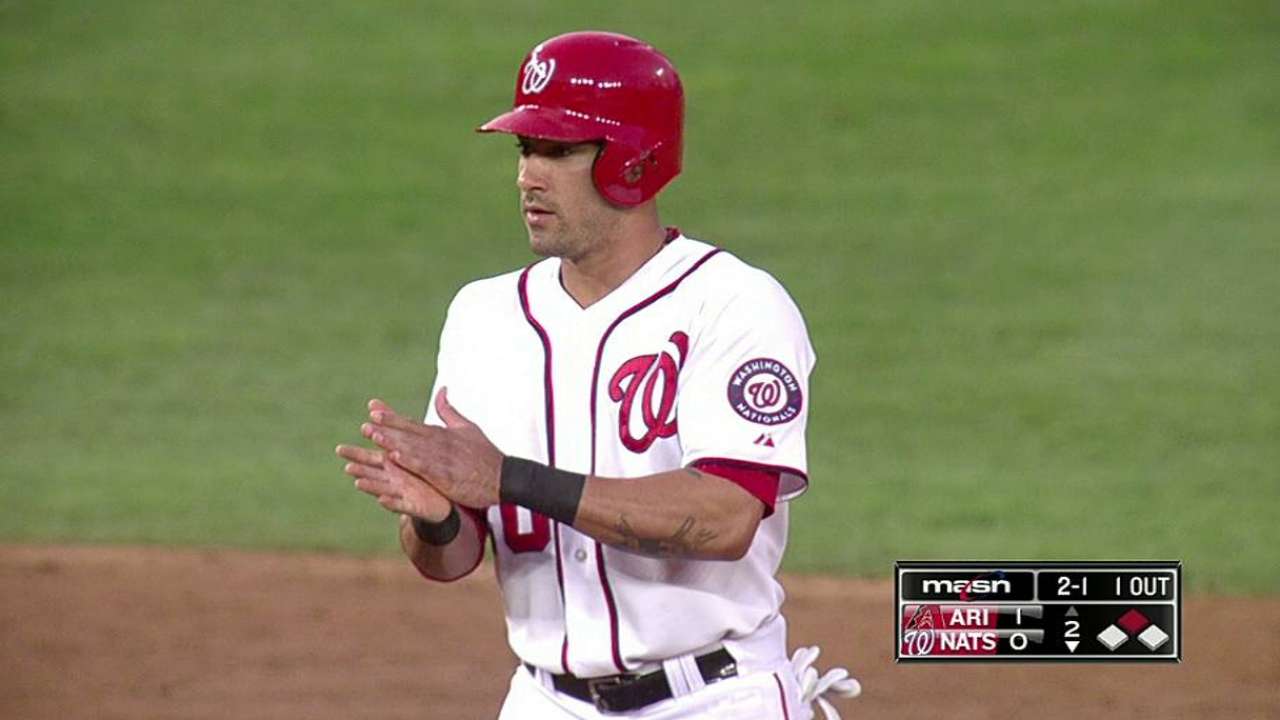 WASHINGTON -- Many factors, from dominant pitching performances to clutch hitting, can decide a postseason series. But as the Nationals and Giants get ready to battle in the National League Division Series on Friday (3 p.m. ET on FOX Sports 1), baserunning could prove to be an important edge for Washington.
Way back in Spring Training, the Nats emphasized the need to run aggressively and control their opponent's ability to do the same, and they showed significant improvement in both areas. Their ability to continue that trend -- or the Giants' ability to stop it -- just might tilt a tight series one way or the other.
"When you're trying to manufacture runs, especially in games like this, it's the little things that win ballgames," Nationals center fielder Denard Span said. "Getting runners over, taking chances with stealing bases, taking extra bases, doing those things. Those are the things that win games, especially in the last three innings, because most of these are going to competitive."
The Royals showed the potential impact of a running game in Tuesday's American League Wild Card Game win over the A's, stealing seven bases. While Washington isn't likely to match that performance, it did rank 12th in the Majors in steals and, more importantly, first with an 81 percent success rate.
It's not just steals, either. FanGraphs' all-encompassing baserunning metric ranked the Nats first in the Majors, up from 13th a year ago. A similar statistic kept by Baseball Prospectus put them at fourth.
"I just think it's us having the green light," said Span, who stole a career-high 31 bases this year. "[Manager Matt Williams has] been consistent with that from start to finish, giving us free reign to take chances, no matter what the situation is."
The Nationals went 5-for-5 in steals this year against the Giants, who surrendered 107 total, tied for seventh most in the Majors. But a lot of that damage came against Tim Lincecum, now in the bullpen, and Game 1 starter Jake Peavy gave up only one steal in four attempts with San Francisco after coming over from Boston in a late-July trade.
"The main thing is that our pitchers are just going to have to vary their times," said Giants catcher Buster Posey, who threw out 30 percent of runners. "It will be important just to do that and try to keep them close."
Meanwhile, it will be difficult for San Francisco to do much damage on the bases. The Giants finished 29th in the Majors in steals, 26th in success rate and in the bottom half in both advanced metrics.
For its part, Washington shot from worst to first in catching opposing runners, coming in at 37 percent, as starter Wilson Ramos posted the best rate of his career, and Jose Lobaton stabilized the backup role. But as Lobaton said, it's also up to the pitchers to pay attention and keep runners close with pickoff throws.
"I heard in Spring Training that they were working on it, and it was really good this year," Lobaton said.
"It's important for them, because you get a guy on second base and there's a hit, he scores. But a runner on first, it's different."
Andrew Simon is a reporter for MLB.com. Follow him on Twitter @AndrewSimonMLB. This story was not subject to the approval of Major League Baseball or its clubs.