Dodgers may rely on Jansen more heavily late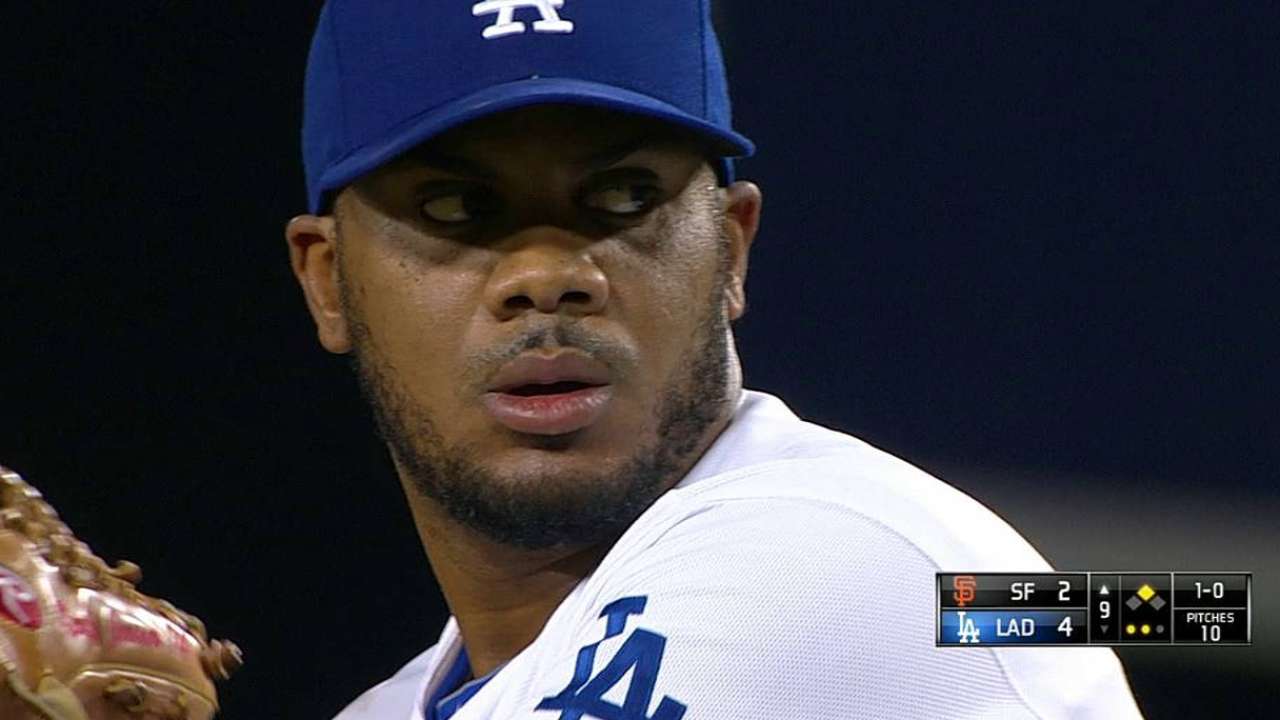 LOS ANGELES -- When the Dodgers finally announce their roster for the National League Division Series that starts on Friday (Game 1, 3:30 p.m. PT, FOX Sports 1), it will likely have 12 pitchers, eight of them relievers. That would be one more reliever than the Dodgers took into either of last season's playoff series, an apparent response to the surprising problems the club recently encountered getting the ball to closer Kenley Jansen.
The Dodgers entered the season with a bullpen loaded with ninth-inning veterans, from incumbent Jansen, to former World Series hero Brian Wilson, to Brandon League and Chris Perez and J.P. Howell. And while the club pulled away to a six-game margin in winning the NL West, the formula for setting up Jansen was turned sideways in September by poor performances from veterans Wilson and Howell, who essentially shared the eighth inning.
An eighth reliever would give manager Don Mattingly an extra arm for late-inning matchups, while it would also reduce his options off the bench by leaving a Darwin Barney and/or Joc Pederson off the roster.
Mattingly has hinted that he might call on Jansen for four-out saves in the playoffs. Jansen converted three such saves and blew a fourth during the season.
"I'm mentally prepared for that," said Jansen. "I just have to make sure I don't get surprised, that I have plenty of time to get ready. I know I might pitch in the eighth, and I know I might pitch in tie games. It's that time of year."
Wilson, unhittable a year ago, has struggled as a sub-90s situational right-hander (although he said last month he still has 95 mph in him).
"That's what he's been at all year," Mattingly said of Wilson's decreased velocity from 2013.
Lefties, meanwhile, are hitting .297 against Wilson. Howell, who had a 1.21 ERA through August, ballooned to an 11.81 ERA in September.
"I think it's a blip," Mattingly said of Howell's September. "Everything concerns me, but it's the whole body of work. He's been a huge part to get us here, and the ball is coming out fine. I'm not worried about it."
So, Mattingly can hand that pair the ball with the postseason on the line, call on hard-throwing rookie Pedro Baez, or rely more heavily on Jansen, who locked down 44 of 49 save opportunities in 2014, even though left-handers hit a robust .284 against Jansen in the regular season compared to .204 last season.
Mattingly has said matchups will help determine the option he chooses. Pitching coach Rick Honeycutt said tough decisions won't necessarily be limited to the eighth inning.
"It depends on the situation," Honeycutt said. "It might come up in the seventh inning, a key spot where you need to stop their momentum."
The Dodgers on Thursday confirmed that two pitchers -- Perez and Kevin Correia -- had been removed from consideration, both choosing to go home instead of stay with the club. Fifth starter Roberto Hernandez is not likely to make the roster, but he continues to work out with the team.
Correia was an in-season acquisition, a starter who struggled with the transition to long relief.
But teammates expressed surprise at Perez's decision to leave the team, which likely was influenced by the fact the team stopped using him down the stretch and he fell one appearance shy of qualifying for an additional $500,000 bonus.
It was an unceremonious ending to a season that began with Perez allowing only two earned runs in his first 14 appearances, covering a period in which Wilson was dealing with elbow issues. Perez appeared in 49 games and had a 4.27 ERA, but missed most of August with ankle bone spurs.
Ken Gurnick is a reporter for MLB.com. This story was not subject to the approval of Major League Baseball or its clubs.