Verlander delivers when spotlight is at its brightest
Game 2 starter worked through struggles to finish season strong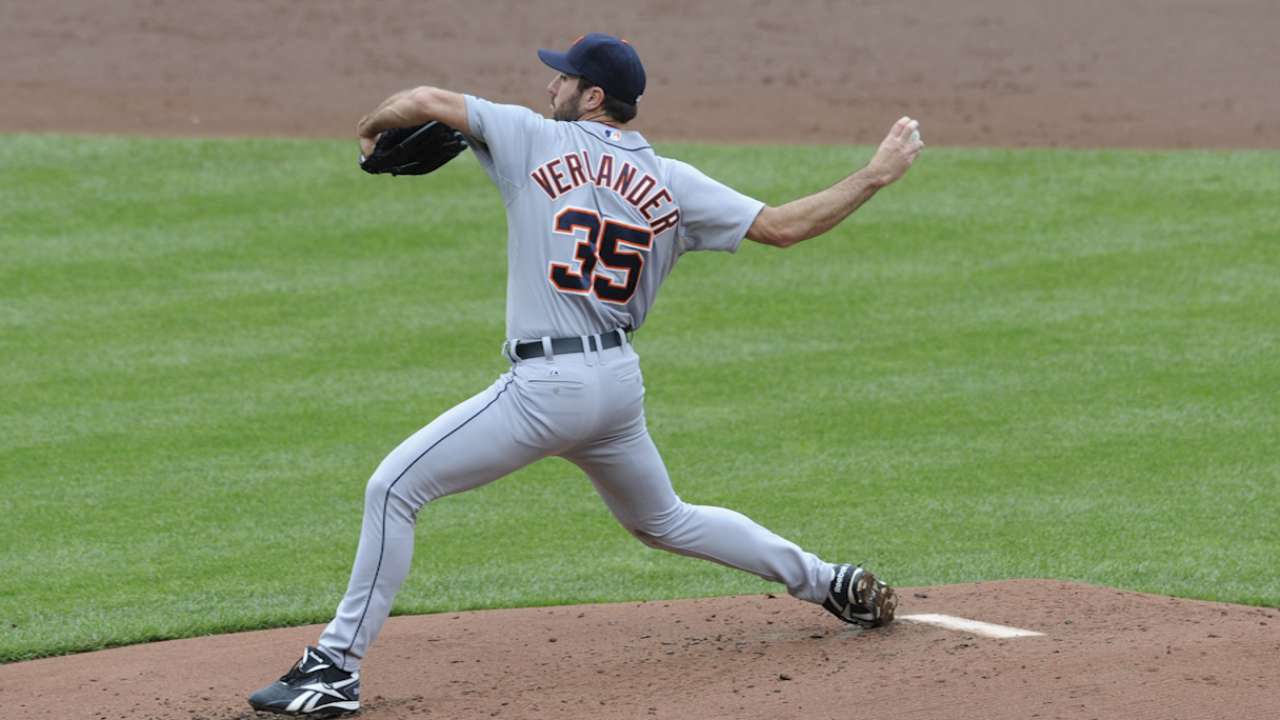 BALTIMORE -- Justin Verlander has proven two years in a row that, for whatever reason, he's able to brush aside whatever struggles he may be fighting through and pitch at his best when the Tigers need him most.
He did it last year, finishing a disappointing regular season with two strong starts before putting together three dominant postseason outings. He did it again this September, seemingly peaking at the right time as he capped off an even more disappointing season with a pair of gems against the Royals and White Sox.
Just the kind of confidence boost he probably needed heading into the postseason, right?
"They were nice. I wouldn't say I needed them. It's not like I improved my chances to win the Cy Young or anything," Verlander said Thursday. "It was the end of the year, and it's nice to finish strong. But you come into the postseason, and it's a whole new season."
For Verlander, that new season begins Friday when he starts against the Orioles in Game 2 of the American League Division Series at Oriole Park at Camden Yards. After losing Game 1, 12-3, the Tigers will once again need Verlander to be in top form to keep them from falling into an 0-2 hole.
Verlander finished the regular season 15-12 with a 4.54 ERA, his highest since 2008. He gave up an AL-leading 104 earned runs in 206 innings, allowed nearly 10 hits per nine innings and saw his strikeout total significantly drop for the second year in a row.
"It's certainly been a 'down' season overall for him," Tigers manager Brad Ausmus said. "But certainly the last couple of outings have been outstanding."
Verlander held the Royals to one run in 7 1/3 innings on Sept. 19, then he limited the White Sox to one run over eight innings in his final start. He wasn't overwhelming hitters with a high-90s fastball like in years past, but he was finding ways to get outs and prevent runs.
"He's always focused, but sometimes when he's on the mound, you can just tell when he's going to dominate. His last few starts, he's had that," catcher Alex Avila said. "Now [in the postseason], one thing that kind of goes out the window -- not only for him, but anybody -- is working on things, mechanics, things like that. At this point of the year, when you're in the playoffs, you go with what you've got, you go as hard as you can and you see what happens at the end of the year."
Verlander agreed with that assessment. He said he stopped trying to make mechanical tweaks toward the end of the year. He just wanted to feel comfortable on the mound and pitch with what he had, and it worked.
"I think some of the adjustments I was trying to make early, they wear you out a little bit because you're working so hard to try to fix them," Verlander said. "So there at the end, it was just letting the adjustments take course and don't worry about it, get into my regular throwing routine and go out there and pitch. And it seemed to have a good effect."
Ausmus took Verlander's strong finish, along with a number of other factors, into consideration when deciding whether to start him or left-hander David Price in Game 2. Price, who could have started Friday on regular rest, will start Game 3 on Sunday instead.
So Verlander will find himself between Max Scherzer and Price in the middle of the fourth Cy Young Award-winning trio to ever pitch in the same postseason rotation. The other three were the Braves (Greg Maddux, Tom Glavine and John Smoltz from 1996-2002), Yankees (Roger Clemens, David Cone and Dwight Gooden in 2000) and Red Sox (Pedro Martinez, Bret Saberhagen and Dennis Eckersley in 1998).
Ausmus mentioned that an extra day of rest might be a good thing for Price, who started the Tigers' regular-season finale. As well as Price knows the Orioles from his time in the AL East, Verlander is 9-2 with a 3.43 ERA in his career against Baltimore, having gone 7-0 with a 2.84 ERA at Camden Yards.
And Price, an aggressive strike-thrower, might be more inclined to give up home runs to the Orioles' powerful lineup in a hitter-friendly park like this. Price allowed 38 homers in 248 1/3 innings this year, while Verlander served up 18 in 206 innings.
"Ultimately, the decision came down to Justin Verlander on 2 and Price on 3," Ausmus said. "The thing about statistics is you can dice 'em up to say whatever you want to them say, and although they're important, they're not necessarily always the answer."
In the end, the question was simple: Do the Tigers trust Verlander to pitch well enough to pick up a win they desperately need in Game 2?
The answer was just as simple.
"I think he's the type of guy, the bigger the stage, the brighter the lights, the better he's going to perform," Ausmus said.
Adam Berry is a reporter for MLB.com. Follow him on Twitter at @adamdberry. This story was not subject to the approval of Major League Baseball or its clubs.