MLB.com Columnist
Mike Bauman
Giants not intimidated by matchup with NL's best
San Francisco used to postseason pressure headed into clash with Nats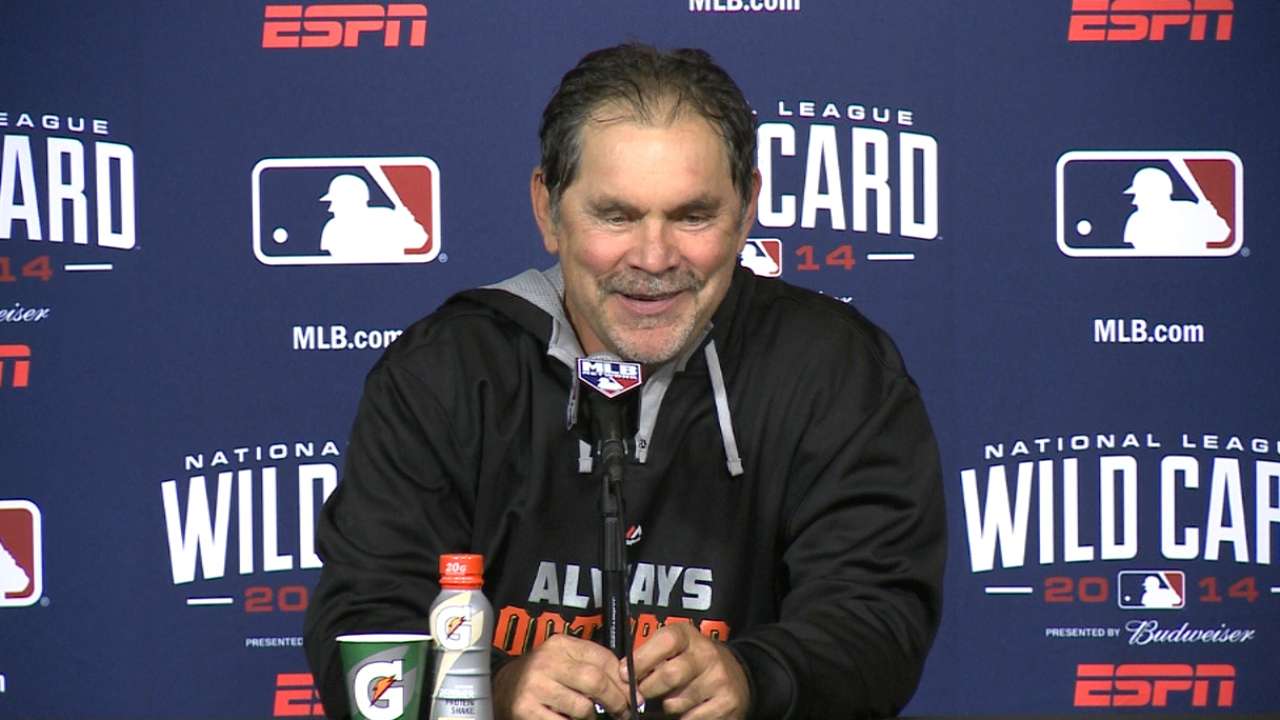 WASHINGTON -- The Washington Nationals became, by record, the best team in the National League in 2014. The San Francisco Giants became the NL's No. 2 Wild Card team. But if you add up those two facts and come up with "mismatch," you will have reached a shaky conclusion.
Only one team in baseball has won two World Series over the past four years. That would be the Giants. And in the pressure-packed NL Wild Card Game on Wednesday night, they produced a dominant performance on the road, defeating Pittsburgh, 8-0.
There is no question that the Giants will be the underdogs in their NL Division Series starting Friday against the Nationals (noon PT on FOX Sports 1). There is also no question that the Giants have been underdogs before in the postseason. That didn't stop them then.
Shortstop Brandon Crawford, whose grand slam sent the Giants on their way to victory in the Wild Card Game, underscored the difficulty the Nats presented, but also the confidence with which the Giants approach this event.
"They're a great team," Crawford said. "They have a great pitching staff and a good lineup, one through nine. They're going to be tough, for sure, but we feel confident going into this series, against anybody."
The Giants demonstrated their poise and their capabilities in Pittsburgh. Madison Bumgarner was superb on the mound. San Francisco took a vociferous crowd out of the game early and kept it out of the game.
"You know, I am not surprised," Giants manager Bruce Bochy said Thursday before his club worked out at Nationals Park. "I don't know how you could be surprised with how many times they have been in that situation and I have seen how they've handled it. It didn't surprise me at all. I knew they would not be affected by the crowd. The game itself, we have a lot of experience to draw on.
"Watching these guys, how they perform in pressure games, you know, they just ... we kid around, you know, it is in their DNA, as many times as they have done it, they find a way to play their best ball when their backs are to the wall. In the do-or-die situation, these guys have been there so many times."
Jake Peavy, who will get the start for San Francisco in Game 1 of the NLDS, said the intangible character of the Giants reminded him of the team he pitched for last year, the Red Sox, who became World Series champions.
"This team plays the game all out, all in, 27 outs, everything that you can give," Peavy said, "anything that you can do to make a difference in your team winning that night. That is the concept that we as a group go out and play with.
"We became a much better squad late in the season, when we became a unit, when we truly became a unit and a family and played the game in that regard. I certainly have a great taste in my mouth, in watching a team that maybe wasn't the favorite, wasn't the most talented team, find a way to win a world championship. I don't think anybody is picking us at this point in time to do much of anything, you know, but this bunch believes in ourselves. We have a group of guys in here battle-tested, not going to be afraid of any moment, any big situation. It was the same last year.
"The mindset and the attitude that the team plays with is a lot the same, which is comforting to know."
Based on the standings, there is no question that the Giants have the NL's toughest postseason assignment.
"They have the best record in the National League," Bochy said of the Nationals. "They have such a balanced club, starting pitching, bullpen, their lineup. They have been tough on us. They are a good, solid club, [with] speed. You have to play your best ball to beat them. They really don't have a weakness. I just think that when you have the best record in the league, you have to be considered the best in the National League. They should feel like that.
"We are very excited about being here, trust me. It was great to wake up this morning knowing we are still playing baseball."
In the last two even-numbered years, the toughest October matchup turned out to be trying to beat the Giants. They have been here before and they have made it work. Wild Card, underdogs, whatever you want, they belong in this company.
Mike Bauman is a national columnist for MLB.com. This story was not subject to the approval of Major League Baseball or its clubs.