Held out of 2012 NLDS, Strasburg ready for Game 1
Righty was shut down after reaching innings limit before Nats' last playoff trip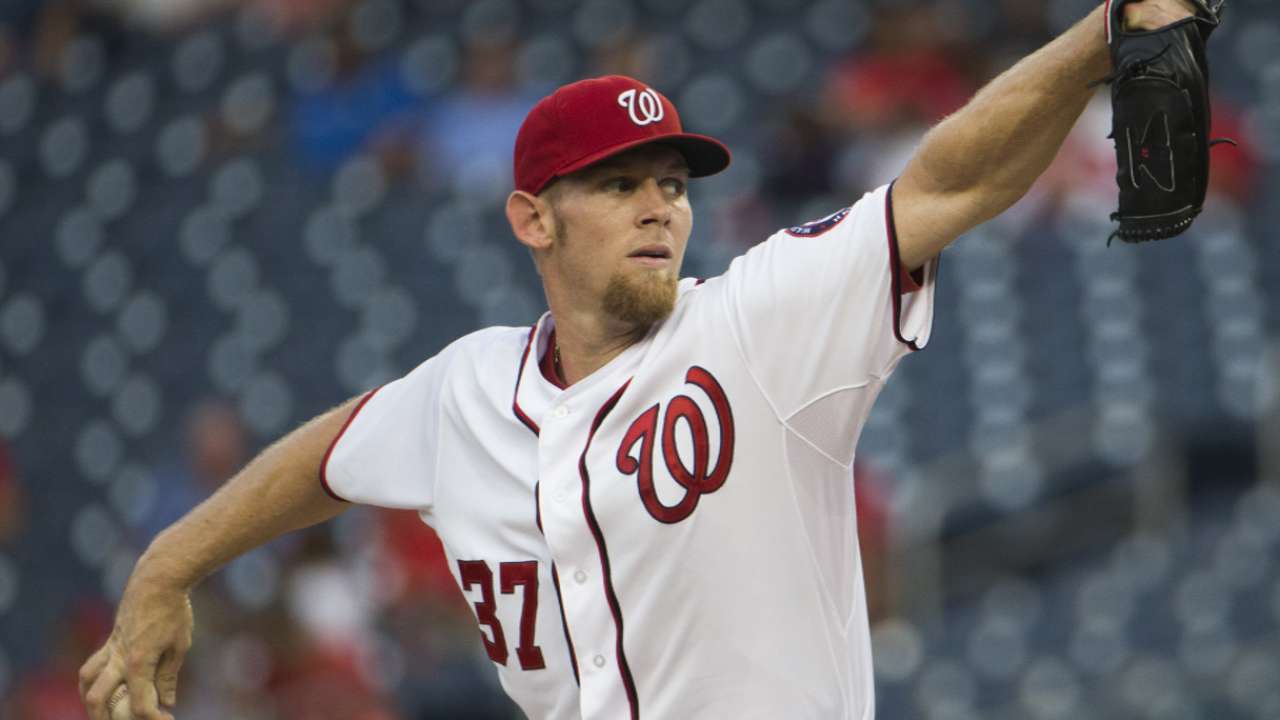 WASHINGTON -- Stephen Strasburg stood in a hallway of the home clubhouse at Nationals Park, quietly discussing his frustrations. This was October 2012, a month after the Nationals shut him down for the year on an innings limit, yet still a few days before the Cardinals eliminated Washington from the National League Division Series. The Nats were in danger. Their most fearsome pitcher was idle. Causation may not be correlation, but it's not too difficult to connect those dots.
Flash forward two years, and Strasburg sat behind a podium down the corridor at Nationals Park, focused firmly on the present. The Nationals could have named any of their other ace-caliber pitchers their NLDS Game 1 starter, to take the mound Friday at 3 p.m. ET against the Giants (watch on FOX Sports 1). But they chose Strasburg, the man who has waited two years for the call.
"I do know this," Nats manager Matt Williams said. "I know he's ready."
In many ways, Strasburg is a different pitcher than the one who went unused in the 2012 NLDS, with the Nationals unwilling to bend on the strict Tommy John rehab plan they put in place for him. In some ways, he is even a different pitcher than the one who took the mound six months ago on Opening Day. That afternoon, Strasburg's fastball topped out at 96.1 mph as he gave up four runs to the Mets, part of a season-opening stumble that saw his ERA bloat to 6.00 through four starts.
These days, Strasburg is back to hitting 98 mph on the radar gun, adding noticeable velocity to his secondary pitches as well. He has scrapped his middling slider altogether. And it is once again simple to connect the dots: Over his final six starts, Strasburg went 4-1 with a 1.13 ERA, 40 strikeouts and three walks, pushing his season line to 14-11 with a 3.14 ERA and an NL-leading 242 punchouts in 215 innings.
"I just feel like I've gotten stronger physically as the season went on," said Strasburg, who is now a full year removed from a right elbow cleanout and more than four years past the Tommy John operation that precipitated his 2012 shutdown.
Then again, the explanation for his success may be even simpler than that.
"He's just got really good stuff," Giants catcher Buster Posey said. "The fastball's plus. The breaking ball's plus. The changeup's really good as well."
Those looking to pin Strasburg's improvement to a specific time and place can point toward Aug. 24, when the same Giants team he will face on Friday blasted him for five runs over four innings of a no-decision. Six days later, Strasburg began his season-ending six-start renaissance, leaving all thoughts of the Giants behind.
Now, his scouting of San Francisco has resumed in earnest. Though Strasburg has racked up plenty of strikeouts against the Giants in his career -- including a combined 14 whiffs of Posey, Hunter Pence and Pablo Sandoval in 38 at-bats -- Posey is 5-for-13 against him and Pence has a home run.
"It's a pretty hard situation," Nats catcher Wilson Ramos said. "It's not easy starting the first game of the playoffs. But this guy's done really good."
Adding to the plotline is the fact that Strasburg will start opposite Jake Peavy, a longtime Padre whom Strasburg grew up watching in San Diego. Peavy called Strasburg "a friend," and himself "a Stephen Strasburg fan," noting that the two spent last offseason working out alongside one another in Southern California.
"It's a tremendous opportunity," Strasburg said. "I think I'm just excited for getting a chance to pitch in the postseason. It doesn't really matter who I'm facing."
For Strasburg, in other words, this start has been a heck of a long time coming. When the Nationals drafted him first overall in 2009, they billed Strasburg as the first piece of a puzzle that would result in playoff berths galore -- maybe even a title or two. When he hurt his arm the first time, Strasburg became the poster child for the prevalence of elbow injuries in baseball. When the Nats held him out of the 2012 postseason, their prudence became a matter of national debate.
Now that's all in the past, and Strasburg, unquestionably one of the best pitchers in baseball, is all too eager to keep his eyes trained on the Giants.
"I try not to look back on what it was like two years ago," Strasburg said. "I'm trying to live in the present, and I'm excited for getting the chance now."
Anthony DiComo is a reporter for MLB.com. Follow him on Twitter @AnthonyDicomo. This story was not subject to the approval of Major League Baseball or its clubs.