Lineups breakdown: Royals-Angels, Game 1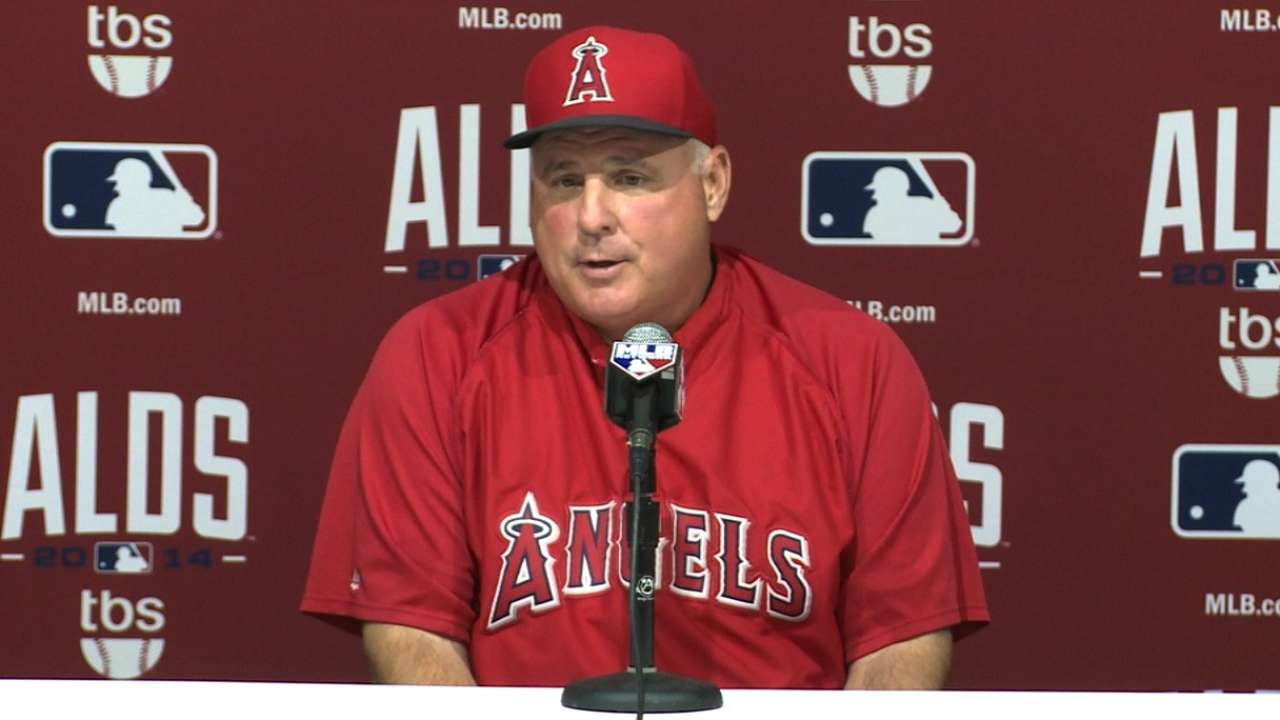 ANAHEIM -- Here's a look at the starting lineups for tonight's Game 1 of the AL Division Series (9 p.m. ET, TBS) between the Angels and Royals at Angels Stadium:
ROYALS
Once Ned Yost gets comfortable with a batting order, he's reluctant to do much tinkering. So the lineup given out by the Royals manager was no surprise.
It's basically the same lineup that he came up with 16 games ago on Sept. 13 at Boston, using speed at the top with Alcides Escobar, Nori Aoki and Lorenzo Cain batting 1-2-3 and the heavier-hitting types in the middle and below.
Yost didn't have much to work with when it came to matching his hitters with Angels starter Jered Weaver, a 6-7 right-hander.
None of the Royals has done well against Weaver. His regulars are a collective 14-for-75, .187, against him. That includes Billy Butler, who has faced Weaver 30 times and is 6-for-29, .207, with one homer and four RBIs, and Alex Gordon, 26 times and 4-for-20, .200, with one homer, three RBIs.
The current Royals player with the best mark against Weaver is Raul Ibanez, who was not put on the ALDS roster. He's 15-for-36, .417, with four homers. However, even if active, Ibanez would be in a pinch-hitting role and that probably would come up late in the game with Weaver relieved by then.
1. Alcides Escobar, SS
2. Nori Aoki, RF
3. Lorenzo Cain, CF
4. Eric Hosmer, 1B
5. Billy Butler, DH
6. Alex Gordon, LF
7. Salvador Perez, C
8. Omar Infante, 2B
9. Mike Moustakas, 3B
ANGELS
The Angels trotted out basically the same lineup for Game 1 of the American League Division Series on Thursday as they fielded down the stretch, with a couple of notable, expected tweaks: Josh Hamilton batting seventh and playing left field, and C.J. Cron batting eighth while serving as the designated hitter.
Hamilton played in only one of the team's last 23 regular-season games due to ailments in his right shoulder and right side and has hardly seen any live pitching in the meantime, so manager Mike Scioscia is batting him lower in the lineup to put less pressure on him. Scioscia also went with the right-handed bat of Cron against Royals starter Jason Vargas, a lefty who held opposing lefties to a .661 OPS during the regular season.
Howie Kendrick has been red hot since taking over for Hamilton in the cleanup spot on Sept. 5, batting .403 with 18 RBIs over that 21-game stretch. David Freese, batting fifth, finished September with a .315/.367/.562 slash line. Scioscia opted to go with Chris Iannetta's high on-base percentage (.373) in hopes of turning the lineup over to Kole Calhoun and Mike Trout.
Here's the full lineup behind starter Jered Weaver (first pitch from Angel Stadium is 6:07 p.m. PT on TBS):
1.Kole Calhoun, RF
2. Mike Trout, CF
3. Albert Pujols, 1B
4. Howie Kendrick, 2B
5. David Freese, 3B
6. Erick Aybar, SS
7. Josh Hamilton, LF
8. C.J. Cron, DH
9. Chris Iannetta, C
Alden Gonzalez is a reporter for MLB.com. Read his blog, Gonzo and "The Show", and follow him on Twitter @Alden_Gonzalez. This story was not subject to the approval of Major League Baseball or its clubs.