Oct. 2: Jake Peavy workout day interview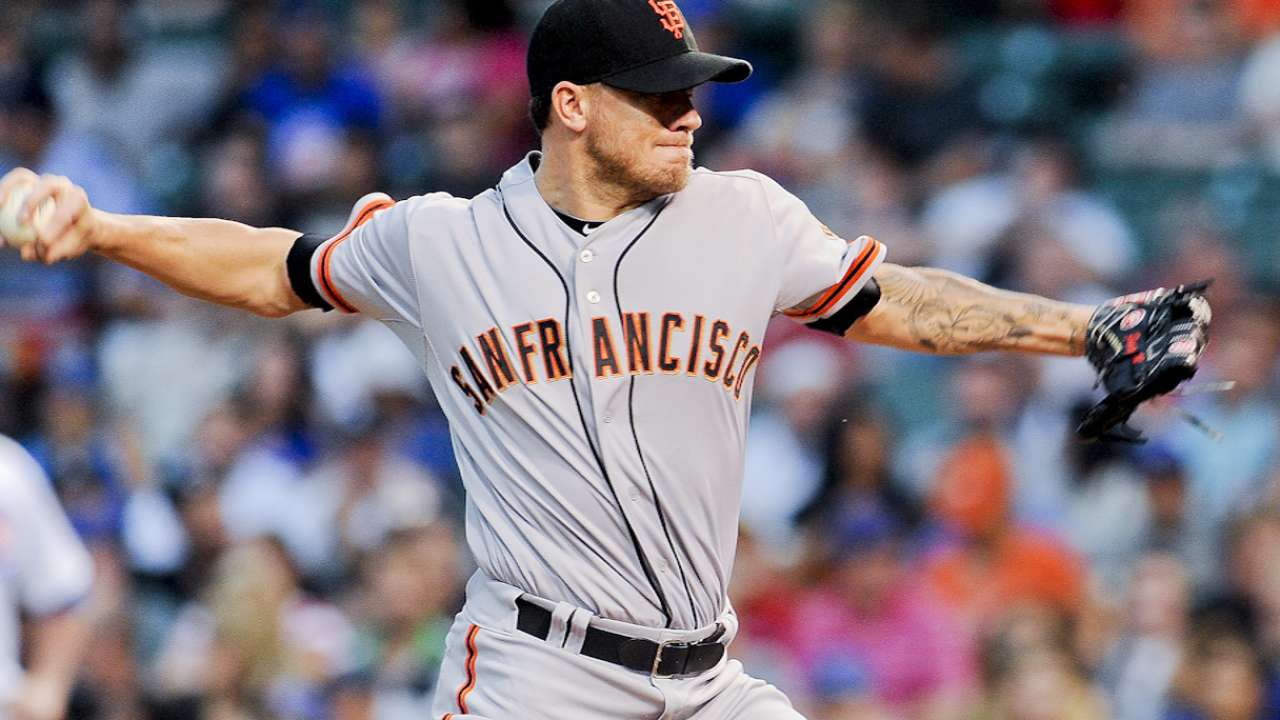 JAKE PEAVY: I apologize in advance for these glasses, guys. I wear contacts for the most part. All the time. We had a late night. Glasses were the call today, forgetting I would be in here, of course.
Q. Jake, you have a reputation for intensity on the mound. Do you have a routine that you will start, I don't know, like tonight or something?
JAKE PEAVY: I am really laid back, to be honest with you. You will start to get in game mode. There is no doubt you will start thinking about the game. Going through a lot of film that we hadn't made it through yet. I've been getting ready for Washington in hopes of this start. So it has not caught us by surprise.
Today, you know, you will start getting a focus about you that is different than most of your other days. Tonight will be different. It is not easy to take your mind off what you are going to do tomorrow. At the end of the day, I am pretty laid back. When the game starts, I do -- this competitiveness takes over that I can't hold back. I can't hide my emotions.
So no, I don't think there is a huge buildup. When you start playing, I want to win. I want to beat you.
Q. We know that you sometimes yell at yourself while you are pitching. I have two questions: What would cause you to, what circumstances? What do you say to yourself that we could print in a newspaper?
JAKE PEAVY: You know, I say a lot of stuff, I think, out there. Really a lot has to do with frustration when I falter mechanically. Sometimes I will be yelling before I turn the ball loose, in knowing that I am not in the right position to make the pitch the way it needs to be.
I get out there, I expect to be perfect. I strive for perfection. Sometimes I get upset when I don't do that. That is what I have to do. I have to emotionally let it go, and move on to the next pitch. That is one thing I -- a lot of the stuff I am saying to myself is reminders and stuff that I need to know.
When you see me, you know, I love positive mind thinking. I love saying positive stuff to myself when I am getting ready to make a pitch. When I am yelling for the most part, yelling at myself, out of frustration there. Once that comes out, I promise you, there is a thought process over the next 15 seconds of situations in a game, batter, what we are doing.
That is one thing I hope never gets lost, I am an emotional guy. There is a lot of thought process that goes into evening that we will do tomorrow. I promise you that.
Q. Jake, what kind of mark did last year's postseason leave on you personally and professionally? Are there ways this team reminds you at all of that Red Sox team?
JAKE PEAVY: It is a completely different makeup, the cast of characters, between the two bunch. At the end of the day, the thing that reminds me the most about the two teams are the way they play the game. This team plays the game all out, all in, 27 outs; everything that you can give. Anything that you can do to make a difference in your team winning that night. That is the concept that we as a group go out and play with. And it took us a little while.
I think you guys, who have all been with us over the last few months of the season saw that identity come together. Saw that we became a much better squad late in the season, when we became a unit. When we truly became a unit and a family, and played the game in that regard.
I certainly have a great taste in my mouth, in watching a team that maybe wasn't the favorite, wasn't the most talented team, find a way to win a world championship. I don't think anybody is picking us at this point in time to do much of anything. You know, but this bunch believes in ourselves. We have a group of guys in here battle tested. Not going to be afraid of any moment, any big situation. It was the same last year.
There are similarities, a lot of differences as well.
The mindset, and the attitude that the team plays with is a lot the same, which is comforting to know.
Q. Back to the intensity thing, when you were younger, did you have coaches that tried to coach it out of you, that thought it wasn't healthy to act that way on the mound?
JAKE PEAVY: Certainly, I have had people try to get me not to be as animated as I am out there at times. I certainly do all I can do as well.
You know, I have children at home. I understand that the role model aspect of things. I promise you, I will do everything that I can do not to say a cuss word tomorrow. I can't promise I won't. People think I am out yelling cuss word after cuss word. A lot of my teammates, I'll end up saying "God bless it" a lot, and that ends up being a phrase that teammates throw back at me sometimes, and making fun and jabbing me.
Yeah, I have had a lot of people try to take it out of me. When I go out there -- in the postseason last year, I had people saying, "You aren't as revved up tonight," in trying to be coached down off that. It is who I am. I can't apologize for the passion and emotion that I will show tomorrow. It is going to be honest, I promise you that.
Q. What do you consider has been your best postseason start? Why? What did you learn from it?
JAKE PEAVY: I think my best postseason start would be Game 4 of the ALDS in Tampa. I felt I was under control of that game for the most part.
The World Series game, after the first inning, I felt like I settled down. I felt I could have pitched deeper in that game. Falling behind 2 0 with the bases loaded, you have to go to the pen. In the National League games, you have to get runs back; for the most part they are at a premium. Those two games would be the better two games that I pitched.
In '06, that game started really, really well for a while. We had some craziness happen with a pop up. Next thing we know, we gave up some earned runs.
When I look back on 2005, I don't even recall much of that day. It was a really bad day. Had some injury stuff going on, trying to battle through.
The start in Colorado, I don't know if that was a playoff start, 163. We don't count any start that takes place in Colorado, simply because it is a different animal.
I got good experience last year, tough one in Detroit. Fighting through, getting out of the bases loaded jam there in that World Series. I hope showed, at the end of the day, the character I will try to play with tomorrow. At no point in time, will I ever give up and not doing everything I can do to put my team in a position to win.
Q. What did you learn from it?
JAKE PEAVY: I don't know that I learned much of anything that I didn't already know in those starts, it comes down to executing better than I had in previous starts. At the end of the day, say what you want to say, other than the emotions and the atmosphere, nothing else is different about this game we will play tomorrow than a game we would play a hundred games in the season. You will try to play that game as you would pitch the first game of next year, the last game of next year. Just a bit more scrutiny and media attention, and obviously, the atmosphere is a little different.
Q. Jake, when you speak about the team becoming a unit, a family. How does it suggest itself to you? What evidence is there that you can see?
JAKE PEAVY: I think a lot of it has to do with, it is hard for you guys to really, really see it. Because, if you are not in the clubhouse every day, and you can't see the banter, if you are not on the plane, the plane flights are some of the best bonding times. We are stuck on that flight together. All the different races, different kinds, cliques, we are back in the back of the plane. You talk the game. You talk about what just happened. Maybe it was something bad, you end up losing the game, because of that you work through that, you get on the same page as everybody else.
This game is a team sport. One man can be a great asset to a team, but he can't make up a team. The best team will win. So, we really started talking about that in early August. You know, we were searching for a second baseman. Joe Panik stepped up. We were able to take off. We were able to feed him as veteran players the way we wanted him to be, what we wanted him to play like and become in the two hole at second base. Watching those guys, watching Brandon Crawford turn it up in the last month and a half in the season, and really become the player that we all know he is.
You know, when I say that the stuff that I suggest, is just getting better production from everybody, so to speak, especially our role players, and Gregor Blanco and guys who had to step in, and fill in for injuries.
When you watch those guys get the best out of themselves and the interaction between each other, I don't know if that makes any sense at all. But the way we are, the way we talk, it is quite a bit different than it was you know, late July or you know, even early August.
Q. Jake, Stephen Strasburg grew up in San Diego, watching the Padres, and respected and admired your game. Have you met him? Talked to him? What do you see in him that is similar to what you went through when you were younger?
JAKE PEAVY: Stephen is a friend. I had a chance to work out with Stephen in the offseason. He bought a house not far from where I lived in San Diego, same community actually. I am a Stephen Strasburg fan. You can't help to be one, when there is a kid that is taking over the community at San Diego State.
So I am a big Stephen fan, we talk and shoot texts back and forth. You know, wish each other well. For tomorrow, it will be different. I will be trying to beat him with everything I've got. He will be doing the same. He is a great competitor. We all know how talented this guy is. He has as good of stuff as anybody in the game. I will do all I can to get him some good at bats. He's a good athlete as well. So the only really time I will have to worry about him, is when he gets in there and I'll have to make some good pitches because we know he is a good athlete.
It will be fun. It's a neat story behind the story. We are buddies and come from the same upbringing.