Oct. 2 Justin Verlander pregame interview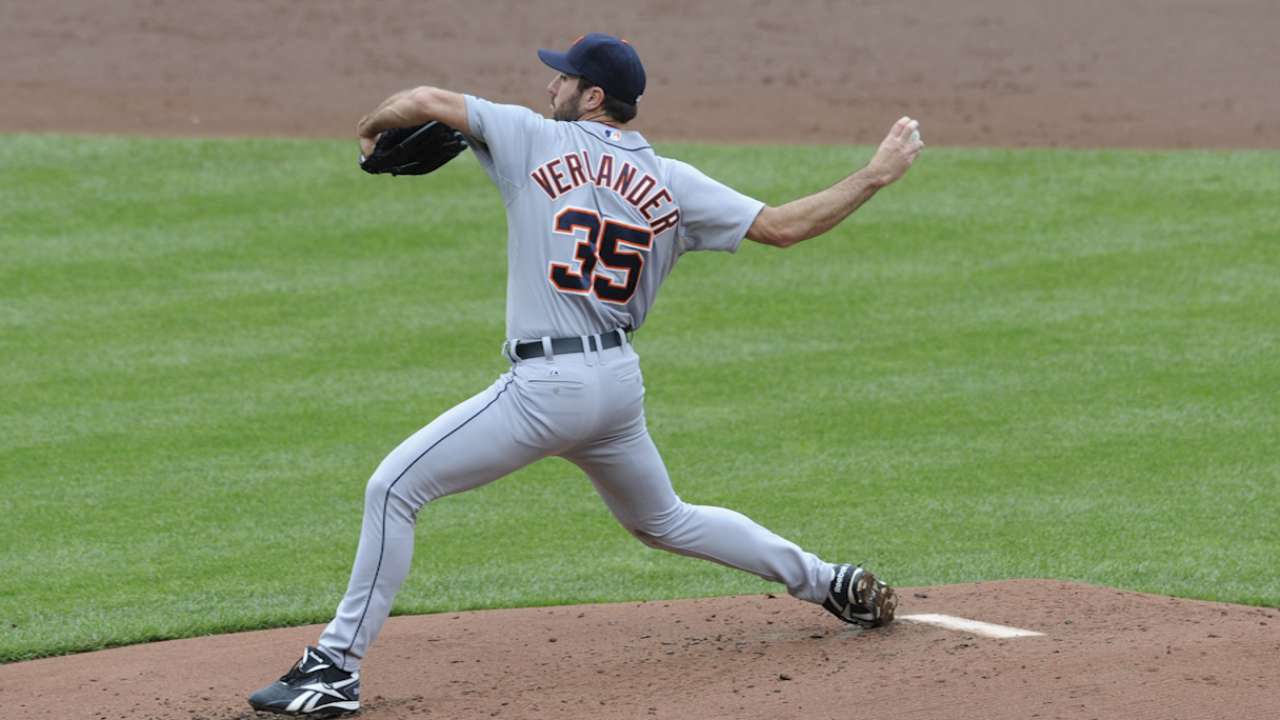 Q: Brad Ausmus said, in his words, your last few starts have been outstanding. Over the last four or five games, your ERA has dropped. Is it an adjustment or being healthier?
JUSTIN VERLANDER: I think it's a combination of things. Some of the adjustments I made started to take hold, you know, and just felt more comfortable out there on the mound and started locating my pitches better. Definitely started feeling better toward the end of the season.
I think some of the adjustments I was trying to make early, they wear you out a little bit because you're working so hard to try to fix them. So there at the end, it was just letting the adjustments take course and don't worry about it. Get into my regular throwing routine and go out there and pitch and it seemed to have a good affect.
Q: Justin, what is the pitcher's scouting report of Camden Yards and how does it compare to Comerica?
JUSTIN VERLANDER: You know, it's obviously a home run park. Here at Camden yards, the ball flies really to all fields, center field. Really the only spot is that left center where it says "410," that's the only spot that, as a pitcher, you think it's fair. I'm sure if you ask Miguel or Victor or J.D., they will love it. But with being a home-run park, there is less outfield to roam, too. So in Detroit, you can get killed by the dinkers and blooper and gapers. But here, you get killed by the home run.
You keep the ball down, there are less hits out there in the outfield. And we got a good outfield. We got guys that can cover some ground. So keep the ball in the ballpark and you allow yourself good chances for success, here.
Q: Are there any ways that you've seen Max Scherzer grow as a teammate? Strictly as a pitcher, how has he improved?
JUSTIN VERLANDER: Talk about when he first got here to now. He's a completely different pitcher. He was always the guy I remember. The first couple of years he was with the Tigers, everybody would say if he matches his pitching ability with his talent, everybody could see him as one of the best, and he's done that.
I think every year since he's been here, you've seen him grow and mature. He gets better and better, the last two years specifically. It's been a lot of fun to watch. He's been about as dominant as it comes and hopefully that carries over into the postseason this year.
Q: Considering what you guys have done in the last three postseasons, would you consider this a season of urgency to win the World Series? If you don't win the World Series, will this season be a failure given the expectations that you deal with?
JUSTIN VERLANDER: You know, I think every year you don't win a World Series is failure. I don't think anybody is pleased or, you know, resting on our laurels with what we did the last two years. Yeah, we made it to the Championship Series and made it to a World Series, but we didn't win. We didn't win it all. I think that's what it's all about.
I don't think you can look at it as a sense of urgency. You're setting yourself up for failure if you do that. You have to play for today, and with this team, this group of guys. You can't look at free agents or the guys that might retire, whatever it may be. You gotta focus on the here and the now and go out and play and have fun in the moment.
Q: How badly did you need those last two starts, personally?
JUSTIN VERLANDER: They were nice. I wouldn't say I needed them. It's not like I improved my chances to win the CY Young or anything. It was the end of the year and it's nice to finish strong. But you come into the postseason, and it's a whole new season. I've always been able to turn the page, good, bad, indifferent, turn the page and focus on the next start and that's it.
It's nice to have pitched well, but I can't say that that has a huge affect on my confidence coming into the postseason.
Q: Justin, what are the challenges of the Orioles lineup for you?
JUSTIN VERLANDER: You know, obviously, top to bottom, they got guys that can hit. They can leave the ballpark. I think they led Major League Baseball in home runs. So you gotta keep the ball in the yard, keep the ball down, hit your spots. Every lineup is pitchable.
If you make mistakes, these guys can really hurt you. You look at the resiliency, what they were able to do with key injuries, Machado and Wieters, you thought those guys going down that would have killed them, but they had guys step up. Much like we did. Much like J.D. Martinez in our lineup. People did expect him to step up and blossom the way he did. They had a few guys that were able to do the same thing.
Like I said, every lineup is pitchable if you make your pitches. But if you don't, these guys can hurt you with the long ball.